Wish Man
Part of Wonder's 12 movies in 12 weeks series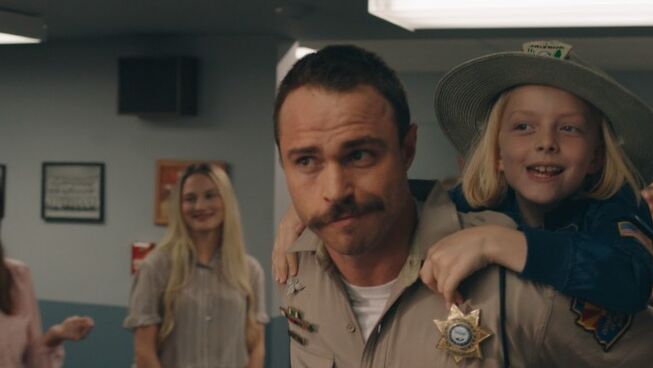 12 movies in 12 weeks on Wonder
Summary: The Make-A-Wish Foundation states that they have managed to grant over 450,000 wishes since the charity started. This fantastic statistic would not have occurred unless one man had not travelled through the hardships of life. Frank Shankwitz (Andrew Steel) grew up on the road with his mother, who was trying to stay away from his father. This helped him desire justice for those in his life and led him to become an Arizona motorcycle patrolman. Despite difficulties on the force and a life-threatening accident that caused him to spend time off the bike, his heart went out to those who needed help. Specifically, a child with a terminal illness who had a passion for the television show CHiPS and saw Frank as a hero.
Review: Wish Man is meant to inspire by digging into the heartbreaking past of the man who went on to make children's wishes come true. Frank Shankwitz's life had its challenges, but if all is to be believed from this story, his suffering made him better. Even though the screenplay had its weaker moments, one thing that this humble film contains is a formidable cast of respected actors. This wellspring of talent managed to keep the emotion and power of this philanthropic tale alive. As things move from Frank's past to the days of being a motorcycle cop, this inspirational biographical sketch will see how something extraordinary can come from difficulty.
Reel Dialogue: Can joy really come out of tragedy?
Throughout history there have been numerous stories of those who rise above their circumstances and go on to offer something back to society. Frank Shankwitz was far from being a perfect man. Yet, his life is an example of finding something to celebrate in all things, even tragedy.
This could be said of the heart of the good news found in the life and death of Jesus. His life was one of tragic beginnings and a horrific end, but throughout the journey of his short time on earth, this tale of potential woe does offer hope to the world. His death is a symbol of joy everlasting for many, and his life continues to provide an overwhelming expectation of what will come in the future.
If you see your life as having little hope or joy, it may be a good time to check out the story of Jesus. His biographies offer people hope in a forever that goes beyond your wildest dreams. The world Jesus opens to us goes far beyond the wishing of something in this life by offering us hope for all eternity.
Check it out for yourself today: Jesus' story told by Luke
Leave a Comment