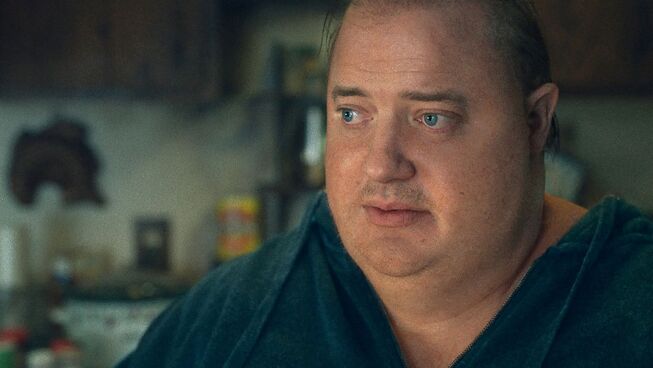 4 out of 5 stars
Many actors deliver performances throughout their careers that lead to a potential a comeback even though they may not realise they had not gone anywhere. Yet, Brendan Fraser (The Mummy) used to be one of the busiest actors in Hollywood and then seemingly faded from the public eye. Despite some minor roles in film and television, it was not until The Whale was screened at ​​the 79th Venice International Film Festival that he shot back to the top of the industry's awareness. The world took notice of his award-winning portrayal of the overweight and reclusive English professor, Charlie.
Based on the role from Samuel D. Hunter's stage play of the same name, most of the film is staged within a claustrophobic two-bedroom flat in Idaho. In this isolated setting, Charlie keeps his computer's camera on mute and conducts his online classes in persuasive writing at the local university. His primary contact with the outside world is Liz (Hong Chau), who is his best friend and in-house nurse. She does all she can to sustain his life and get him the medical care he needs, even though her oversized patient chooses to not leave his home and continues to eat his way to an early demise.
Until two unexpected guests take an interest in Charlie's life and do all they can to reach out to him in his current condition. One is a New Life Church missionary, Thomas (Ty Simpkins), who genuinely desires to speak into life of this unsuspecting target of his eternal message. While the second is Charlie's estranged teenage daughter Ellie (Sadie Sink), who suddenly re-enters his life after being separated from her father for eight years. Each individual has different purposes for this obese hermit and use different tactics to connect with him. They do all they can to encourage him to see that life is worth living despite losing his life partner, Alan. It is the gay couple's relationship that is the catalyst for a myriad of tensions between the few people who do manage to cross the threshold of this depressing environment.
If anything can be said about director Darren Aronofsky (Black Swan) is how his artistry can be defined by a direct intersection with the psychological side of life. What is refreshing with The Whale is his return to character plays that captialise on his unique form of storytelling. He immerses his audience in Samuel D. Hunter's screenplay and in Charlie's world, slowly unpacking the multi-layered tale of tragedy and grief. Despite the grotesque nature of his central character, the celebrated director manages to humanise the secluded professor by making him one of the most sympathetic roles in cinema this year. As he returns to cinematic form of The Wrestler and Black Swan, Aronofsky manages to bring everyone on the project along with him.
This is especially true of his lead actor, who delivers the best performance of his career and in cinemas in 2022. Despite being relegated to an extreme body suit and make-up, Brendan Fraser manages to portray all of the emotions of someone who has lost someone significant in life. His emotional range cannot be celebrated enough despite the numerous relational points that intersect in his paltry living space. Yet, his role is one of many to take notice of in this film. Ty Simpkins, Hong Chau, and Sadie Sink rise to the task of embracing the confronting talking points that get gradually introduced in a timely form. These actors prove that for a film to work well, it needs a plethora of touching points to help to rise above the mediocrity of cinema on offer this year.
Beyond the performances, the key aspect that makes The Whale stand out is the outstanding writing of Samuel D. Hunter. The brilliant overlay of Moby Dick and Walt Whitman's work exposes the depth of the writing and should draw anyone into this dark depiction of the human condition. Even though he takes on many tenuous elements like same-sex relations, religion, obesity, and suicide, this turns out to be one of the year's best films. The mature subject matter may be difficult for some viewers to stomach. Still, it should be on the watch list of those who appreciate well-crafted storytelling and character development.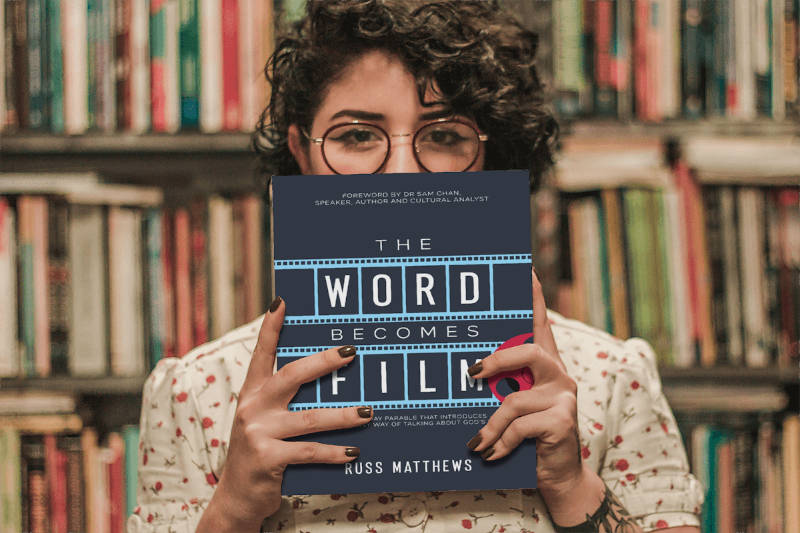 The word becomes film
Russ Matthews' new book is a modern-day parable that introduces a radically easy way of talking about God's story
If you order the book today you will also receive a complementary study guide that is only available with the purchase of the book (Print or ebook)
Reel Dialogue: Persevere in sharing your faith
Brendan Fraser will be the actor that all will focus on within this production. Still, the character that stood out in this screenplay was the fumbling and flawed evangelist, Thomas (Ty Simpkins). Despite his ineptitude and feeble attempts at sharing his faith, one thing that stood out about his character was his perseverance. He gets something right with his desire to serve those who come into his life, and he humbly returns to reach out to Charlie because of his genuine care for the man.
The only promise of those who go out to share their faith within the Christian faith is hardship and persecution. The evangelist is not meant to be motivated by joyful responses to the words they share, but instead to persevere through the challenges that come. Even though this film attempts to paint religion and the role of the missionary as detrimental to society, it proves the opposite. This character is an unexpected inspiration for all who put their faith out there for scrutiny. We should all persevere as Thomas does, even if we are found to be imperfect in our methods.
Therefore go and make disciples of all nations, baptizing them in the name of the Father and of the Son and of the Holy Spirit, and teaching them to obey everything I have commanded you." - Matthew 28:19-20a
Leave a Comment