Son of the South
Showing how the hearts of man can be changed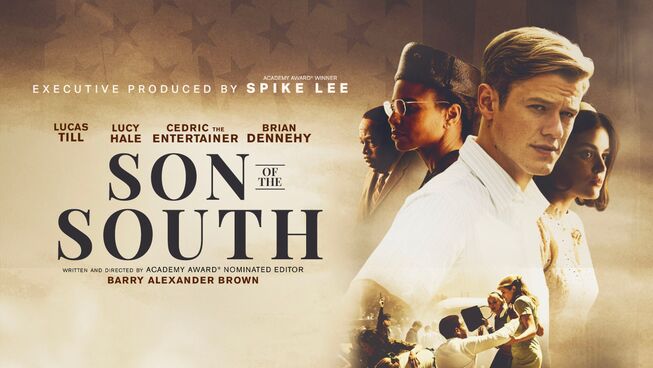 3.5 out 5 stars
Racial relations continue to be a topic of discussion that populates our newsfeeds and leads the local news outlets day after day. As a reflection of society, films continue to be produced that speak into this subject. One that cuts straight to the heart of humanity is Bob Zellner's autobiography "The Wrong Side of Murder Creek: A White Southerner in the Freedom Movement" provides another view of the civil rights movement. A personal tale that shows how things can change one person at a time.
No one could have predicted that Montgomery, Alabama would become the centerpiece for so many significant events in changing world culture. As a university assignment on the subject of this fledgling movement, Bob Zellner (Lucas Till) unknowingly becomes part of the wave of change that was sweeping America. Yet, his interest in the subject of race relations grew as he observed the inspirational and life-threatening acts of these young people who were trying to change the course of history. Despite having a family legacy linked to the Ku Klux Klan, the university student decided to do his part. Even though he could have chosen to live within this comfortable lifestyle, he would come in contact with Rosa Parks (Sharonne Lanier) and Reverend Abernathy (Cedric the Entertainer), who were on the front lines of this fight. They motivate him to volunteer for SNCC (Student Nonviolent Coordinating Committee) with little awareness of the effect. Yet, it does lead to his world being irrevocably turned upside down.
In this world that seems to be a powder keg of emotion when it comes to the discussion of racism, this film does incorporate one thing that makes it unique, hope. Not that this is not seen in other films that highlight the birth of the civil rights movement. Still, this true-to-life story does prove that the hearts of men can be changed and Bob Zellner's life shows that this change can last a lifetime. Granted Zellner was not a man of colour. Yet, his story does show that people can serve something they believe in even if they do not share the same skin colour. Though the movie does paint his life as one that was charmed, you see how much he sacrificed throughout his years as he continues to serve the cause.
Unfortunately, many of the fascinating characters that came into this season of his life fade away without much explanation. Between his grandfather, who was played by Brian Dennehy, Rosa Parks and many other activist stories went untold. Admittedly, this was Zellner's journey to explore. Still, many supporting individuals could have even added more depth to this familiar tale but it still proved to be compelling enough to be considered by anyone looking for more to know about this history-defining era. This is a film that continues in the tradition of showing the affront that racism is to society and how people can choose to turn away from its path.
REEL DIALOGUE: Christianity, racism and discrimination
Son of the South addresses topics that have been a part of America's and the world's social conscience since the beginning of mankind. Racial hatred and discrimination relate to something more profound than mere social injustices. These two issues are a deeply embedded insult to God and offence to the entirety of humanity.
For students of the Bible, it is not difficult to see that racism runs counter to the message that can be read throughout its pages. The hatred depicted in this film and actions taken by many worldwide is not a representation of Christianity or Jesus' message. He died on the cross to redeem men and women of every race, colour, and ethnic background. The Saviour of the world lives today to show the eternal value of all people, regardless of nationality, race, development, appearance, or ability. His followers must embrace this aspect of the Bible's message and live accordingly, while sharing this truth with all of the world without prejudice.
Stop judging by mere appearances, but instead judge correctly. John 7:24
There is neither Jew nor Greek, there is neither slave nor free, there is no male and female, for you are all one in Christ Jesus. Galatians 3:28

Be sure to listen into the Bigger Questions podcast: WHY FIGHT RACISM?
Rob Martin interviews Bob Zellner
Bob is a leader in the American Civil Rights Movement from the 1960s to today. He is the son and grandson of Ku Klux Klan members and he risked his life in the fight to achieve The Second Emancipation. His story is the subject of a new film, Son of the South, based on his autobiography The Wrong Side of Murder Creek.