Planes, Trains and Automobiles - Reel Dialogue Classics
Celebration of the John Hughes classic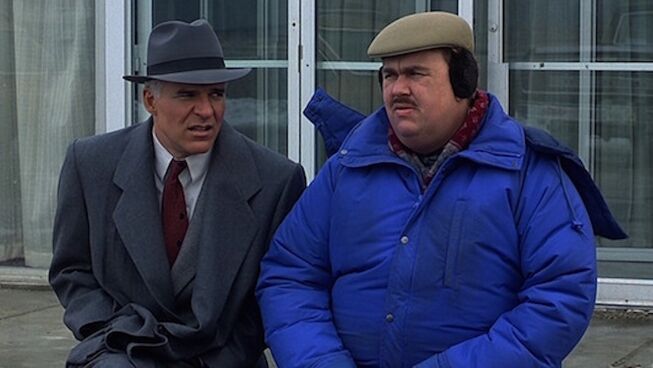 In the 35 years since its release Planes, Trains, and Automobiles has endured as one of the rare perfect films that only gets better with each annual rewatch. The list of Christmas holiday classics is long and varied. Still, no film is so inextricably tied to the Thanksgiving holiday tradition like Planes, Trains, and Automobiles. Legendary director and screenwriter John Hughes (Home Alone, Ferris Bueller's Day Off) assembled the perfect cast of actors around a well-constructed script. The result is a brilliant combination of comedic schtick and sappy sentimentalism. The comedy of Steve Martin and John Candy transcends the familiar "buddy road trip" because the heart of the film's message is human compassion, personal connection, and friendship. As complete strangers who become travelling companions, Neal Page and Del Griffith are placed in progressively absurd situations that amplify each person's faults. Consequently, each must learn to sacrifice for the other by compromising both burden and ambition.
Planes, Trains, and Automobiles is much more than another John Hughes screwball comedy. It is also a significant departure from his string of successful coming-of-age movies during the eighties. The wunderkind filmmaker depicted Chicago suburban life through the eyes of awkward teenagers in a hard-hitting drama called The Breakfast Club and in teen rom-coms and buddy movies like Sixteen Candles and Ferris Bueller's Day Off. These films anointed the infamous "brat pack" of rising teen celebrities, including Emilio Estevez, Molly Ringwald, and Demi Moore, and established Hughes as a genius screenwriter and an A-list director. Film critic Roger Ebert referred to Hughes as the 'Philosopher of Adolescence.' He credited the director's uncanny ability to tap into the teenage psyche and develop three-dimensional characters who struggle to be understood by the adult hierarchy. In Planes, Trains, and Automobiles Hughes threads slapstick humour with more adult-oriented themes of rejection, purpose, and socioeconomic status. Neal and Del come from vastly different backgrounds and life experiences and it's only because of their chance encounter at a cab in New York City that the two even meet. The tense journey begins when they are crammed next to each other on the same flight home to Chicago. The men find new meaning and mercy along the circuitous pathway home despite their many differences.
Legendary comedic actors Steve Martin and John Candy are comfortably rooted in the characters of Neal Page and Del Griffith that they are closer to their true forms than creative performers working from a script. In the film's opening scene, we meet Neal (Steve Martin), a successful marketing executive making a last-minute pitch before catching a flight out of New York in time for Thanksgiving. Neal exudes confidence through his well-tailored suit, leather briefcase, and pinched fedora. It's safe to assume that Neal has sacrificed to climb the corporate ladder and the years of hard work and discipline suggest some entitled arrogance. While competing for a cab in New York City Neal meets Del Griffith (John Candy) for the first time. Del is Sales Director at American Light and Fixture - Shower Curtain Division. He enthusiastically markets his collection of shower curtain rings, labelling them "the best in the world." Del lives out of a large trunk plastered with stickers from his years of travel. He is layered in a medley of clashing shirts, cardigans, and parkas. His skewed bow tie and caterpillar moustache are an unfortunate afterthought. Del is an eternal optimist and a bit of a slob who is plagued with good intentions. His lack of self-awareness is sincere and sort of endearing. He is genuinely likeable and no doubt, a good salesman.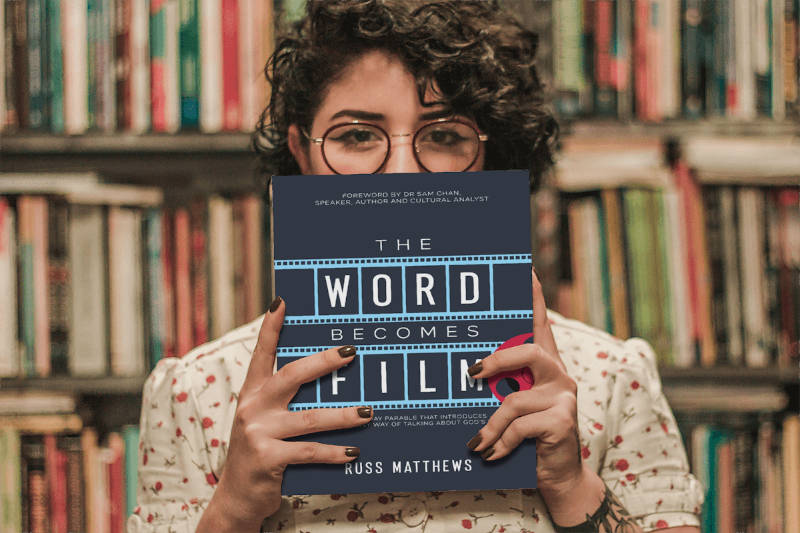 The word becomes film
Russ Matthews' new book is a modern-day parable that introduces a radically easy way of talking about God's story
If you order the book today you will also receive a complementary study guide that is only available with the purchase of the book (Print or ebook)
Due to winter weather in Chicago their flight home is suddenly diverted to Wichita, Kansas. In a brief and ironic cameo, Ben Stein (Ferris Bueller's Day Off) stands at the gateway and wryly announces that all flights out of Wichita have been cancelled. Ever the control freak, Neal's patience is wearing thin, especially since the airline bumped him from first-class. Adding insult to injury, he had to squeeze next to the obnoxious man who stole his New York cab. Both are now stranded in Kansas. While Neal calls his wife at home, Del checks all the surrounding hotels and manages to reserve one of the last remaining rooms. Del offers to share his room with Neal who has no better alternative and reluctantly accepts. Some of the movie's best moments occur in the hotel room as the two men are settling in for the night. Neal's sensibilities are put to the test by Del's boorish behavior. Del soaks his dirty socks in the sink, spills beer all over the bed, and hocks a series of impressive loogies. Neal finally snaps and delivers a blistering attack.
"Didn't you notice on the plane when you started talking, I started reading the vomit bag? Not everything is an anecdote, you must discriminate! You choose things that are funny or mildly amusing! You're a miracle! Your stories have none of that! They're not even amusing…accidentally!"
Del is visibly hurt and delivers Neal a heart-felt rebuke.
"You want to hurt me? Go right ahead if it makes you feel any better. Yeah, you're right. I talk too much. I also listen too much. I could be a cold, hard cynic like you. But I don't like to hurt people's feelings. I'm not changing. I like me. My wife likes me. My customers like me. I'm the real article."
It is evident by this exchange that the two men are hurting, but for different reasons. On the outside, Neal appears to have everything: a good job, a beautiful family, a big house in the suburbs. In reality, Neal is a prisoner to his obligations and resents anyone who stands in the way. Del is a person of excess who believes the ends justify the means. In one scene he deceives some gullible prospects into buying a few shower curtain rings. Del's intentions are also noble when he steals Neal's credit card to rent a car. These decisions, and others like them, indicate an impulsiveness on the part of Del that could be driven by something deeper. Hughes hints at past trauma in Del's life, but like Neal, we are too distracted by the inconveniences of the journey to pick up on the clues. In fact, it isn't until the film's penultimate scene that Neal learns the truth behind Del's pain.
Planes, Trains, and Automobiles was released on November 15, 1987, to critical and box office success. Amazingly, John Hughes wrote the script in less than a week and captured several unforgettable moments between exceptional character actors. Despite these outrageous situations the soul of the film is quietly captured in a midwestern field. Upon securing train tickets home, Neal decides to part company with a dejected Del. The train inevitably breaks down and everyone is forced to walk to a nearby bus stop. Before getting off the train, Neal looks out the window and sees Del lumbering across the field with his burdensome trunk. He hesitates for a moment and then hurries to catch up with Del. No words are needed as Neal grabs the other end of the trunk and the two of them walk across the field together.
Galatians 6:2 – Carry each other's burdens, and in this way you will fulfill the law of Christ.
Leave a Comment