2 out of 5 stars
One of the hot topics of our time is the failure to launch by the latest generation. As each age bracket matures to adulthood, their parents must address the subject of when they must leave the nest. Some commentators could say that this is unique to millennials, but that shows a lack of historical context. They seem to forget that every generation can point to those who have failed to grow up and progress into adulthood.
Judd Apatow has made a career that is defined by this challenging element of Western society. From The 40-Year-Old Virgin to Trainwreck, the filmmaker has exposed the struggles of those stuck in the quicksand of immaturity. His characters wallow in a world of weed, unemployment, living with their parents and some level of mental anguish. These unfortunate individuals usually are uncomfortably sympathetic with a touch of desperation mixed in for good measure.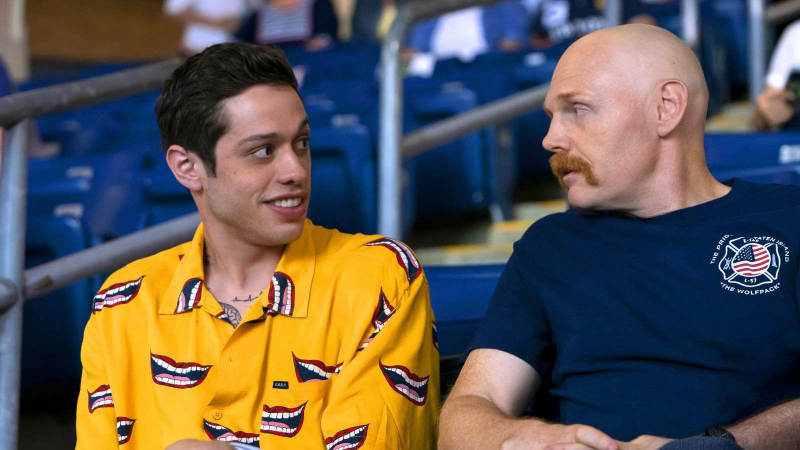 His latest creation is Scott Carlin (Pete Davidson) who is a 24-year-old drop out who still lives at home with his mother, Margie (Marisa Tomei). He is a boy living in a man's body who had managed to convince the world that he can blame all of his problems on his father's death, even though it occurred when he was seven. Most of Scott's life is spent in his friend's basement smoking pot and playing video games. His only dream is to be a tattoo artist and to open a tattoo restaurant. Still, the one thing that seems to hold him back is his lack of motivation and tattooing skills.
As he floats through life and a series of bad decisions, he is shocked awake by the transition in the life of his mother. His younger sister leaves home to begin her time at university and Margie decides to give Scott the ultimatum to move out. Even though she loves her son, the middle-aged nurse wants to move on with her life and to begin dating a firefighter named Ray (Bill Burr). This adds to Scott's frustrations, because his father was a firefighter who died in a hotel fire. With no living options or career opportunities, the self-proclaimed slacker must figure out how he is to survive his life on Staten Island.
What The King of Staten Island offers is a discussion on the value of effective parenting and the warnings against the desire to enable our children to live with bad choices. Other than that, there is little to celebrate in this film. Apatow always manages to cut a fine line between celebrating those who fail to mature and exposing this lifestyle for what it really offers. He tries to scratch at the surface of a life lesson to be learned, but only manages to show that these individuals have little to hope for on this earth.
Pete Davidson seems to be portraying an autobiographical aspect of his actual life. His performance is tragic and only becomes likeable in the final act, which comes off as more of his personal reality than acting in the end. Proving to be a perfect fit for this comedian and the director who has built his career on the world of slackers. A character that overshadows the strong performances of Marisa Tomei and Bel Powley, who portrays the heartbreaking role of Scott's wanna-be girlfriend.
For all of the Judd Apatow and Peter Davidson fans of the world, this one's for you. A journey into the hopeless world of those individuals who fail to grow up and move on with life. The film and the characters it portrays will add very little to society and may leave audiences wondering why they even bothered watching the movie at all.
Reel Dialogue: Grow up
'When I was a child, I spoke and thought and reasoned as a child. But when I grew up, I put away childish things.' 1 Corinthians 13:11 (NLT)
Interestingly, this verse in the Bible comes at the end of the famous love passage from the Apostle Paul. A message that conveys that for humanity to truly understand the meaning of love, we need to grow up and mature. The depths of the human experience can only be known by those who mature, physically, mentally and spiritually.
The King of Staten Island does not have much to say about spiritual growth. Still, it does offer a glimpse into the value of maturity. Proving that sometimes the best thing to do as parents is to make the hard decisions that force your children to grow. Also, that the ultimate responsibility of the maturing process has to fall on the individual. This message of maturity applies to every generation and it is one that needs be fully embraced to be understood.
We all need to mature in our lives. Regardless of the season you find yourself in today. How can you give up the childish ways for the benefit of growing in your faith, your relationships and your life?
Leave a Comment