How to Please a Woman
Less a review and more of what was learned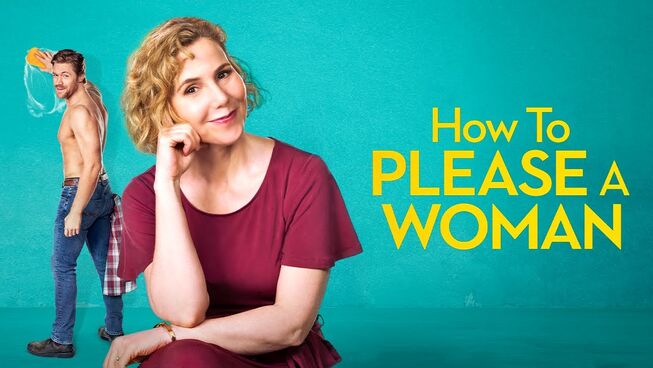 There is a pervading message about people transitioning into new seasons of life throughout recent cinema. For some, it might be careers, while others have hit upon a time in life where everything involves a steady stream of change. In Renee Webster's cinematic debut, she taps into the life of a middle-aged woman who is experiencing a perfect storm stage in her world. One where her career, marriage and parenting are all undergoing significant modifications.
Despite being one of the most productive workers in her firm, Gina (Sally Phillips) has been downsized from her job in an apparent ageism situation. Her home life has become a series of routines with her husband, who has not touched her in months. While their beloved daughter lives away from the couple, Gina has begun to have little purpose or joy. Until the doorbell rings on her birthday, when she is greeted by Tom (Alexander England), a male stripper gifted to her by her friends. Gina does not feel comfortable with him stripping for her, but when he asks what he can do for her, she asks him to clean her house since they have an hour.
This was not Tom's typical response from women, but he obliged. After he was finished, this whole experience gave the former analyst an idea. She had been given one last assignment before her redundancy that involved doing an evaluation of a failing moving company. When she realised Tom only did the exotic dancing on the side and worked for this removalists outfit, her idea was to turn the business into a cleaning service with special benefits. Specifically, the cleaners would be willing to perform duties that would go off the standard list of cleaning tasks meant to please the women of the homes.
This was one of those films that would not really fit within the typical reviews for Reel Dialogue. When you look at the surface of this storyline, it is difficult to get past how it is built on the development of a male escort service that comes with men who can clean the house. Renée Webster's screenplay involves enough sexual escapades to make Sex and the City seem tame. Still, there was something under the surface that was worth uncovering. Not to say that we would recommend the film to our readers, except to potentially open the discussion about what it really means to please women.
This might seem odd to be written by a male reviewer. Yet, if this was purely an education occurrence, it might be worth seeing if this writer learned anything worthwhile. Despite being a husband and father of daughters, there is always something to consider when confronted with a topic that is supposedly outside of a man's expertise. Except there were three things that stood out in this film and even made me think of the spiritual connection between men and women.
The three lessons were the importance of listening, the value of touch and the beauty of learning how to love together.
Sally Phillips' character did provide a service to other women with this entrepreneurial venture. Still, she managed to show what all women seem to want through her personal yearnings. The first was the importance of listening to what each person really wants and needs. She was systematic in dealing with the 'cleaners' clients, but as each woman became vulnerable, they showed how valuable the listening process is to a relationship. This moved past the sexual conversations and exposed how genuinely hearing what someone has to share can be one of the most arousing actions anyone could provide. The second point was found in the value of the human touch. Even though the film does focus on the erotic elements, the most compelling scene is when Phillips' on-screen husband refuses to touch his wife. With few words spoken, this relational breakdown managed to show the significance of the touch of someone's hand, the wiping away of a tear or the euphoric placement of a well-timed kiss. The combination of these two components should be studied and applied by men worldwide.
Let marriage be held in honour among all - Hebrews 13:4a
Yet, the final point is the most important of this trifecta of relational advice. Within the biblical framework of marriage and male/female relations, the beauty of learning how to love together is a gift from God. Despite this film's desire to minimise the value of long-term relationships and lift up the transactional side of this side of humanity, what unintentionally stood out from this film was the incredible joy of learning about love from the person you are married to as the years progress. That love is more than physical or merely emotional. A true romance improves as we travel through life together in these areas and to grow spiritually together. Couples need to learn what works and what does not in human connection. They need to see that it is an adventure and something to explore together to make something new as they invest in their relational bonds. What better place to discover this important lesson than within a marriage. Something that was intended by God at the beginning of time and will remain throughout human history.
How to Please a Woman may not be endorsed by the Reel Dialogue team. Still, this Australian film led to potential conversation starters for married couples who want to learn how to please one another and enjoy the process.
But from the beginning of creation, 'God made them male and female.' 'Therefore a man shall leave his father and mother and hold fast to his wife, and the two shall become one flesh.' So they are no longer two but one flesh. What therefore God has joined together, let not man separate." Mark 10:6 -9
Leave a Comment