4 out of 5 stars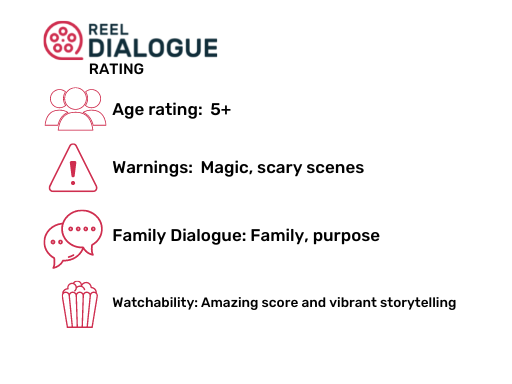 Disney Studios is celebrating their 60th film, and the House of Mouse team has pulled out all of the stops. With Byron Howard (Zootopia, Tangled) in the director's chair and new songs from the composer who seems to be everywhere, Lin-Manuel Miranda (Hamilton). They take the magic of this animated studio into the deeper recesses of Columbia where we are introduced to the Madrigal family. Within the village built up around their house named Casita, they all have been gifted with magical talents meant to help the small community. All of the family except for Mirabel Madrigal (Stephanie Beatriz), who is the family's heart, but has been passed over when it came to special powers.
On the day of her cousin Antonio's (Ravi-Cabot Conyers) day to receive his gift, Mirabel has a vision that the beloved family home is under threat. Along with cracks within the magical building, a deeper peril is at stake with the mystical candle that has provided the family powers through the years. Unfortunately, most of the clan do not believe her because they think she is jealous of her younger cousin. Due to this reaction, the young woman does all she can to discover what has led to her dire prediction. This forces her to search out her reclusive uncle Bruno (John Leguizamo) and uncover the issues that must be exposed to save their home and family.
What is noticeable from the bringing together of this groundbreaking animation and the engaging score is that this is a remarkable film. This combination of stunning visuals with catchy tunes brings back memories of the golden era of Disney musicals. Even though there is not one lyric that will have children singing to the soundtrack, all songs manage to complement each element of the Madrigal family's story. Which becomes a beautiful vehicle to introduce the world to the rich culture of this South American nation.
Interestingly, each is allowed to develop their own personal style and many are afforded their own moment in song and story. Yet, there is no mistaking that the film's central character and heart reside with Stephanie Beatriz's interpretation of Mirabel. Beyond having strong singing abilities, she portrays a character that proves to be strong and vulnerable. Within her story, this combination will resonate with all who feel marginalised within their family or communities. This is achieved by the foundational themes of belonging and the 'diamond in the rough' in most Disney productions. This means that Encanto magically appears as the best option for families during this holiday season.
What should parents know about Encanto? Along with the captivating animation and music, families will see magical elements that have become part and parcel of Disney productions. For those uncomfortable with this mystical element within storytelling, this film might be worth a miss. Still, this is the one for you for those who enjoy a fun journey into a different culture. Mirabel's tale provides parents with an opportunity to chat with their children about the varying gifts and talents within the family.
With this in mind, Encanto is not only entertaining, but a springboard for conversation. If children are feeling ostracised or forgotten, there are many opportunities for families to share how each child within the family adds to the whole family experience. Who knows, this could even provide a time to discuss how God has gifted us all with something that we can share with others. Take some time to ask your children these questions and you never know what beautiful insights you may receive.
As each has received a gift, use it to serve one another, as good stewards of God's varied grace. 1 Peter 4:10
Leave a Comment