Chevalier
The untold story of Chevalier de Saint Georges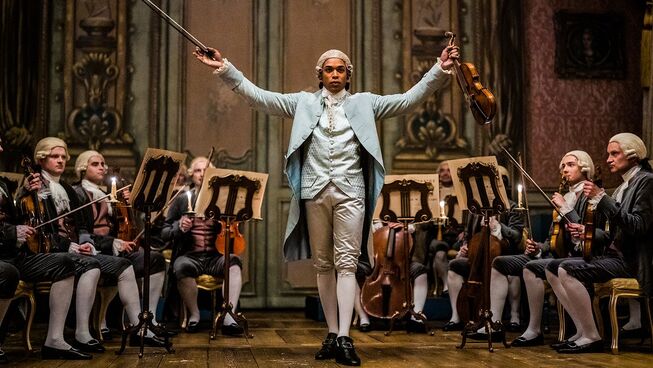 ⭐️ ⭐️ ⭐️ (out of 5)
Slavery has been the subject of countless American film productions over the years. Yet, the realities of this horrific practice have been rampant throughout history worldwide. France was not excluded from enslaving people from Africa, which serves as the catalyst for Chevalier de Saint Georges' (Kelvin Harrison Jr.) story.
The virtuoso was born in 1745 to a Senegalese mother named Nanon (Ronke Adekoluejo), who was enslaved by his father, Georges de Bologne Saint-Georges (Jim High) who was a married aristocratic landowner. His father enroled him in one of France's most prestigious boarding schools as a child. Despite extensive abuse, he excelled in fencing, dancing, and music. His reputation led him to be recognised and placed in the court of French Queen Marie-Antoinette (Lucy Boynton). The queen knighted him Chevalier de Saint Georges and allowed this Creole man to benefit from life in the extravagance of the French aristocracy.
As the people outside the castle were stirring towards unrest, Georges rose through the music world's ranks. He aspired to be the maestro of the Paris Opera. Despite his talent and drive for excellence, his race and romantic attachment to the married woman, Marie-Josephine de Montalembert (Samara Weaving), precluded him from being considered for the position. This had detrimental effects on his life and led him to be estranged by the queen, inspiring him to support the movement that led to the French Revolution.
There is always tension in bringing tales of history into modern cinemas as those involved with the production attempt to make these stories accessible to the masses. Renowned television director Stephen Williams (Lost, Watchmen) honours the character and the era he lived through by giving audiences a sanitised view of life in the French aristocracy. He showed the insurmountable challenges for the first black man to rise through the societal ranks. Yet, this French story contains primarily American and English actors who hold to their countries' accents. This makes the film more palatable, but the authenticity becomes challenging to embrace as the biographical sketch unfolds.
Kelvin Harrison Jr. carries the film through as he embodies the tragic arrogance that must have driven Joseph Bologne. As a person rejected by the country and a society he worked so hard to access, Harrison captures the pain and talent needed to represent this groundbreaking figure. Samara Weaving, Lucy Boynton, and Ronke Adekoluejo fulfil their roles with convincing form and add to the Chevalier's story. Yet, the strongest performance goes to the villainous depiction of Marc René, marquis de Montalembert by Marton Csokas (The Last Duel) who provides the needed adversary to counter the heroic musical journey of the central character.
Chevalier is a fascinating side of history that deserves attention albeit suffering from modern elements that undermine the believability of this adaptation of Joseph Bologne's life.
Reel Dialogue: Excelling through adversity
Throughout Chevalier, Joseph Bologne's story is shown to be one of overcoming adversity to excel in life. He relies on his own talents and gifts to rise above the challenges that came because of his racial heritage. Yet, it does beg the question of how we are supposed to view suffering in our lives.
This is a subject that has been wrestled with throughout history. Every person learns early in their lives that suffering can cause pain, while we can come to terms with the fact that it does not need to define our lives. These challenges may serve purposes that help us to grow mentally, physically, or spiritually. For many, it means becoming more reliant on God to show us the way through these situations.
Have you considered how the difficulties in your life might be God trying to get your attention?

And we know that for those who love God all things work together for good, for those who are called according to his purpose. - Romans 8:28
If you would like to discuss the Bible further. Reach out to us at Third Space. We would love to chat with you about this and more.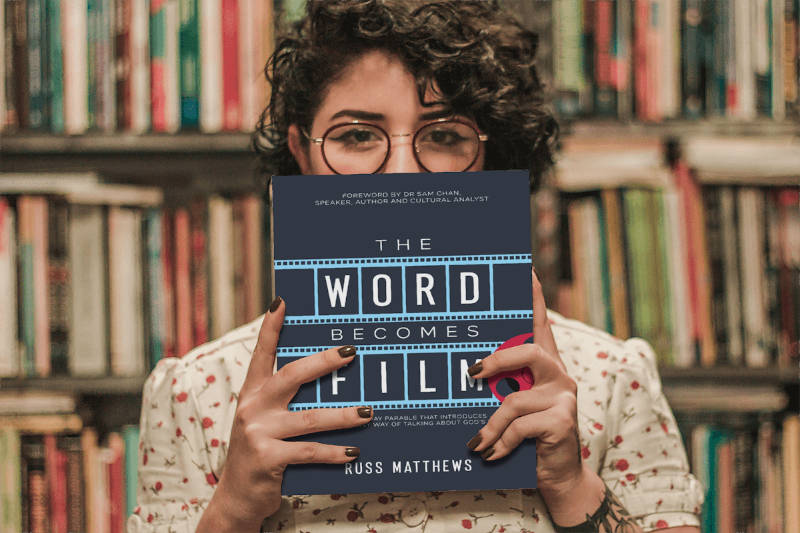 The word becomes film
Russ Matthews' new book is a modern-day parable that introduces a radically easy way of talking about God's story
If you order the book today you will also receive a complementary study guide that is only available with the purchase of the book (Print or ebook)
Leave a Comment