The name Rich Mullins (Michael Koch) may not be familiar to modern, mainstream audiences, but his influence continues to impact the world. He was a groundbreaking musician who used his talent to communicate his Christian faith and wrote some of the greatest songs in contemporary Christian music. Even though his music has brought joy to millions of people around the world, he lived a tormented life. An artist who struggled with his faith, his place in the industry and in this modern world.
Ragamuffin is a personal and confronting journey into the life of Mullins and his short life. Growing up on an American farm, he never felt that he ever fit into the rural lifestyle. He clashed with his father throughout his younger years. The only place where he found solace was in music and his Christian faith. When he was eventually able to leave home after school, he found himself on the campus of the local Christian university. In the university atmosphere of the late 70's and early 80s, he was able to express his unique style of musicality. Also, he managed to find a community of people who accepted him and his eccentricities.
Upon sending in some of his songs to producers in Nashville, a young artist named Amy Grant (Amy Schultz) heard the tape and recorded his song, Sing Your Praise to the Lord. This started him on the journey into the Christian music scene and he toured with the most accomplished star of the industry at this point in history. Mullins continued to write for other artists until he was finally able to convince the studio heads to allow him to record his own albums. Then with the release of Awesome God, the artist cemented his place in the hearts and minds of the church community. This fame led him down a self-destructive path of alcoholism and relationship breakdowns that caused him to run from the industry in search of himself and God.
Unlike many of the films from this genre, this portrayal of a music icon is confronting, introspective and raw. Writer and director David Schultz makes a brave choice to show the dark side of the struggling artist and his inner demons. A musician who continues to bring joy and peace to many through his lyrics despite wrestling with weaknesses while writing the tunes. Michael Koch provided the anguish behind the genius of Mullins life while performing his music admirably. The film could have done with a heavy dose of fearless editing and the production needed a better hairstylist. Despite these challenges, the overall experience proves to be an authentic portrayal of Rich Mullins life.

Also, this week the HOPE at HOME Film Festival is on special! Experience all 12 movies and over 20 events now for just $17.50!
Just use the code 1750SPECIAL at the checkout!
Who is this audience for Ragamuffin? It should be said that this is not a film for those looking for a feel-good story that tends to epitomise Christian films. If audiences want to come away inspired by singing Awesome God at the end of the movie, it might be better to put in Rich Mullins' cassette tape at home and enjoy his music that way. This is a journey that exposes the humanity of one of the industry's icons. A musical prodigy who grappled with pride, loneliness, familial issues and finding his place in this world. This biographical sketch is better suited for those who might be contending with some of the same problems in life and are searching for their own internal and spiritual victory.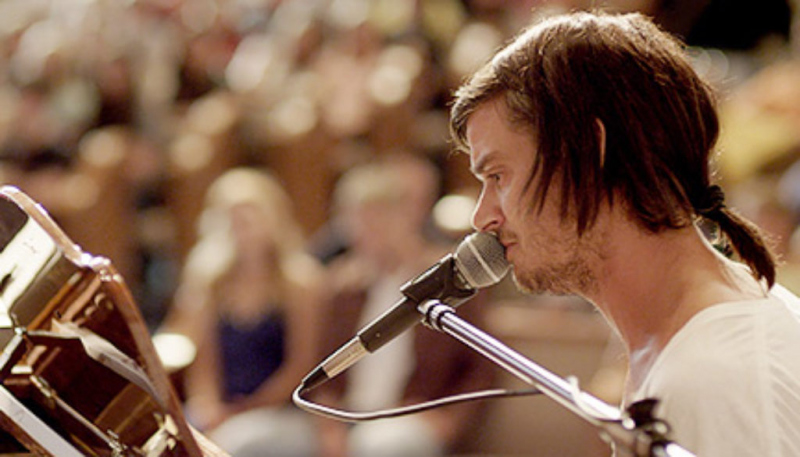 REEL DIALOGUE: Wouldn't life be better if we did not have trials?
Ragamuffin shows that great beauty tends to be born from great struggles. Rich Mullins wrestled with spiritual, mental and familial issues that caused him to spiral down into dark places. Still, it was in these places that he seemed to find some of the greatest songs in Christian music. Throughout our life on this earth, we strive to find comfort and seek after the least painful means of living. From pain medication to air-conditioning, being in the western world can be relatively pain-free, but is this the true ideal?
Looking back at history, mankind continues to prove that trials can bring out the best in us. Few people seek out difficulties in their lives because they come without having to look for them. When confronted by these challenges, personal development and testimonies generally show what individuals have within themselves.
This is evident in biblical history, also. Each book of the Old Testament and New Testament show that life's tribulations provided actual growth for the people of the past and these lessons can be a gift for us today. This is epitomised in the life and times of Jesus whose painful end brought forward the answer for all of our difficulties.
And after you have suffered a little while, the God of all grace, who has called you to his eternal glory in Christ, will himself restore, confirm, strengthen, and establish you. 1 Peter 5:10
Leave a Comment