Onward
The Pixar magic has returned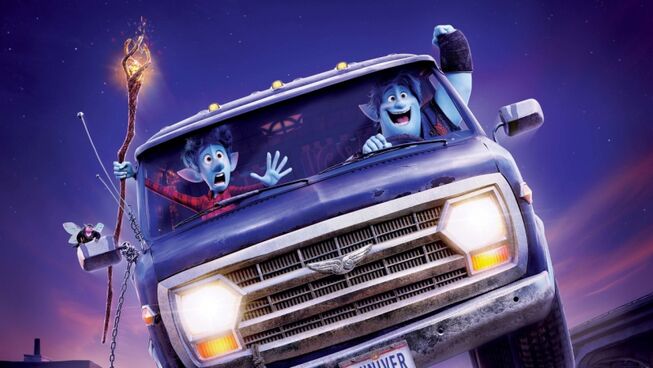 4.5 out of 5 stars
Be sure to check out Reel Dialogue's Pixar rankings... what is the best (and worst Pixar film)
When Pixar comes out with an original film, the interest level goes into hyperdrive. Even though it has been 25 years since Toy Story, the question continues to be asked if the brain trust of this studio will be able to get back to the magic that made them, well, Pixar. They have had their missteps, but the majority of their original offerings have gone onto to be groundbreaking and potential animated classics.
Onward ventures into new territory for the creative team behind Inside Out and Monsters, Inc. Audiences are introduced to a fantasy world of unicorns, centaurs and elves, but with a modern twist. A land that had a past that is reminiscent of The Lord of the Rings, one where wizards performed magic, mermaids swam in the lakes and trolls walked the earth with elves. Then modern conveniences like electricity, automobiles and dishwashers took the place of wizardry and generations of creatures forgot the magical era.
The teenaged elf brothers, Ian (Tom Holland) and Barley (Chris Pratt) Lightfoot have grown up in this fantastical world with their single mother, Laurel (Julia Louis-Dreyfus). On his 16th birthday, Ian receives a special gift from their deceased father, a man that Ian never knew and Barley can barely remember. The present was a wizard's staff that comes with instructions on how the young elves would be able to bring their dad back to them for only 24 hours. Ian does prove to have a knack for wizardry, but when he tries to bring his father back to life, he is only able to bring back his father's legs. This leads the brothers go on a quest to find a stone that will finish the resurrection process before the sun sets the following day.
What quickly becomes evident is that, beyond the outstanding animation, is that this is a film unlike many of the films from the much-lauded studio. The screenplay relies on the worlds of a Dungeons and Dragons type adventure, but with less emphasis on the dark and murky elements and more on the importance of family. Where Inside Out gave the world a look into the mind of a pre-teen girl, Onward delivers a film that is based on the value of fathers, family and specifically, brotherhood. A quest that incorporates a coming-of-age aspect that is unlike any other Pixar film.
The chemistry between Chris Pratt and Tom Holland is familiar, but ultimately perfect. It was as if these characters were written for these actors, because the brother-like mixture turns into a magical, multi-dimensional relationship. Only in a Pixar film could they manage to make the legs of a father a vital expression of endearing affection and add in a mother's actions that show the depth of her love for her sons. Coupled with great supporting characters and humour, this is a beautiful return to form and should be on the must-see list of every family this season.
What should parents know about Onward? One thing that can be said about most Pixar films is that they are made for the parents as well as the children. This one does not get to the same emotional depths of Up!, but will rival any other film from their filmography. They do not push the supernatural element as much as emphasising the value of family and brothers. Some aspects of the film might make this a bit scary for the little ones, but overall this quest is one that every parent should travel with their child.
What questions should parents discuss with their kids after Onward? There are multiple discussion points for parents in this script. The conversation in the car or at dinner could be about grief, how can we remember the ones we love after they die and the importance of siblings. Also, this story is reminiscent of what is seen throughout the Bible of how people continually forget their past. Onward helps audiences to see the value of remembering history and what it can teach us about the present.
Reel Dialogue's updated Pixar ranking
Finding Nemo
The Incredibles
Toy Story 3
Inside Out
Monsters, Inc.
Up!
Toy Story
Onward
Ratatouille
Wall-E
Incredibles 2
Finding Dory
Toy Story 4
Toy Story 2
A Bug's Life
Cars
Monsters University
Cars 3
Brave
Coco
Cars 2
The Good Dinosaur
Leave a Comment