2 out of 5 stars
Celebrated and iconic comedian, WC Fields is credited with saying, "Never work with children and animals."Advice for all actors, regardless of how big of a star they may be, their performance will be overshadowed by their smaller on-screen counterparts. Dave Bautista (Guardians of the Galaxy) is a massive man even though he may not be a household name, it is hard to think of anyone being bigger. Yet, in the latest from well-known comedy director Peter Seal (Get Smart), nine-year-old Chloe Coleman comes close to besting this mountain of a man.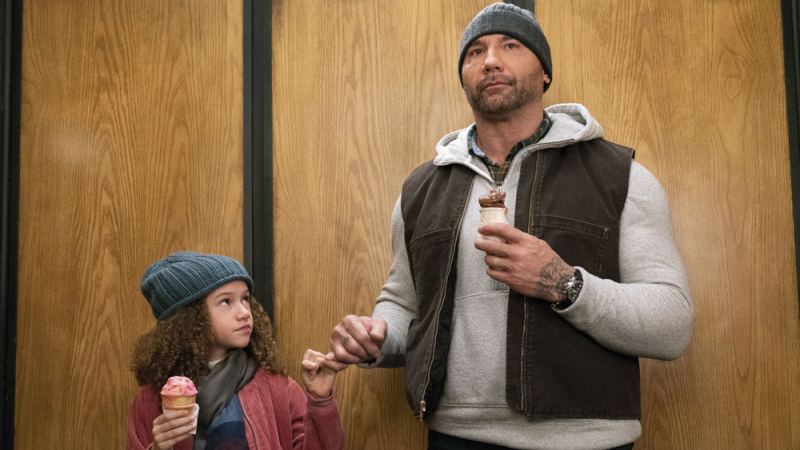 Bautista plays a CIA operative named JJ, who has just come off of a failed mission in Russia. Despite buying up an illegal weapons deal, he did not meet the expectation of his boss and was relegated to surveillance duty in Chicago. He and tech operator Bobbi (Kristen Schaal) must keep an eye on a young mum and her daughter. These two happen to be related to a French illegal arms dealer, Victor Marquez (Greg Bryk). The two had just moved to Illinois to start their life over and were not aware of the danger they were in or that government agencies were watching them.
While the CIA team were placing cameras in the small family's apartment, Coleman's character, Sophie discovers the government operation. As she confronts the agents, she capitalises on their mistake. The curly-headed opportunist uses the former US Special Forces soldier as a means of getting acceptance at her new school. A relationship that is initially treated with skepticism by her mother, Kate (Parisa Fitz-Henley). When she sees the positive impact that JJ is having on her daughter, she comes to accept him. This acceptance of JJ progressively turns into an awkward romance that puts the whole operation in jeopardy. Especially when Victor escapes the authorities in France and makes his way to the US to get something from Kate that was left behind by his dead brother.
A formulaic adventure of a bumbling, steroid-induced agent who is saved by his pocket-rocket hero. Bautista and Coleman slot right into the familiar roles that have been a mainstay in Hollywood since the days of WC Fields. A film with modern twists, but nothing new to offer this genre. Offering families a fresh take on this familiar storyline, even though it does contain some mature elements.
The highlights of the cast are the discovery of Chloe Coleman and the comedic magic of Kristen Schaal. Coleman manages to hold her own throughout the film and proves that she is genuinely the one carrying this film through to the end. While Schaal takes on the stereotypical sidekick role with humorous precision and lifts the mundane dialogue to an admirable level of entertainment. Which leaves us analysing Bautista's performance which came off as forced with moments of fleeting humour. His work proves that the actor is best within an ensemble cast or as an influential supporting cast member, as opposed to carrying a film (despite his vast shoulders).
A film by the numbers journey that does not provide anything new to the world of cinema. Regardless of its familiar script, My Spy does offer something for families to enjoy together. Even though most people will finish the film and wonder if they had seen it before.
What do parents need to know about My Spy? The world may have moved on from this adult male befriending the little girl formula. The production team did address this uncomfortable component of modern society. Still, it did not elevate the awkward nature of this relationship. Parents will continually hear the phrase 'stranger danger' rattling through their heads as the film progresses. Parents will need to determine if they are comfortable having their children watching a movie with moderate language and levels of violence. Elements that are standard in today's films, but still something to flag before those awkward moments occur while watching a movie.
REEL DIALOGUE for the family: How should we respond to people who break our trust?
When Kate and Sophie realise that JJ is not just a neighbour, but an agent, they have to determine if they can trust him. What would you do?
Throughout human history, the label of a liar is something that no one wants to bear. Yet, people still choose to betray relationships and even God for any multitude of reasons. From Adam to Judas, betrayal is seen throughout the Bible, too. How does God respond to those who betray him? He may surprise you with the judgement and the love that is offered to those who betray him.
Passages on broken trust: Genesis 3, Luke 6:27-38, John 3:16, Hebrews 9:28
Leave a Comment