Just Mercy
For anyone who cares about humanity
4.5 out of 5 stars
The politics and racial tensions of the deep South of the United States have provided some of the greatest cinematic drama. To Kill a Mockingbird continues to be a standout in literature and movie history. A triumph that depicted the plight of the African-American community and the injustices that still occur in society. A courtroom spectacle that was fictitiously brought to life by Harper Lee in her hometown of Monroeville, Alabama.
As if life was imitating art, a similar event occurred in the small town in 1986. Walter McMillian (Jamie Foxx) was tried, convicted and sentenced to death row for the murder of an 18-year-old white girl. Just Mercy depicts the story of how a young Harvard lawyer works to find justice for Walter and other prisoners who were wrongfully accused of crimes in the heart of Dixie.
Bryan Stevenson (Michael B. Jordan) graduated from the Ivy League law school and passed the Alabama Bar exam. Then he went on to found the non-profit Equal Justice Initiative (EJI) in Montgomery. The organisation was awarded a grant to run the centre and guarantee any death row inmates a legal defence in Alabama. As he was establishing his practice, Bryan began looking into the cases of many of the correctional inmates. Walter McMillian, known as Johnny D, was one of the potential clients he started to consider for review.
As the young lawyer started to uncover the injustice that had befallen his client, he comes up against the unforgiving system that still existed in the South. He needed to work with his team to find witnesses who would prove that Johnny D was innocent. Still, he continued to come up against barriers at every turn. With unwavering tenacity he gets a unique opportunity to share McMillian's story on the news program, 60 Minutes. With the national media on his side, the lawyer began to make in-roads to free his client and now friend.
Just Mercy is one of the most confronting and beautiful depictions of the need for justice, grace, and mercy in cinemas. Director/writer Destin Daniel Cretton manages to show the imperfections of the human condition and delivers a respectful interpretation of Walter McMillian's story. Every cast member manages to embody their true-to-life character which draws the audience into this familiar story of injustice and racism with a fresh set of eyes. Jordan and Foxx are captivating in their performances, but it is Tim Blake Nelson and Rob Morgan who should be given particular acclaim for their portrayals of fellow prisoners who play significant roles in this bittersweet tale.
It was fascinating to know that over half of the states in the United States still have the death penalty. Many of the states use it in a limited capacity, but Alabama is top of the list when it comes to actively using the electric chair as a means of punishment. Bryan Stevenson's story manages to show all of the various components of the justice system and the need for those who are willing to serve those in greatest need.
The script does not shy away from the fact that bad things happen and that there is a need for the incarceration process, while still managing to show the humanity of the prisoners and their families. A film that should be on the 'must-see' list of anyone with a heart for their fellow human beings.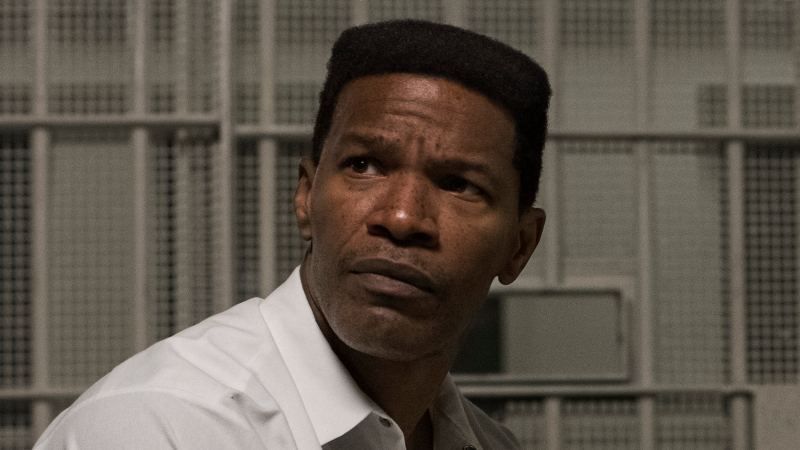 Reel Dialogue: Visit the prisoners
'Keep on loving one another as brothers and sisters. Do not forget to show hospitality to strangers, for by so doing some people have shown hospitality to angels without knowing it. Continue to remember those in prison as if you were together with them in prison, and those who are mistreated as if you yourselves were suffering.' Hebrews 13:1-13
Just Mercy is a powerful message of justice, mercy, grace and to not forget those in prison. The world of incarceration is meant to be a punishment for crimes that individuals have performed against society and their fellow man. Some are victims of the system, but many do earn their place in a cell.
Despite their crimes, these men and women are still human. They do deserve to be treated with respect, even though their actions may not initially earn this right. This is why the church has played such an important role in prison ministries throughout the years.
The God of mercy, grace and love does not forget those in prisons and neither should his people. For many behind bars, this is the only hope they have for the future, the salvation offered to them by Jesus. As it was depicted in one of the most powerful scenes in the film when one of the prisoners goes to be executed and gains solace from the hymn, 'The Old Rugged Cross.'
Leave a Comment