Blood Father
For the love of a father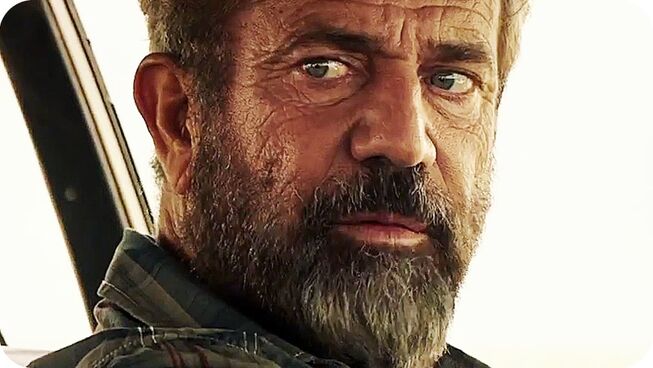 4 out of 5 stars
John Link (Mel Gibson) is angry. As he sits in the local Alcoholics Anonymous meeting, he vents about all of the bad choices he has made in his life and the regrets he has in relationship to his family. He has done his time in prison and now lives out his days of parole in a desolate caravan park with a group of ex-convicts. As he runs his tattoo parlour out of his modular home, one day he receives a desperate call from his estranged daughter, Lydia (Erin Moriarty). She has found herself on the wrong side of the law and needs her father's help. For the sake of his daughter, John has to determine if he is going to get pulled back into his past and the dark underworld that he has tried to leave behind.
Regardless of what people's thoughts on Mel Gibson as a public figure, he continues to prove that he is a force in front of and behind the camera. Blood Father is Gibson getting back to his acting strengths of raw magnetism with the glint in his eye that conveys a bit of humour and heart of genuine character. Chain-smoking and hard living have taken their toll on his skin, but the unpredictable nature seen in the Lethal Weapon franchise and the passion of Braveheart make their presence known in this new persona of John Link.
Watch the film and download the discussion guide for afterwards
The premise of a father striving to save his daughter from the world of crime is not new, but director Jean-François Richet (Assault on Precinct 13) provides a gritty and fresh take on this storyline. He capitalises on a strong central cast and the chemistry between Gibson and Moriarty to make this familiar narrative believable. The only challenge for Richet is proving that Moriarty's character could potentially survive her lifestyle choices. She struggles to be a credible 'good girl gone bad,' but this does prove plausible throughout the film's progression. The gang bangers she crosses are one dimensional and did not prove to be anything but targets and punching bags for Gibson and crew, but this does not diminish the overall experience. The primary travesty of the character development for Blood Father is the minimal use of William H. Macy, who continues to prove to be a tour de force when he is on screen and steals each scene he is in.
This new vehicle for Gibson's career is not for the faint of heart or the easily offended. The language, violence and offensive content are dialled up to maximum. These elements are not utilised to the excessive levels of a Tarantino film, but they effectively lay bare the rawness of this dark underworld. They are excessive, but do complement the story more than distract from what is happening on screen. Taking this warning into consideration, it may not be considered a classic but introduces the world to a new directing talent in Richet and is a welcomed return for Mel Gibson. A truly visceral and engaging film.
REEL DIALOGUE: Can you go home again?
Lydia Link (Erin Moriarty) has run away from home. When she truly needs help, she seeks out the help of her father. Even though they have been apart for years, he welcomes the opportunity to bring her home.Many people have treated God like Lydia treats her blood father. They have been running from him, but many do seek to 'come home.' They are seeking to reconcile their relationship with God. Like John Link (Mel Gibson), God is looking to welcome all home who are willing to turn back to him.
Where can I find the answers to reconcile myself to God? Luke 15:11-32, Ephesians 4:32, 2 Corinthians 1:3-4
Leave a Comment