Bethany Hamilton: Unstoppable
More to this Soul Surfer than catching waves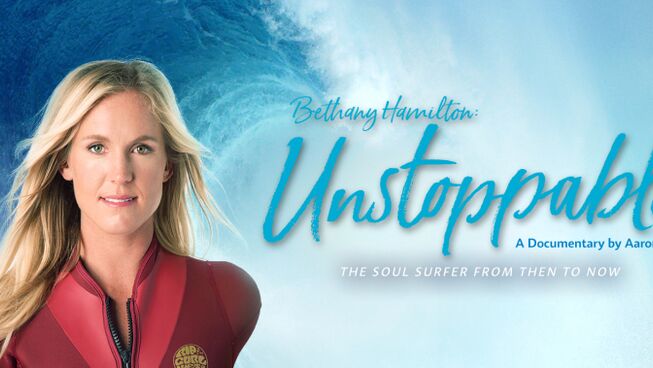 5 out of 5 stars
It has been over a decade since surfer Bethany Hamilton broke onto the world stage with her story of losing her arm to a 14-foot tiger shark. Many may remember her well-documented comeback in surfing and then the release of her autobiographical best-seller and film, Soul Surfer. In her short life, Bethany has gone on to become an icon of overcoming life's difficulties.
What most of the world may not know is that life has continued on for the surfing champion and she continues to be a dynamic and driven woman. Unstoppable documents her life by relying on the surfer to tell her own story. Even showing how she has grown over the past few years as a wife, mother, and a person. The production team utilises the extensive family footage of the Hamilton family and their journey alongside their child who went from a talented surfer to become a sporting legend.
Each moment of Bethany's life exudes a level of passion and resolve that can only be conveyed in her own words and through the footage of her life. A person who has lived out more in the three decades than most people do in their whole lifetime. From her time as a world-class surfer to being a motivational speaker to taking on the biggest challenge of her life, being a wife and mother. Through these personal elements, the film manages to show that this unique athlete is very human and contends with the same struggles as everyone else.
Director and writer Aaron Lieber manages to depict the extreme highs and vast depths that Bethany's notoriety has taken her. He manages to capture the heart of the surfer, her family and the surfing community. Showing that her Christian faith, determination and love of surfing continues to catapult her into new and exciting adventures. All of this story is wrapped up in the magnificent beauty of the world's oceans and beaches that continue to provide a daily call to Hamilton and her family.
Who should watch Bethany Hamilton: Unstoppable? This is an experience that is meant for anyone who is looking for inspiration in their lives. The story is not reliant on a certain level of surfing knowledge, even though surfers will love this film. You do not need to be familiar with Bethany's story to gain something from it. This is not a tale of female empowerment, but it will motivate every little girl to get up and chase her dreams. She is a woman of sincere Christian devotion, but this is not overplayed and could be a catalyst for people to consider their own level of faith. Unstoppable is a film for everyone who is looking for something more than entertainment, this is a film that will inspire anyone to chase their dreams.
Reel Dialogue: Do your children have value?
This film provides a multitude of talking points, but a key topic of discussion with children should be their value. We are all born into different situations and with different abilities or like with Bethany, hardships come during life. Our struggles and challenges may be different than those experienced by friends or siblings, but this should not change our children's value to us and this world.
Unstoppable could open the door to celebrating a child's abilities and how these unique qualities have value to the broader community, to the family and God.
1. What should we know about disabilities? (Psalm 139: 13-14, Romans 5:3-5)
2. What does the Bible say about family? (John 15:12-17)
Leave a Comment