Ant-man
Big surprises in small packages - A surprising story of redemption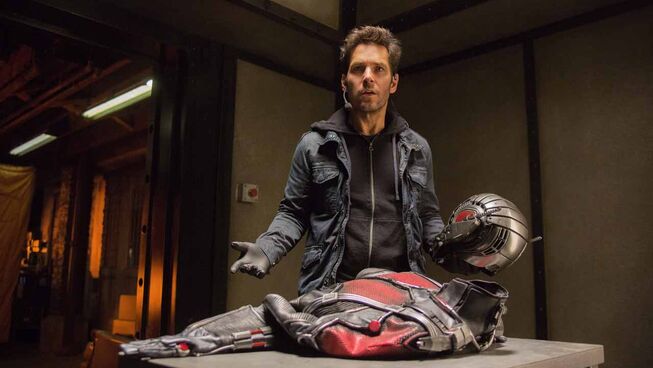 4.5 out of 5 stars
Baskin-Robbins always finds out. - Luis ( Friend of Scott Lang)
Marvel is attempting to pull off a heist. Ant-man is their opportunity to prove themselves in another cinematic genre. Paul Rudd (Role Models) as the lead in this miniature hero caper is a stretch to consider for heroics, but the whole concept of Ant-man movie is a stretch. It is possible that this comedic actor could be right to provide the 'nudge, nudge, wink, wink' element of this heist film, but can this film be taken seriously?
Rudd plays the con-man, Scott Lang who is recruited by Dr. Hank Pym (Michael Douglas) to pull off the recovery of another super-suit that provides the same abilities as the Ant-man suit. Pym was the original mini powerhouse and alongside his daughter Hope (Evangeline Lilly) attempts to mentor the brilliant burglar. They strive to use his less than savoury skills as a thief to save the world and to fill the hero role that has been repressed for years. The Pyms and Lang must team up to stop the plans of Darren Scott (Corey Stoll) who has sinister plans for Dr. Pym's formula and the new yellow-jacket suit. For Lang, the motivation to save the world comes secondary to saving his relationship with his daughter which provides a fascinating restoration theme to this mad-capped adventure. In the end, can director Peyton Reed (Yes, Man) manage the daunting task of making this microscopic hero into a believable superhero?
Let all the doubt and scepticism cease, Reed delivers on this formidable task. He proves that size does not diminish the impact of this superhero within the Marvel Universe. Most comic book adaptations have well placed dialogue and humour placed in between a multitude of action scenes. Reed turns this concept around and manages to make a laugh-out-loud, heist film that is connected by convincing action scenarios. In an era where graphic novels are getting pulled into a darker realm, Ant-man provides a superhero that does not take himself too seriously. Reed even manages to make light of the product placement and uses it to provide some of the most endearing lines in the script.
Paul Rudd is perfect in the role of Scott Lang. His portrayal of the smart, comedic, but flawed character is what this film needs for fun and believability. His burgling entourage make for a humorous, mad-capped origin story that leaves you wanting to see more of them in the future. It was great to see Michael Douglas (both young and old) on the screen with the convincing old swagger needed for this minuscule mentor. Evangeline Lilly moves successfully from The Hobbit trilogy to Ant-man to establish herself as a convincing heroine with her understated vulnerability and strength. The makers of Ant-man have managed to do something different with this superhero journey, they make it accessible to a wider age bracket. Having a PG rating, this is the first crusader caper that parents would not have to hesitate taking their children to experience. Overall, it provides the balance between action, comedy, heart and a new puzzle piece to the Marvel world.
Throughout the humour and action, there was an overarching theme of redemption. Scott Lang and Dr. Pym have their own redemptive journeys to travel. Their choices in life have caused casualties in their familial ties. The Ant-man narrative has a redeeming message woven into the central character's lives. In any superhero tale there is evidence of power and strength, which can be seen in this insect dominated story, but without giving anything away, the power of the film comes in the relationships of family and the need for atonement. Both of these men show that their children are the only individuals that need to see them as a hero. This redemptive element adds a depth and freshness to this superhero tale. Coming from a cinematic sceptic, this film manages to make its presence known on all levels, representing a pure exploit in fun and has the potential to steal the heart of any audience member.
What are some of the bigger questions to consider from this film?
1. Does size matter when it comes to heroics?
2. Can we become better as humans?
3. Can mankind's hearts change from evil to good?
Leave a Comment