Yep folks, it's Groundhog Day.  Again.
and what of tomorrow?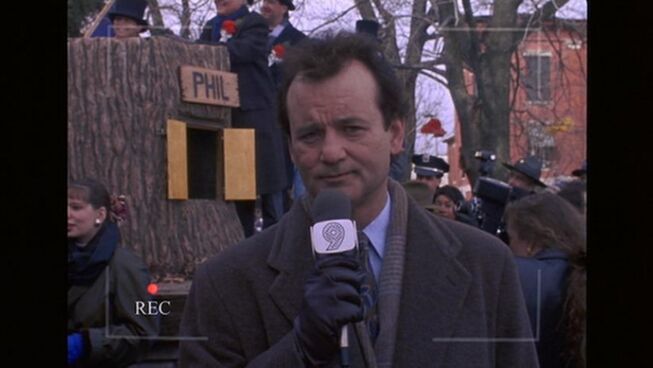 Then put your little hand in mine / there ain't no hill or mountain we can't climb / I got you babe / I got you babe …Okay campers rise and shine, and don't forget your booties, cos it's COOOLD out there …
Yep folks, it's Groundhog Day. Again.
Again we get to get out of bed and do what we did yesterday. Stay inside. Stay inside for the vast bulk of the day. And then get up tomorrow and do it all over again. And then again the day after that. Will there be a tomorrow? Maybe. Maybe not. For as Phil Connors says in the movie Groundhog Day, "There wasn't one today."
As I write this it is April 1st. And the joke's on us. We are all gone-to-groundhogs. Every one of us. We are all Punxsutawney Phils from that famous 1993 movie, destined to spend much of the next three months in our burrows. With nothing but our stashes of toilet rolls, booze and building materials. And Netflix. And Youtube videos.
The cute factor that has come with the coronavirus lockdown will soon wear off. It already is. In a national Australian newspaper yesterday, parents were saying that after just one week of having to supervise their children doing homeschool, they were at their wits end. "Overwhelmed" was the word that was used.
I have seen that word used often to describe how people are feeling at the moment. Overwhelmed. So much in life "underwhelms" us. We are seemingly addicted to excitement and change and difference. Yet when change all comes at once we are overwhelmed. Whatever happened to just being "whelmed"? Those were the days. The truly boring ones.
And what of those of you who live alone? Those with a full household at this time think that they are under stress. Stats show that thirty percent of Australians live alone. I presume that means many of you use your homes as a sleeping base, but have busy, interactive lives the rest of the day. No longer. Live alone now for you means doing life alone as well.
And there are others who wish they did live alone. Especially the many women suffering domestic violence. In small houses with too few rooms and too many glowering interactions. It's all well and good for celebrities to go online and implore us all to stay at home. But when we don't have twenty rooms in our houses, a west wing, a tennis court, a gym etc, etc. Once again it is the wealthy - financially and socially - who will come out of this much more intact than many others.
Somehow we are all in this Groundhog Day together, even though we have had an increasingly fractured and fractious culture over the past decade. We turn online to help us through work and life and relationships, to give us a sense of the normal in these abnormal (hopefully!) times. Yet this is the same online life that helped create so many of the fractures in the first place. The online life of toxic Twitter, ignoble Instagram and facetious Facebook.
Will there be a tomorrow? One that is different to today? Perhaps. And much of that depends on us. In Groundhog Day weatherman Phil Connors has the opportunity to indulge himself, to be the low-brow version of Phil, unchecked, unfettered, selfish. In other words a fast-tracked version of what he was well on the way to becoming over time.
And for a while he does live that way. But it's the law of diminishing returns. The pleasure hit is not quite as high the next time, and even less so the next. An endless repetition of self-focus takes its toll. Eventually he can't stand it. He is stuck in his own personal The Good Place, and it ain't so great. No spoilers here, but Phil has much in common with the heroes of that superb series. He wants to end it all, and tries and tries and tries. Only to walk up to the dulcet tones of Sonny and Cher singing "I got you babe". All Phil Connors has is Phil Connors, and it's hell.
But something changes in Phil. Imperceptibly but surely he becomes self-aware. He sees his faults and he wants to change. And over time - how much time we don't know - he does change. Groundhog Day is a redemption movie, and until the point that he is fully redeemed, he is destined to repeat the same day. The salvation moment is typically Hollywood, but it is at least a shadow of true salvation.
What will emerge in Australia when we all emerge after this ends? Damnation or salvation? We are not sure, are we? Apart from massive economic ruin, joblessness, a debt burden that will last a generation, and put the desires and dreams of the younger generation on ice, or in the bin. Some things will go back to normal, and some things will be changed beyond recognition.
What about you? Will you stay the same or change beyond recognition? Do you need to be different? If so, what needs to be different? Would you be happy coming out of the Groundhog Day of COVID-19 exactly the same as you went in?
Perhaps a change could be a simple as acknowledging that we are not in control of tomorrow. Sounds simple. But how much we think we can control it! We base so much of what we do predicting tomorrow.
In a short book of the New Testament in the Bible, a letter by a man called James, we read this:
Come now, you who say, "Today or tomorrow we will go into such and such a town and spend a year there and trade and make a profit"— yet you do not know what tomorrow will bring. What is your life? For you are a mist that appears for a little time and then vanishes. Instead you ought to say, "If the Lord wills, we will live and do this or that."
That should bring us to a juddering halt. What about that line:
"What is your life? You are a mist that appears for a little time and then vanishes".
We don't want to believe that. We don't want to think about that. We want to think we are immortal. The alternative is too bracing. Too confronting. Yet this COVID-19 virus has brought our mortality back into view, even though the average age of those dying in Australia is 86 years of age, four years more than the average life expectancy of an Aussie. We're far more afraid of dying than we want to admit.
Yes it's Groundhog Day again. And it's cold out there. Maybe not the weather in your neck of the woods, but there's a cold chill across the culture. A cold chill that says we're not ready for a tomorrow in which we don't have control.
Maybe that's why we should listen to the words of Jesus, and not worry, because we cannot add a single day to our lives by doing so. What does Jesus offer instead? How about entrusting ourselves to a heavenly Father who knows what we need, and who will give us our daily bread on every Groundhog Day we've got left.
Leave a Comment