The Witches
The re-imagining of a Roald Dahl classic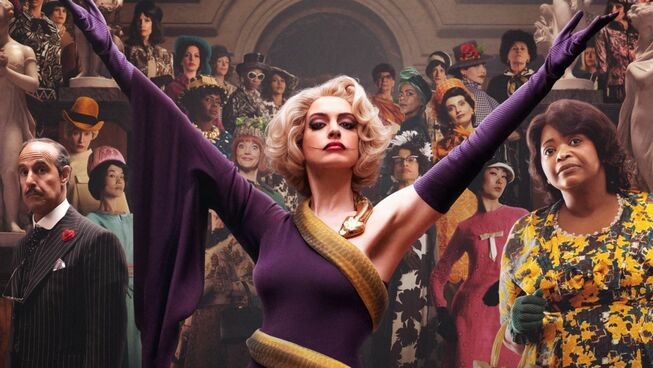 3.5 out 5 stars
Roald Dahl has a unique place in children's literature. His worlds incorporate magic to them while depicting a dark side of humanity. Dahl's books continue to speak into our world and many have been made into iconic screen adaptations. The Witches was brought to life in cinemas in 1990 with Angelica Huston taking on the Grand High Witch role. Thirty years later and with a new treasure trove of visual effects at his disposal, Academy Award-winning director Robert Zemeckis (Forrest Gump) waves his magic wand and re-imagines the legendary author's world of witches, children and mice.
Set in 1967, we are introduced to the life of Hero Boy (Jahzir Bruno). He has recently been traumatised after being the only survivor of a car accident that leaves him as an orphan. Thankfully, he is able to move in with his stern yet loving Grandma played with delicious grandeur by Octavia Spencer in a rural Alabama town. Over time, his grandmother manages to bring him out of his shell but the boy begins to worry about her health. Especially when she begins to have long bouts of uncontrollable coughing.
Despite his concern for her, they continue on with their lives together. One day, Hero Boy finds himself at the local store, where he is offered saltwater taffy by a mysterious woman wearing long gloves and an unusual hat. Grandma recalls a similar encounter when she was a young girl. Her friend, Alice, was turned into a chicken after eating the candy given to her by a similar woman. Which leads her to believe that there are dangerous witches present in their local town.
The two decide to flee from their small community and choose to stay in a high-class hotel. They are unaware that a large witch convention is occurring at the palatial estate by a quirky turn of events. The meeting is led by the Grand High Witch (Anne Hathaway), who hopes to unleash a nefarious plan to turn all children into rodents. Hero Boy unwittingly hears about the diabolical proposal, but gets caught by the witches and turned into a mouse, himself. The question is whether he, Grandma and a couple of his 'mouse' friends can foil the witches' plans?
What stands out from the original tale and the 1990 original is the pedigree of filmmakers that have joined director Robert Zemeckis in this production. Even though it is based on a children's book, it is apparent that signature elements from Guillermo del Toro, Alfonso Cuarón and Kenya Barris are added to the visual smorgasbord and majestic feel of the movie. One that honours Dahl's book by incorporating the darker tones and humour by utilising state of the art CGI. Yet, the realistic aspects of these effects may prove to be too real and scary for young children who are the target audience.
To complement these visual components, Chris Rock's voiceover as the older Hero Boy works well to contextualise the story elements. While Stanley Tucci provides depth to the supporting cast member as the hotel manager, but the real focus has to be on the two female leads. Octavia Spencer's tough yet caring Grandma proves to be someone that any young child would want in their corner. Her stern external facade is eventually overpowered by her apparent desire to do anything to help the children. Especially when it comes to protecting them from the witches, mainly keeping them out of the Grand High Witch clutches. Anne Hathaway is perfectly cast as the foreboding and intimidating leader of this dastardly coven. The award winning actress has managed to elevate the character's sense of menace to a whole new level in a fashion that only she can pull off. These performances help make this a fantastic film, but it may be difficult for the younger set to enjoy.
Reel Dialogue: Why are some people better equipped to change while others want to maintain the status quo? (Spoiler alert)
If you are familiar with the book, then you will know that the ending differs from the 1990 movie but the 2020 remake has the same conclusion as Roald Dahl's original vision.
In both the book and this movie version, Hero Boy realises that there are advantages to not returning to human form, including no longer having to go to school. A realisation that leaves him quite content to remain a mouse and even convinces his two 'mouse' friends to stay the same as him.
One of the key components of the Bible is the discussion of change. God is described as immutable or unchanging, which allows him to be reliable and constant. While mankind must change if they are to truly live for God. The inclusion of the word repentance, which means to turn, into this discussion is expressed to all of humanity.
Have you taken the time to consider how you might need to change, especially in relationship to God? The following passages provide the first steps in those considerations.
Jesus Christ is the same yesterday and today and forever. Hebrews 13:8

The Lord is not slow to fulfill his promise as some count slowness, but is patient toward you, not wishing that any should perish, but that all should reach repentance. 2 Peter 3:9
Leave a Comment