Wild Mountain Thyme
An idiosyncratic love story that is mixed in with a tale of family dysfunction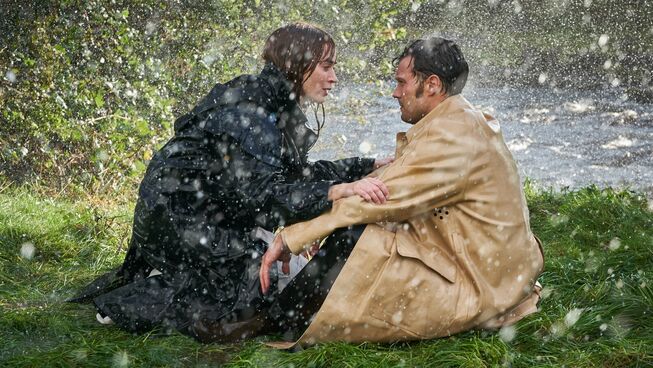 3.5 out of 5 stars
Modern cinema has become predictable when it comes to romantic comedies. This formula has become a cottage industry on many streaming services. Still, it has led to the death of originality within this genre. Then once in and awhile, a film comes along that deconstructs the familiar structures and tone of familiarity, which can prove to be disconcerting for audiences. Yet, there needs to be something celebrated about attempting something fresh in a format that has become stale over the past few years.
John Patrick Shanley may not be a household name for many, but the writer of Moonstruck and Doubt is back with a quirky, romantic Irish fairy tale. His whimsical journey traverses the beautiful lush farmland of Ireland, specifically in the fields that connect the farms of the Muldoons and Reillys. Neighbours who share a unique entry into their properties and history that weaves into each generation. After his beloved wife's death, Tony Reilly (Christopher Walken) must decide who to leave the family estate upon his demise. The obvious choice would seem to be his son Anthony (Jamie Dornan), but the young man appears to have inherited a family curse, which has left him without a wife.
This has not been a consideration for their next-door neighbour, Rosemary Muldoon (Emily Blunt). She is on the verge of inheriting her family's farm, but has always yearned for the affections of young Anthony. Despite her subtle advances, the seemingly aloof Reilly continues to struggle with a secret that keeps him from sweeping Rosemary away into his arms. This tension is even more frustrating for both of the potential property heirs when Tony decides he will sell the farm to his American nephew, Adam (Jon Hamm). This leads to a whirlwind of emotional and familial turmoil for all involved as the unexpected love triangle begins.
In all honesty, Wild Mountain Thyme was one of the most perplexing and unconventional romances in years. Yet, for those who are willing to join in with this idiosyncratic love story that is mixed in with a tale of family dysfunction and cultural enlightenment, it might pleasantly surprise you. John Patrick Shanley dismantles everything audiences have come to expect from a romance and delivers a heartwarming Irish folk tale.
For the rom-com tragics, this film will frustrate everything they are familiar with from modern storytelling. Traditional writers will rip apart the writer/director's manner of deconstructionist methods to all they hold dear. For the Irish accent defenders, if you need consistency in this aspect of your romance, it might be worth giving this movie a pass. This leaves us with those looking for something fresh within this genre and this movie will provide a unique way of seeing the world. Emily Blunt and Jamie Dornan have unspeakable and magnetic chemistry that delivers a swelteringly, slow burn with an unexpected twist.
Surprisingly, the film's most endearing and compelling aspect turns out to be the family relationships within the Reilly family itself. As we come to discover the magic behind the Irish folk song as it was sung by Mary Reilly (Clare Barrett) and how it has a hypnotic effect on her family and the community, audiences will become captivated by their odd little journey. It shows that sometimes the most significant love shown within a romance can be found in the families' connection behind the central characters.
All this means is that this film is intended for and will appeal to a selective audience. For those willing to let go of all they know about rom-coms, this story will seep into your soul and touch something unexpected. Then for those who are really paying attention, the song, the people and their fanciful adventures will leave an Irish smile on your face.
Reel Dialogue: The magical beauty of marriage
The beauty of Wild Mountain Thyme's landscape has an Eden-like quality and the multi-generational marriages open the door to considering the inception of mankind and marriage.
From the beginning of time, marriage was meant to bring humanity's physical, spiritual and emotional aspects together. Showing how two people can live out the words stated in the first book of the Bible, 'Therefore a man shall leave his father and his mother and hold fast to his wife, and they shall become one flesh.'
A beautiful gift of marriage finds its origins in God's story and how this human bond needs a lifetime of commitment and adaptation to grow. Even with the 'wedding day' excitement,' the real magic occurs as a couple grows closer throughout the years. Each of the marriage relationships in the film depicts this connection's peaks and valleys and the importance of investment in husbands' and wives' lives.
Leave a Comment