What's Love Got to Do With It?
Love contractually
3.5 out of 5 stars
It is no wonder dating has become so confusing worldwide as different cultures collide. People realise that discovering a life partner only sometimes resembles a typical romantic comedy. The latest film from celebrated director, Shekhar Kapur (Elizabeth), unpacks this culture clash between two people who have lived side by side in London all their lives. At the same time, their love experiences are worlds apart.
Zoe (Lily James) and Kaz (Shazad Latif) have been neighbours since they were children. As adults they have remained friends despite living different lives. She is a documentary filmmaker who has never settled down and relies on dating apps to steer her love life. While Kaz is a traditional Pakistani doctor who has decided to go down the path of 'assisted' marriage, where his family is given free rein to choose his bride. This concept is so foreign to Zoe that she pitches it as an idea for her next film project. After getting the approvals from everyone involved, the young director begins documenting the stages of her friend's journey to matrimony. Both parties begin to show that neither system of choosing a soul mate is ideal for them. Unwittingly, the pair's feelings for one another prove to be a barrier for both processes, the film, and the marriage.
Jemima Khan has written a screenplay that taps into her cross-cultural experiences of being married to Imran Khan Niazi, cricket star and former prime minister of Pakistan. She shows how challenging it can be to bridge the cultural gaps in people's lives despite the close geographical element of migration. Especially when it comes to romantic relationships that involve people bringing together different religious belief systems. This story manages to tenderly handle the tenuous experiences of those in love with someone from a diverse cultural background and what both people must sacrifice for the relationship. This story manages to dive deep into the worlds of Pakistani and Muslim heritage as it collides with Western ideals and expectations of marriage.
Lily James and Shazad Latif prove to be convincing in their roles as culture-crossed love interests. At the same time, each tries to hold fast to their unique heritage. Shabana Azmi and Emma Thompson manage to represent neighbours and friends who are also mothers who want the best for their children. The film does unpack the world of assisted marriage respectfully while showing the juxtaposition within a modern Westernised culture. All of this leads to comedic and dramatic elements that combine the concepts behind A Big Fat Greek Wedding and Bride & Prejudice. A combination that delivers a modern-day, multicultural romantic comedy will serve to educate and entertain audiences looking for a charming option for a date night or ladies' night out.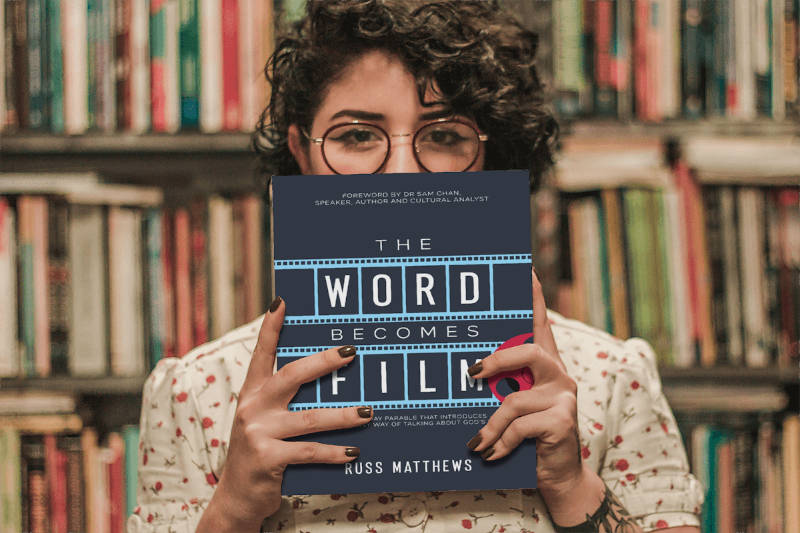 The word becomes film
Russ Matthews' new book is a modern-day parable that introduces a radically easy way of talking about God's story
If you order the book today you will also receive a complementary study guide that is only available with the purchase of the book (Print or ebook)
Reel Dialogue: Can love overcome faith?
At the heart of this film, the underlying premise is more profound than mere cultural differences. The unavoidable tension comes down to determining if the love between two people can overcome their religious beliefs. While the script shows that it can be done, the story shows that this decision comes with difficulties. Primarily, the couple must determine how the ripple effects reverberate throughout their extended family.
As a Christian, this is something to consider and there are passages in the Old and New Testaments that dissuade those within the faith of marrying someone from a different belief system. (1 Corinthians 7:39, 2 Corinthians 6:14)
Yet, one thing to consider when contemplating marrying someone from a different faith is how valuable God sees marriage and how it is directly connected to the Gospel message. The whole point of marriage is to picture the gospel (Eph. 5:21–33; Rev. 21:9–27). It even points to the relationship between the Father and the Son (1 Cor. 11:3).
One helpful analogy is the comparison of a partnership where one person is trying to sing one song, and the other is trying to sing an entirely different one. You sing: "I want this song to be about Jesus," while your spouse sings, "It's just you and me." There can be no ultimate harmony. For a Christian to be married to someone outside the faith, this union will fail to produce the God-glorifying song that is meant to be sung within marriage.
It comes down to the Christian believer understanding the purpose of life. Jesus is quoted in John 17: "Now this is eternal life: that they know you, the only true God, and Jesus Christ, whom you have sent."
What does that mean? The believer lives to know, love, honour, worship, and follow God through his Son Jesus Christ. This means it is better to live without a spouse than with someone living a life that does not rely on God for everything.
There is more to be considered on this topic; if you want to discuss it further, contact us at thirdspace.org.au.