5 out of 5 stars
At the screening of Raya and the Last Dragon from Walt Disney Animation, something exceptional occurred. It was something different than the latest film of a female warrior and her pet dragon. The memorable moment came before the feature film. This beautiful gem was the new theatrical short called Us Again, the first short film from Disney in five years.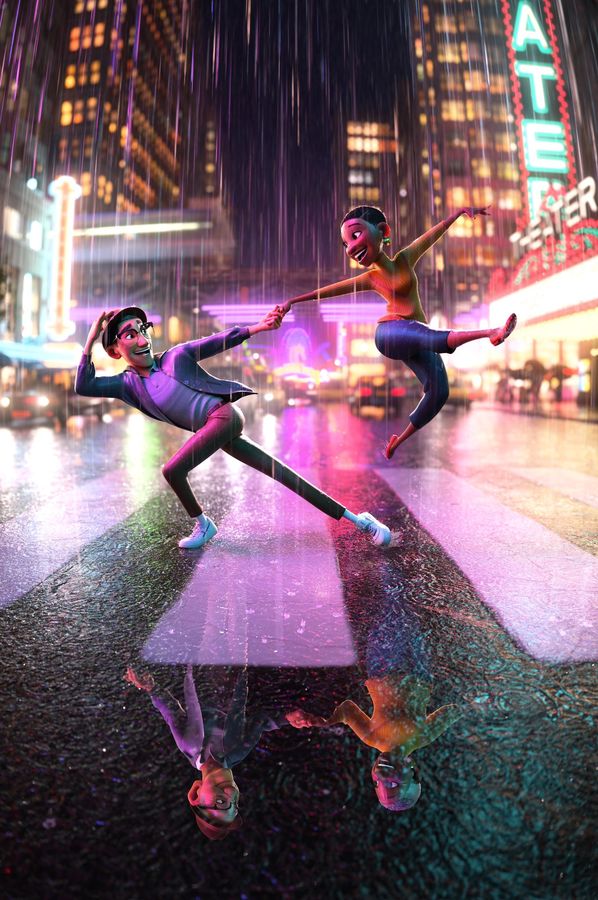 This magical, musical tale from a mainstay at Disney Animation, director Zach Parrish, audiences will be in for a whimsical treat. Set in an unknown city that pulsates with music and energy. Viewers are introduced to a crotchety man who desires to shut out the world and remain in his easy chair to watch his shows. Except his vivacious and virulent wife will not have any of that attitude and tries to motivate him to leave their flat for a walk in the rain.
At first, he has no desire to leave their apartment until the sound of the streets and the rain begins to pour on his body invigorates him to chase after his spouse. A moment when they are transported back to the days of their youth and the couple has a moment when they can enjoy stepping out on the town in their own unique style. What follows proves to be one of the most engaging and beautiful depictions of chasing after your past memories since the first 15 minutes of Pixar's Up! or 2012's Paperman. With no dialogue and only a magnificent soundtrack to guide them through their night, this couple manages to show how their love can and will sustain them throughout their days.
Zach Parrish said that this film was 'inspired by my own grandparents, who faced getting older in different ways, along with my own physical limitations in playing sports resulting from getting older and injuries. I started thinking about how someone might look at the world differently as things change and they grow older.'
Rarely do we write reviews of short films at Reel Dialogue, but this dazzling display of dance and love is worth seeking out. We hope that it causes everyone who sees it to grab the one they love and take a moment to dance in the rain or remember why they fell in love. This short has more energy and depth of story than most feature-length films being released. Us Again is an example of how filmmakers can bring together music, relationships and storytelling to make us all want to get back to theatres and feel something again.
Keep an eye out for Us Again on Disney+ before Raya and the Last Dragon and to premiere on its own in June 2021.
Leave a Comment