The Unbearable Weight of Massive Talent
You are Nick Cage!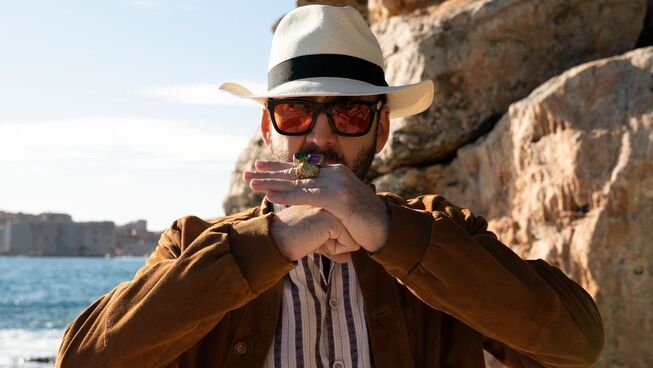 4.5 out of 5 stars
Rumours of Nicolas Cage's gradual demise have become legendary throughout the years. Some may be true, but the reality is that most of us will never know everything that has happened in the life of the Academy Award-winning actor. Yet, these speculations have led to his latest project, where he plays himself in a send-up of his life. A concept that walks the fine line between farcical and narcissism while fitting the persona he has established throughout his career.
In this fictionalised interpretation of the actor's life, Nick Cage has come to a critical juncture on multiple levels in his life. His career shows that he is no longer considered leading man material and now needs to consider quirky supporting roles. Meanwhile his relationship with his teenage daughter is teetering on the edge of nonexistence. Then the dire straits of his financial situation have left him with a mountain of debt and little hope of a reprieve until his agent throws Nicholas an unexpected lifeline.
The Unbearable Weight of Massive Talent contains mature content - language and violence
Javi Gutierrez (Pedro Pascal) is a Spanish billionaire who is a superfan of Cage's career and offers for him to come to celebrate his birthday. The successful businessman provides the actor 1 million dollars to spend a few days at his European estate. Since he is desperate for the money, Nick accepts the offer, but does not realise that his trip will come with two unexpected catches. The first was when the CIA intercepted him at the airport and asked the National Treasure star to spy on this suspected arms dealer. Then upon arrival at Javi's property, Cage has a screenplay put to him to consider from the man he is meant to investigate. This all leads to a high stakes game of cat and mouse and a budding friendship with his enthusiastic host.
To make this whole convoluted story work, Nicholas Cage needed to commit to the role with every aspect of his massive talent and, he does. All aspects of this bizarre self-deprecating adventure work because he goes in with all he has to offer and looks like he is enjoying every moment of it. Who would not enjoy being able to control the narrative of your own life on screen? Along with his co-star, Pedro Pascal, who comes out from under his Mandalorian helmet and manages to play vulnerable and star-struck as the two men become friends along the way. The pair's performances are complemented by Sharon Horgan, Neil Patrick Harris, and Tiffany Haddish. They seem to settle into their supporting roles and enjoy being in on the joke.
This would be enough for a hilarious buddy adventure. Still, first-time director and co-writer Tom Gormican manages to add a whole other enjoyable layer to this film. He weaves in Cage's career highlights with finesse, making many leave the theatre wanting to stream the rest of his filmography. While this could seem like a send-up, it shows how iconic this actor's films have proven to be throughout the decades. It becomes a nostalgic jaunt for many viewers or an introduction to a new generation of moviegoers. This element allows this whole experience to be one of those films that should be on everyone's watchlist in the weeks to come.
REEL DIALOGUE: Can we be redeemed from our past?

Redemption: an act of redeeming or atoning for a fault or mistake, or the state of being redeemed. Deliverance from sin; salvation.
The idea of redemption is one of the multi-layered elements of The Unbearable Weight of Massive Talent. It becomes apparent early in the screenplay as the tension builds on Cage to redeem his relationship with his daughter and resurrect his career. This is especially noticeable when he has side-bar conversations with his younger self to determine the trajectory of his life.
The film deals with some of life's basic needs at its heart. Acceptance, forgiveness and redemption.
Travelling through life, most of us come to the point of seeking redemption for various things that we have done. Trying to find a means of rectifying the wrongs we have done to people, society or God. This concept can be found at the heart of the Bible's message. Jesus' life and death provide a particular type of redemption readily available to anyone willing to accept it.
This brings about two questions: Are you seeking redemption in your life and have you considered Jesus as the answer?
In Him we have redemption through His blood, the forgiveness of sins, in accordance with the riches of God's grace. - Ephesians 1:7
Leave a Comment