Triangle of Sadness
An uproarious satire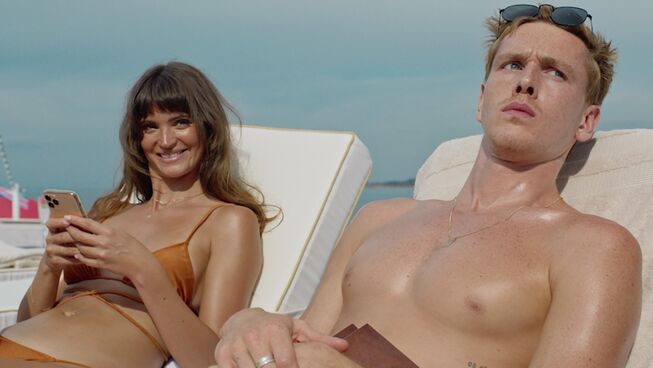 5 out of 5 stars
Director Ruben Östlund won the Palme D'Or in 2017 with his satire The Square. At this year's Cannes Film Festival, he premiered his latest film and became only the ninth director to win the Palme D'Or twice. With all of the buzz and anticipation, the film was fast-tracked to screens at the Sydney Film Festival. Will it live up to the praise as a late addition to the program?
The screenplay follows young couple Carl (Harris Dickinson) and Yaya (Charlbi Dean), a pair of influencer models. The two are invited on a free luxury cruise aboard a yacht, thanks to Yaya's success. However, all wealth, power, and affluence are upturned when they are shipwrecked on an island. Along with a handful of wealthy passengers, they must turn to a lowly toilet manager to keep them alive.
Östlund's sharp satirical script navigates wealth, power, authority, and fame topics. Whether it is a drunken dialogue between Woody Harrelson's American Marxist and Zlatko Burić's Russian Capitalist analyse of wealth and politics to Carl and Yaya debating who should pay for dinner and the power dynamics of their relationships. The viewer is consistently treated to brilliant and entertainingly hilarious moments that address the absurdity of it all.
Early on, we learn the reason for the title is to loosen the "triangle of sadness" on his face - the section between his nose and eyebrows. Yet, loosening up is not something Carl seems to be able to do, as he is constantly agitated, aggravated, insulted, offended, or otherwise arced up. The other passengers are completely loose in their personalities, thoughts, morals, and spending. The affluence and decadence are such a hollow veneer behind which goes, self-serving people attempt to obscure themselves.
Power truly corrupts and seeing everyone's self-serving motives emerge is so disgustingly entertaining. The breakout star in a cast filled with memorable characters is Dolly de Leon's Abigail. She points out the hypocrisy of everyone's entitlement in a moment that caused rapturous applause in the cinema. Introduced briefly in the second act, she becomes the film's lead in its third act as she flips the script on the wealthy elites.
Ultimately, Ruben Östlund's film is a genuinely phenomenal satire. It is entertaining, engaging, and uniquely addictive. It draws you in, makes you laugh, and provides genuine commentary on Western socio-cultural hierarchy in a bizarre, banal, and brutally honest assessment that left the audience howling with laughter.
Reel Dialogue: What good is wealth?
Triangle of Sadness depicts the seemingly beautiful world that wealth brings, but it is all a hollow existence that does not bring any happiness. Instead, everyone's selfish ambitions and pursuit of power cause nothing but pain or temporary joy.
The material things of this world do not last. They degrade, break down and they cannot bring eternal happiness. True joy can only come from the one who authored it, God, and true happiness, security, wealth, and power comes from being in relationship with Christ. It's not materials that last, the only everlasting things are the spiritual ones that count.
"Do not store up for yourselves treasures on earth, where moths and vermin destroy, and where thieves break in and steal. But store up for yourselves treasures in heaven, where moths and vermin do not destroy, and where thieves do not break in and steal. For where your treasure is, there your heart will be also. - Matthew 6:19-21
Leave a Comment