Street Gang: How We Got to Sesame Street
This review is brought to you be the letters R & D (Reel Dialogue)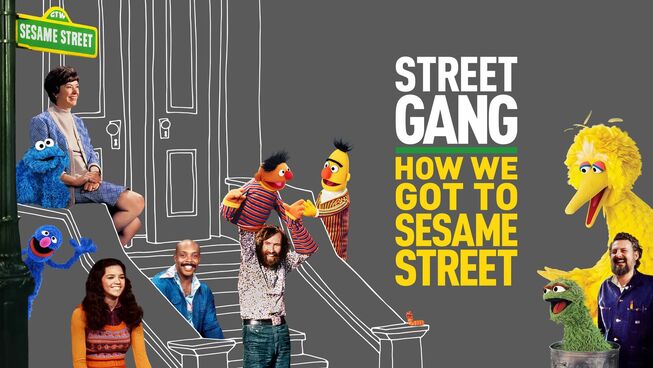 4.5 out of 5 stars
There are times in history when everything seems to align at the right time and something special emerges that impacts the world. In September of 1969, one of these extraordinary events occurred that would go on to influence multiple generations while in the process encouraging them to read. Sesame Street was born during one of the most tumultuous times in American history. The civil rights movement was in full swing, the Vietnam War was raging and the country was trying to find its identity again. In amongst all of the civil unrest an unassuming bunch of educators, television executives and puppeteers got together and put forward a concept that would continue to educate for decades.
Street Gang: How We Got to Sesame Street is one of those rare treats for all who grew up singing It's Not Easy Being Green and wanting to hug Grover. By taking the audience back to the days when the show was just an idea at the Children's Television Workshop, we get to see the chaotic nature of the creative and energetic process. This is all complemented with vintage footage of the original production team and modern interviews of many who made the most impressionable elements of the show. From intimate interactions with Jim Henson (Kermit the Frog, Ernie), Caroll Spinney (Big Bird, Oscar the Grouch) and Frank Oz (Bert, Grover) to never before seen footage of how it all was made. This film is a cornucopia of memories that will have audiences reliving their childhood years and leave them wanting more.
STREET GANG: HOW WE GOT TO SESAME STREET will be in select cinemas and on digital from 2 February
Yet, the most compelling aspect of this movie's view of this legendary show was the love that each person had for the whole experience from production to puppet. Something could be seen in the show's original champion, Joan Ganz Cooney, through to Jon Stone, who made everything that happened in the background. Each cast member, puppeteer and musician were able to convey how they were part of something that had never been done before. It is a show that continues in more than 30 international editions. People can still see Bert and Ernie broadcast in more than 120 countries, making it the most widely viewed children's television show globally.
Marilyn Agrelo's production will have audiences singing, laughing and crying throughout the documentary's run time without missing a beat. Admittedly it is more for fans of the show than those who did not grow up watching the Muppets on Sesame Street. Still, it captures the magic that inspired children and adults to tune in every week to see who will be the guest star counting with the Count or reading along with the groundbreaking animation. For anyone who could sing Put Down the Ducky or own their own Kermit the Frog puppet, this journey is for you. A journey through time that will take each viewer into the past and remind them of how great children's television could be once again
Reel Dialogue: Let the children come
Sesame Street is a show that cares for the hearts and minds of the most vulnerable in society, children. They managed to reach this group with television, which has become one of the most influential elements for multiple generations. A character quality that continues to be at the heart of the show.
Jesus said, "Let the little children come to me, and do not hinder them, for the kingdom of heaven belongs to such as these." - Matthew 19:14
This idea was not new with Joan Ganz Cooney and Jim Hensen. Throughout the biographies of Jesus, people can see that one of the most influential individuals in history had a special place for the world's youth. Even taking his calling of the children to represent how we all should look to God. In Matthew 18:2 Jesus says that we must become as little children to enter the kingdom of God. This comes after being asked by his followers about who would be the greatest in heaven.
In response, Jesus "called a little child to him, and placed the child among them. And he said: 'Truly I tell you, unless you change and become like little children, you will never enter the kingdom of heaven. Therefore, whoever takes the lowly position of this child is the greatest in the kingdom of heaven. And whoever welcomes one such child in my name welcomes me'" (verses 2–5). - Matthew 18: 1-5
Needless to say, Jesus had a special place in his heart for the children of the world.
Leave a Comment