A Stitch in Time
Woven together beautifully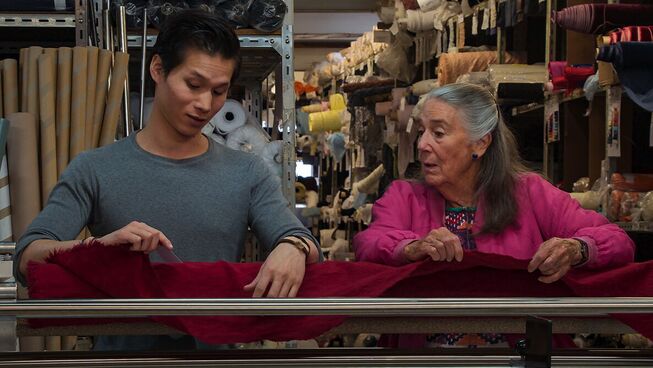 4 out of 5 stars
Do you ever stop dreaming? Some look to their senior years as a time to forgo the pursuits of their youth, while others see that life is meant to be lived. Even with an 82-year-old central character, writer/director Sasha Hadden's story should inspire people of all ages to pursue those aspirational urges from within. A Stitch in Time is one of those independent films that should be sought out and cherished for its message and the outstanding performance from Maggie Blinco (The Nightingale, Crocodile Dundee).
The veteran actress takes on the role of the former dressmaker Liebe who has suppressed her dreams for 50 years. Despite creating haute couture dresses, she devoted her life to her musical partner, Duncan (Little River Band's Glenn Shorrock). With his career at its twilight stages, he treats his partner with contempt and discourages her from using her talents in the fashion realm. Until one night when Liebe is pushed to the limit, she decides to leave Duncan to make her sewing creations.
With the help of her friend, Christine (Belinda Giblin) and Hamish (Hoa Xuande), a young Chinese fashion designer, she begins to make dresses again. Along the way, Liebe sees that she has something to offer the world. At least until Duncan starts to pursue her and dredges up portions of their past that may derail her plans. This aspiring seamstress must decide what she is willing to do and sacrifice in this season of life to make her dreams become a reality.
Buried within the simplicity of Hadden's film is one of the most heartwarming stories to be seen in cinemas in years. His screenplay strips away any unnecessary distractions and gets straight to the heart of this tale of rediscovery. Which would not have worked without the captivating performance from Maggie Blinco who embodies the pain and devotion of the long-suffering Liebe. She is enjoyable and brings depth to the role. It is an emotional resonance that will touch the hearts of all who desire to make the most of every aspect of their lives. As well as being supported by an outstanding cast who add to each element of the movie. Especially Hoa Xuande (Top of The Lake, Hungry Ghosts) who manages to convey the warmth and charm needed in a young mentor.
Beyond the wonderful performances, what takes this from being a standard Australian production is the cinematography from Don McAlpine (The Dressmaker, Moulin Rouge!). His visual touch takes this production to the next level with its subtly captivating view of Sydney. An element that does not steal the limelight from Maggie Blinco's performance or the heart of this story of rediscovery. Sasha Hadden has delivered an excellent film that will inspire people to follow their dreams and challenge viewers to see the value of every relationship in their lives.
Reel Dialogue: If I am good, won't God give me a good life?
Woven into Hadden's screenplay is a fascinating element that shows how people view God. Liebe was a child of parents who were killed during the Holocaust, while she was later sent to Australia and became a Christian. During her various trials, she mentions to a friend that she thought that if she was good all of her life, God would provide for her. Which did not seem to be the case at the point of the story.
Interestingly, her journey shows that she was made better within the challenges that came her way. The octogenarian proved that she was not defined by her hardships, but that they did help to mould her into the woman she would become. She came out better and more robust due to these difficulties. This eventually moved her to achieve her dreams while not losing sight of the people in her life. Which is a biblical idea without saying it directly.
Consider it pure joy, my brothers and sisters, whenever you face trials of many kinds, because you know that the testing of your faith produces perseverance. Let perseverance finish its work so that you may be mature and complete, not lacking anything. James 1:2-4
Comments
Leave a Comment