Space Jam: A New Legacy
A product placement mishap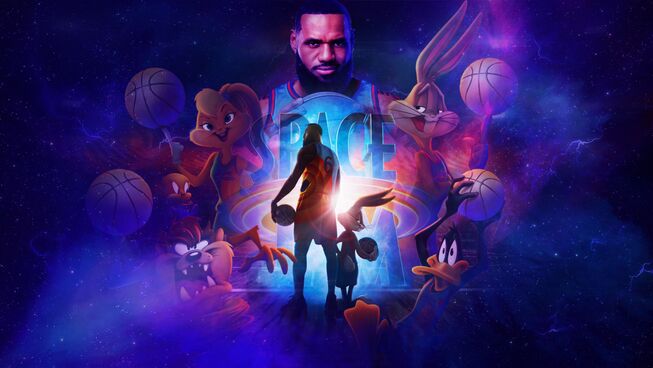 1 Star out of 5
For all of those fans of the original Space Jam with Michael Jordan, this might be the day you have been waiting to see. While others may not remember the cult comedy classic, many might be intrigued by the feature film debut of this generation's basketball superstar, LeBron James. It has been 25 years since the initial combination of the NBA and Looney Tunes and the game is on again in theatres.
Space Jam: A New Legacy starts out on an intimate level with LeBron James and his two sons, Darius (Ceyair J Wright) and his youngest son Dom (Cedric Joe). The setting is predictable in the next chapter of the franchise with the two sons on a basketball court at the James estate. It is pretty clear that while Darius is following in his father's footsteps as a basketball fanatic, Dom has other interests that he would rather pursue. The younger James brother has created his own take on basketball. One that comes in the form of a computer basketball game full of power boosts can send a player jumping 30 feet high. While his father urges Dom to stop playing his video game and focus on practicing "and putting in that work."
As LeBron tries to connect with his son, he invites his tech-savvy child to come with him to a meeting with Warner Brothers Studios. Where the team is pitching him a new concept that involves the latest technology. This is when audiences are introduced to the AI G. Rhythm, played by Don Cheadle who proves to be the one bright spot of this chapter. This character is an actual Artificial Intelligence that runs Warner Brothers "Cyberverse." He has a pitch for Lebron where the basketball champion replies, "this is the dumbest idea I have ever heard." Just one example of the depths that this screenplay goes to achieve fan fiction. From this small diss, AI decides to make LeBron his mortal enemy. Which leads to him and his son being zapped into his cyberverse filled with Warner Brothers high-value franchises. As each of these WB properties gets referenced repeatedly, it proves that there are few original ideas within this movie.
What becomes apparent early on is that this is a full-on Warner Brothers assault on the senses of their intellectual properties, rather than a movie. As it goes on, it is difficult to find a frame without a mention of one of their many franchises. There is nothing wrong with mentioning many of these recognisable characters. Still, the utter lack of creativity in the delivery is the real sin of this project.
What eventually has to come along in a review of this film is the inevitable comparison to the original movie. Those who can remember Space Jam will acknowledge that it was full of snarky and insanely clever allusions to pop culture. Most notably was the Elmer Fudd and Yosemite Sam's scene where they perfectly embody Vega and Jules from Quentin Tarantino's Pulp Fiction. While this version works its way through Game of Thrones' Westeros, The Matrix, while doing a pit stop in Harry Potter's Hogwarts. Elements that do not add to the film, but merely play to the lowest common denominator. Instead, they exhaust the audience with blatant property placements that seem to have no end.
There is an irony in the tagline being A New Legacy for this episode of Space Jam, because it does not add anything to this franchise. It merely rehashes the original formula and does not provide anything that would lead to its comedic heritage. There are no inspiring and goosebump-raising moments. Like the spaceship landing on the field to deliver Micheal Jordan to his baseball game or a hilarious and iconic Bill Murray ``da da da d a da dadadada" moments. There is no legacy set here, instead it all leaves behind a bad film in the end.
Reel Dialogue: What is your legacy?
To stay on the subject matter of leaving behind a legacy, it is a discussion that does deserve some consideration. It is a topic that extends past basketball stars and movie studios by asking what it means to leave a lasting legacy?
A legacy goes beyond monetary security, political influence, athletic prowess, or merely protecting the family name in the Christian tradition. These things are important to ponder, but ultimately they are temporal in the end. Which begs the question, "What is the most important aspect of my legacy I want to pass onto my family?"
For the follower of Christ, this is an eternal consideration and is less in a family name and entirely placed in the name of Jesus Christ. The belief in the Saviour's name is actually the only legacy that will last.
This movie and this discussion open the door to asking all, "What do you see as your legacy?"
Leave a Comment