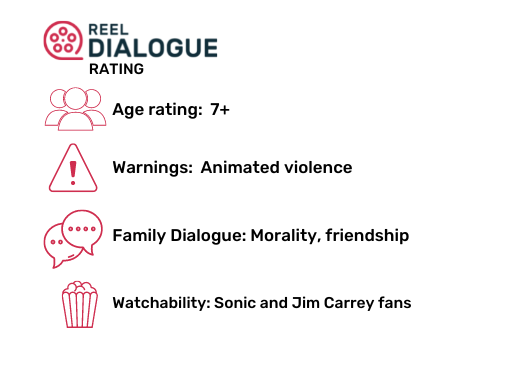 Reel Dialogue sent our junior reviewers, Charlotte, Micah and Alex Kwok, to see the latest Paramount's Sonic the Hedgehog 2. They had done their due diligence to rewatch the original film and had their running shoes on as they prepared for the face-paced sequel to begin. Their anticipation grew as they saw the inclusion of classic characters like Knuckles the Echidna (Idris Elba), Tails (Colleen O'Shaughnessey) and the newly bald and moustached Jim Carrey playing Sonic's arch nemesis, Dr. Ivo "Eggman" Robotnik.
As the Reel Dialogue crew settled in, they realised that the film begins where the first movie left off. Sonic (Ben Schwartz) is still finding his place in Green Hills, Montana with his best friend, Sheriff Tom (James Marsden). The intergalactic speedster hopes to help his friend out when Tom and his wife, Maddie (Tika Sumpter), have to go to her sister's wedding in Hawaii. While the couple is away on their island holiday, Dr. Robotnik decides this is the best time for him to return to earth. His mission is to find a rare emerald that contains mystical and catastrophic powers. More dastardly and weaponised than when he left, the mad inventor brings a new furry partner named Knuckles. This red echidna proves to be a challenge for Sonic, since he has similar powers to the blue hedgehog. This leads him to enlist the assistance of another new arrival to the planet, Miles "Tails" Prower, to save the earth from this evil pair.
Micah Kwok - 4 out of 5 stars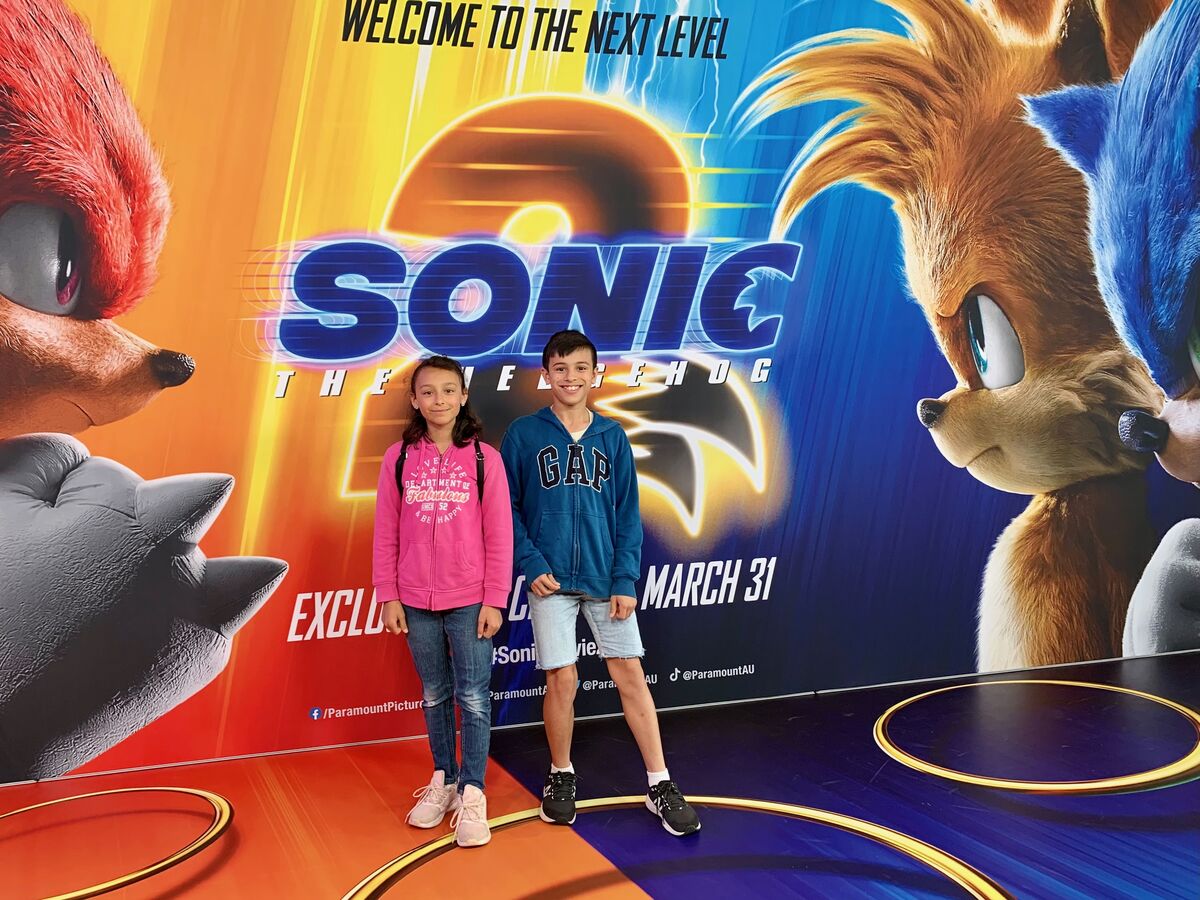 They managed to bridge into the new film well by honouring the original storyline. Each of the new characters was enjoyable by adding to the humour and action. Fans of the original film and video game will appreciate how Paramount introduced these cast members and they kept the feel of the game. Unlike the first film, this storyline was predictable and offered no real twists. While watching the movie, this one felt like it was designed for 9-12 year-olds. Along the way, they added in some jokes that might appeal to the parents in the theatre. Despite being a simple story, Sonic the Hedgehog 2 was funny and made for an enjoyable day at the movies.
Charlotte Kwok - 4.5 out of 5 stars
Like Micah, I thought this film was fun and it kept my attention all the way through to the end. Each of the new characters was interesting and hilarious to watch. One thing that stood out to me was that each character brought a different ability to help the others. All of these made the movie more exciting and adventurous. This story seemed a bit straightforward compared to the first, which means there were no real surprises. I will have to disagree with my brother about the best age bracket to watch this film and enjoy it since I think that it might be best for kids over 11 years of age. Some of the plot points were a bit too mature for the younger kids in the audience. In the end, this Sonic film had my attention all the way to the cliffhanger at the end.
What should parents know about Sonic the Hedgehog 2?
For fans of the Sega games, this will be a fun complement to your gaming experience. The pace moves quickly from scene to scene, yet the movie's subplots, while light and humorous, did drag out the experience. Be sure to read the rating label since this film does contain some mild language and cartoon violence. There is a moral theme to the whole screenplay, and is laid out just as you might find in a typical cartoon. However, the message may be obscured amid the cinematic special effects. This means you might want to chat with your children about anything that seemed unclear after the film.
Reel Dialogue: Talking points for the family
Like most animated adventures, there tends to be a moral undercurrent that could lead to great discussion points in the car after the film. Based on the topics that caught our junior reviewers' attention, these would be some of the best talking points with the family.
We all have talents that make us part of our family, friends, and community. What do you think those are in your life? What skills do your siblings have that are special?
1 Peter 4:10 - "Each of you has received a gift to use to serve others. Be good servants of God's various gifts of grace.
We all have to grow up and rely on others. Like Sonic, can you think of anything that has made you rely on others to get something done?
Ecclesiastes 4:9-10 - Two are better than one, because they have a good reward for their toil. For if they fall, one will lift up his fellow. But woe to him who is alone when he falls and has not another to lift him up!
Leave a Comment