2 out of 5 stars
The immersive effect of Florian Zeller's stage play and film, The Father, was brilliant in its unique manner of portraying the experience of those who experience dementia. The French writer/director was thrown into international prominence for this project as Anthony Hopkins went on to win the Best Actor Academy Award for his portrayal in the film. As a director, Zeller would follow up his freshman venture in directing by adapting another stage play from his series with The Son.
We are introduced to Peter Miller (Hugh Jackman) as he adapts to being a father with his second wife, Beth (Vanessa Kirby). As they get used to living as a couple and raising their newborn son, the lawyer's ex-wife shows up unexpectedly at home. She has concerns about their 17-year-old son Nicholas (Zen McGrath), who has been depressed since his father left their family behind. Kate (Laura Dern) informs the couple that the high schooler has been acting out at home, and she has been made aware that he has been skipping school for the past month. Despite not being involved in his life for a few years, Peter decides it would be best for his older son to move in with his new family. His hope is that the two of them can reconnect and that their relationship will help Nicholas to turn his life around. This proves to be more challenging than anyone involved could expect since Nicholas shows signs of self-harm and begins to follow the same patterns from his time at his mother's home.
What worked in Zeller's favour with The Father was having the whole production managed in one apartment, as this complemented the stage production feel. He manipulated the atmosphere to enhance the awareness of his lead character's struggle with mental health issues. In his latest production, the setting expands into the streets of New York, and this causes some problems in containing the emotion and tensions of the storyline. As this screenplay unfolds, the constant change of locations adds to the timeline's confusion and leads to a disjointed experience throughout the film. Even though the director does show his artistic flair in his stunning visual depiction of the city, this is not enough to save this tale from spiraling into the darker hues conveyed through the imagery and themes.
The film's highlight all rode on the shoulders of Hugh Jackman, who gave his all to save the substandard writing. Unlike most of his previous roles, he embodies the hubris of a man trying to justify his choice to leave his family for another. Unfortunately, his performance was lost in a mediocre attempt to show the plight of acute depression. Laura Dern and Venessa Kirby did their best with what they were given. Still, they struggled to rise above the two-dimensional characters they were left to wear. Yet, the weakest element of the production was the portrayal of the central character, Nicholas, by Zen McGrath. Many could say this was Jackman's film, but the story's heart was reliant on the younger son, and this new actor struggled as he attempted to carry this story through to the end. Although the messaging is important for this era, The Son fails to effectively convey the cautionary messaging it desperately wants to share.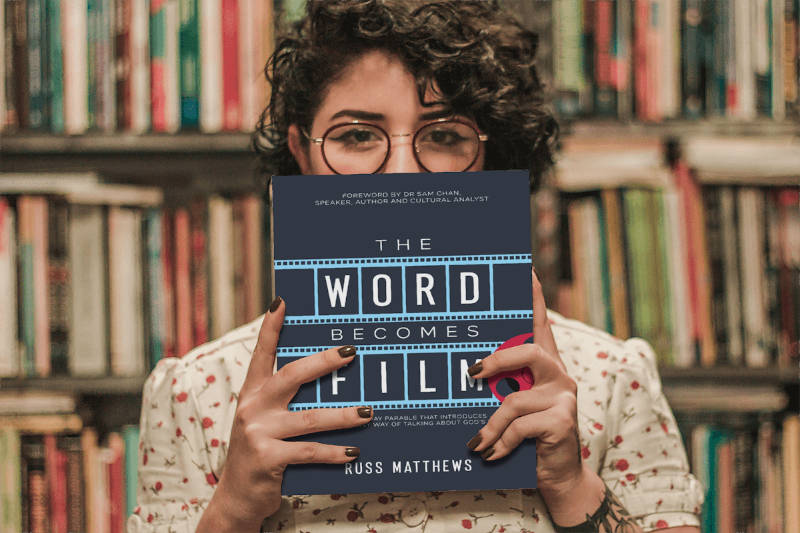 The word becomes film
Russ Matthews' new book is a modern-day parable that introduces a radically easy way of talking about God's story
If you order the book today you will also receive a complementary study guide that is only available with the purchase of the book (Print or ebook)
Reel Dialogue: Is life worth living?
The intention of a film like The Son is to shed light on mental health challenges and help those with suicidal tendencies. Within this discussion it may be best to encourage people to know that God cares for them. Regardless of life's difficulties, people must know that life is worth living. The God of the Bible knew us all before we were born. Also, he is there for us as we progress through life and as we experience the inevitable trials that come with being human, God knows and cares for us all.
He sees all of his creation as a masterpiece, as the psalmist says in Psalm 139 that you are fearfully and wonderfully made. Also, throughout the trials and travails of this time on earth, he provides hope through the work of his son, Jesus, who came to save us and give us access to eternal life. From the beginning to the closing message of the Bible, people can know that anyone can choose to have this hope of eternal life.
God is there to help us through day-to-day living, and there are people out there to assist with the darker times too. If you need help, reach out to God and the resources below.
In Australia: Call Lifeline at 13 11 14 or go to the website: lifeline.org.au

If you want to more about the message of Jesus: Contact the team at Third Space
Leave a Comment