Sisu
A masterclass in visual storytelling
⭐️ ⭐️ ⭐️ ⭐️ (out of 5)
Sisu is a Finnish concept requiring more work to translate fully into English. Derived from the Finnish word sisus, meaning internal or entrails, sisu is a stoic and unflinching resolve in the face of hopeless adversity. In the modern-day English vernacular, someone with sisu has guts. They possess an inward, white-knuckled grit that compels them to keep moving forward. With this philosophy in mind, Finnish director Jalmari Helander (Big Game) delivers a wildly entertaining film that looks and feels like a throwback to the Italian director Sergio Leone's Spaghetti Western and his casting of Clint Eastwood as the enigmatic Man with No Name. Additionally, fans of the John Wick franchise and subscribers to the Quentin Tarantino brand of gratuitous violence will love this simple tale of perseverance and bloody vengeance.
Trailer contains disturbing and mature content
It is the final weeks of WWII in the barren Lapland Wilderness of northern Finland. The film opens with a rugged-looking prospector, Aatami Korpi (Jorma Tommila), panning for gold. He is momentarily distracted by the sounds of a lingering battle just beyond the lifeless horizon. After discovering a few flakes of color, Aatami begins to dig in earnest and finally strikes it rich. Burdened with sacks of gold nuggets and a white poodle for company, Aatami saddles his horse and begins a treacherous journey home through the war-torn terrain. Along the way, he encounters a remaining Nazi Schutzstaffel death squad carrying a group of Finnish captives. Led by a cruel SS commander named Bruno Helldorf (Aksel Hennie), the Nazi caravan discovers what the mysterious interloper is carrying, and mayhem ensues.
This Finnish film is a masterclass in visual storytelling. It is rare when a film entertains with a bare-bones script and unknown actors. The film is remarkably thin on dialogue and yet the screenwriter (Helander) tries to explain Korpi's backstory through too much exposition. Consequently, the narrative feels spoon-fed during one particular scene. Consequently, the dialogue could be better in the film. What if Korpi's identity and military exploits remained a mystery? What if the viewer filled in Korpi's backstory on their own? The Nazi soldiers quickly learn about the notorious Aatami Korpi and his reputation as a feared Finnish military commando with over 300 Russian kills. Previously retired, the bedraggled old man is a John Wick-like boogeyman known as Koschei (The Immortal). People say, "It's not that Koschei can't be killed, it's that he refuses to die." Despite suffering from a convenient narrative, the film's production design and editing are well executed. Each action sequence is expertly cut and propelled by the one before it. The result is an insanely fun popcorn movie that is more spectacle than substance.
Sisu is a refreshing reminder that the best storytelling is often simple. In this case, a man and his dog fight an evil injustice threatening him and the world. Jorma Tommila's performance as the aging Aatami Korpi is compelling, and it would be a shame if more people don't see him. With almost no dialogue, Jorma communicates entirely through his eyes and body language. Unlike the invincible superhero of the MC Universe, Korpi is a type of hero who suffers unimaginable physical suffering. Yet, he keeps coming back for more. Director Jalmari Helander said he was inspired by movies like First Blood and Inglorious Basterds. Both films celebrate retaliatory justice against an immoral authority. Like Korpi, John Rambo (Sylvester Stallone) is a lone warrior who stands against a system that has forgotten him. If you liked John Wick 4 and need another vigilante bloodbath before the release of The Equalizer 3, give Sisu a watch.
Why do we admire characters like Aatami Korpi, John Wick, John Rambo, and The Man with No Name? They are all disaffected members of a society run by powers that are intent on breaking them. We are repulsed by this injustice and applaud those who fight back.
Reel Dialogue: Vengeance
While the actions of Aatami Korpi or John Wick can be celebrated in cinema and applauded by crowds worldwide, is vengeance truly meant to be in the hands of man?
The subject of vengeance does get discussed throughout the Bible. The study shows that human vengeance is always flawed in light of man's sinfulness and imperfection. Vengeance is never something that mankind should take into their own hands. So, it does beg the question, who enacts justice?
Thankfully the Bible tells us that God is the ultimate judge everyone must face, and it is best left to Him to carry out perfect, righteous anger and judgement.
If you would like to discuss the issues associated with vengence and the Bible. Reach out to us at Third Space. We would love to chat about this and more.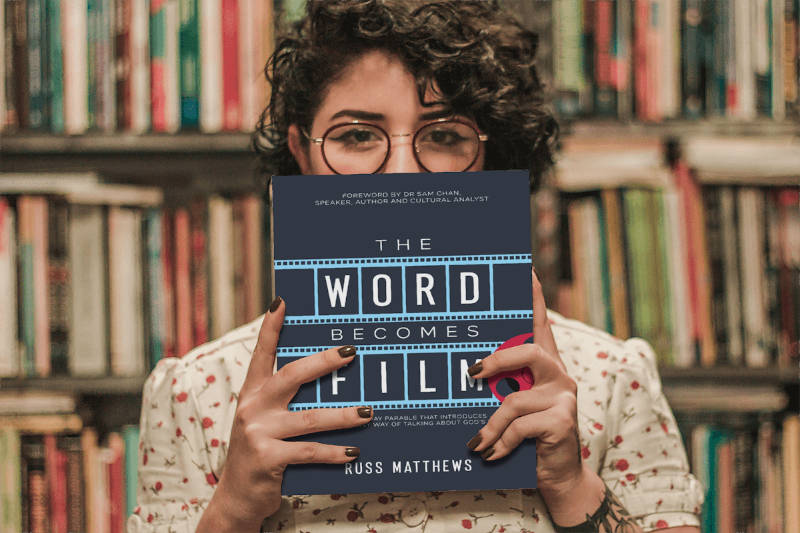 The word becomes film
Russ Matthews' new book is a modern-day parable that introduces a radically easy way of talking about God's story
If you order the book today you will also receive a complementary study guide that is only available with the purchase of the book (Print or ebook)
Leave a Comment