Reel Dialogue's Christmas Movie Advent
What is your favourite Christmas movie?
What films truly capture the heart of Christmas?
For many, there is one movie that captures the Christmas spirit. The Reel Dialogue team has given you an option for every day of the Christmas season.
Why is it hard?
Because everyone has a favourite, we know we do. So, what Christmas package will Reel Dialogue unpack for our audience? We thought, why not share with you our families' fav Christmas films? Then offer up a bunch of great options for the season.
Those films that we pull out every year and we never seem to get tired of them…
Elf (Paramount+, Stan)
Raised as an over-sized elf, a human travels from the North Pole to NYC to meet his biological father who doesn't know he exists and is in desperate need of some Christmas spirit.
The Polar Express (Binge)
On Christmas Eve, a young boy embarks on a magical adventure to the North Pole on the Polar Express, while learning about friendship, bravery, and the spirit of Christmas.
It's a Wonderful Life (Stan)
An angel is sent from Heaven to help a desperately frustrated businessman by showing him what life would have been like if he had never existed.
The Nativity Story (Streaming Services - Apple)
A drama that focuses on the period in Mary and Joseph's life where they journeyed to Bethlehem for the birth of Jesus.
Bonus - For those who can find it out there in streaming land
Emmet Otter's Jugband Christmas (Now on Netflix and Disney+)
A poor otter family risks everything for the chance to win the cash prize of a talent contest for Christmas.
One other thing we offer at Reel Dialogue is a Christmas Movie Advent Calendar - Our gift to you this Christmas season.
How to celebrate the Christmas season through film
A few years back our team received a great request from a faithful reader: "Could you compile a list for our family to watch a Christmas film each night leading up to the Christmas season? A Christmas Film Advent"
Reel Dialogue loved that idea back then and we still do. We put on our cinematic, Christmas hats and took her up on the challenge. The team thinks we have put together a great list of films the include Christmas in their storylines. Some of the films grab the meaning of Christmas and one, in particular, says it all.
Now… not all of these films are 'family-friendly,' hence the categorisation of the films.
Categories: Most of the films are family friendly, but some may be meant for adults only.
'Mum & Dad films' – MD – films that are intended for adult audiences only. Good for cuddling up together and enjoying some alone time.
'Great Memories' – GM – The mark for classic films from decades past that should not be forgotten.
We did not include sequels, but you are welcome to watch all of the films that come after the original.
There will be a reason for the order, primarily the film that is meant for Christmas Day.
Enjoy and Merry Christmas
Here is Reel Dialogue's Christmas Film Advent
25 December – The Nativity Story (The real story of Christmas)
24 December – It's a Wonderful Life (GM)
23 December – Elf
22 December – The Santa Clause
21 December – Rudolf the Red-Nosed Reindeer
20 December – The Muppet's Christmas Carol
19 December – The Man Who Invented Christmas
18 December – Spirited

17 December – Last Christmas (MD)
16 December – Polar Express
15 December – A Christmas Carol (2009)
14 December – Arthur Christmas
13 December – Scrooged (MD)
12 December – White Christmas (GM)
11 December – Home Alone
10 December – Love, Actually (MD)
9 December – A Boy Named Christmas (GM)
8 December – Emmet Otter's Jugband Christmas (Now on Netflix and Disney+)
7 December – Dr. Seuss' How the Grinch Stole Christmas!
6 December – A Charlie Brown Christmas
5 December – Miracle on 34th Street (1947) (GM)
4 December – Die Hard (MD)
3 December – Ladies in Black (This one only has one scene, but it depicts Australia at Christmas)
2 December – The Family Man (MD)
1 December – A Christmas Story
Honourable Mentions: These films could replace any from the list that you like.
Guardians of the Galaxy Holiday Special (Disney+), The Little Drummer Boy, National Lampoons Christmas Vacation, Four Christmases, The Grinch & While You Were Sleeping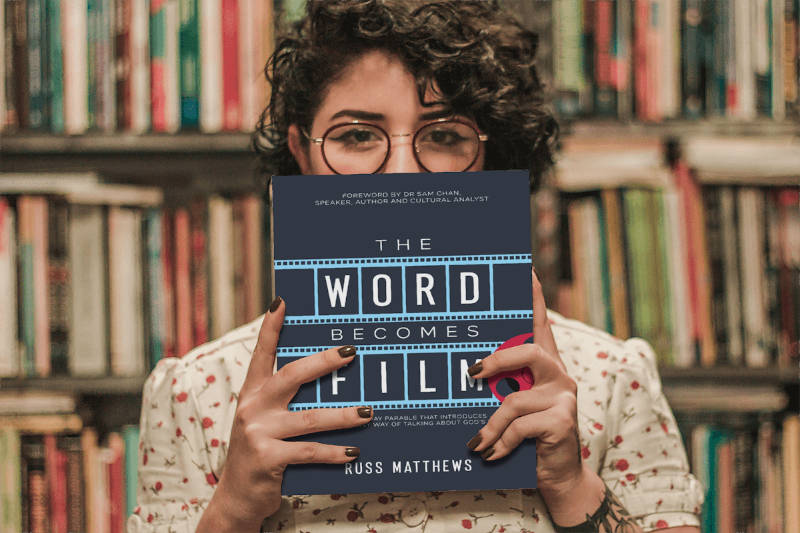 The word becomes film

Russ Matthews' new book is a modern-day parable that introduces a radically easy way of talking about God's story

If you order the book today you will also receive a complementary study guide that is only available with the purchase of the book (Print or ebook)
The team at Reel Dialogue want to wish you all a wonderful Christmas season
Remember that the true meaning of Christmas can only be found in the celebration of the birth of our Saviour, Jesus Christ.
Enjoy your time with the family this Christmas
Do you have a film you would like to add?
Go for it, send us your recommendations.
Leave a Comment