The Nightingale
Multi-award winner at AACTA (including best picture)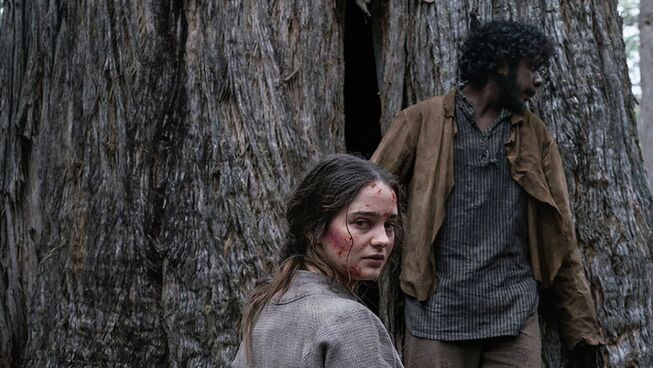 3 out of 5 stars
'I don't have all the answers to the question of violence. But I feel they lie in our humanity, in the empathy we hold for ourselves and others.' - Jennifer Kent
The majority of films that depict the history of Australia tend to be dark, violent and contain very little hope. The Nightingale seems to be singing from the same songbook, except director Jennifer Kent (The Babadook) would challenge this assessment that her film is typical. In a recent interview, she shared some insights about the story, 'I wanted to tell a story about violence, in particular, the fallout of violence from a feminine perspective. To do this I've reached back into my own country's history. The colonisation of Australia was a time of inherent violence; towards Aboriginal people, towards women, and towards the land itself, which was wrenched from its first inhabitants…. For this reason, I consider this a current story despite being set in the past.'
Kent takes us back to 1825 to Van Diemen's Land (Tasmania), where Clare (Aisling Franciosi) resides at a small military outpost. The 21-year-old Irish convict has come to the end of her seven-year sentence and wants out from under the rule of her abusive master, Lieutenant Hawkins (Sam Claflin). Despite her faithful service and willingness to endure his vicious abuse, the officer refuses to sign the papers that would grant her freedom. In a fit of rage and exasperation, Clare's husband, Aidan (Michael Sheasby), confronts the military leader. The response to this act causes things to spiral out of control and leads to a multitude of horrific and tragic events that irrevocably impact the young woman's life.
When Clare goes to the British authorities to report the criminal acts against herself and her family, she finds no justice. No-one is willing to take her word over that of a British officer. In complete despair, she decides to hire an indigenous guide to track down the soldiers who had recently left to start a new commission in Launceston. With only her husband's horse, a few provisions and the assistance of Billy (Baykali Ganambarr), the despondent woman hopes to overtake the soldiers and enact her own form of revenge. The unforgiving terrain and the tensions surrounding the ensuing Black War, prove to be more of a challenge for the pair to face than merely finding villainous military officers. The hopeless journey provides Clare with insights on the plight of her Aboriginal guide's people and how the land of Australia could be as unforgiving as the people that colonised the island nation.
To say that this film is a depiction of the inherent violence that occurred in Australia's past is an understatement. In her writing and direction, Jennifer Kent holds nothing back in portraying the brutality against all aspects of humanity. Everyone in the story eventually becomes a victim of bloodshed. The few characters that do manage to survive this onslaught of violence seem to be left with enough post-traumatic stress to make them wish they were dead. All of these elements support the multitude of stories from Australian history the prove that Kent's depiction is set in a harsh reality that is as unforgiving as the film itself.
Which leads to questioning the intent of the film, is it meant to entertain, educate or both? To watch multiple women being raped, unwarranted murder of adults and children and to see the evil side of the military forces will most likely leave audiences with less of an appreciation for quality filming than long-lasting PTSD. Understandably, Kent must have felt that this story needed to be told, but there is nothing about this film that will provide any glimmer of hope or satisfaction of justice. There is little entertainment value and the opportunity for educating the public of these travesties could only be relegated to those with iron-clad resolve. The commitment of the cast to their roles should be commended and the quality of storytelling is rooted in sound filmmaking, but it proves to be difficult to celebrate.
To conclude her previous interview, Kent went on to say, 'I don't have all the answers to the question of violence. But I feel they lie in our humanity, in the empathy we hold for ourselves and others.' With The Nightingale, she manages to provide her answer to this question with an unforgettable and shocking depiction of violence against humanity that will leave audiences with emotional wounds that may never heal.
REEL DIALOGUE: This world is broken and needs fixing, who is going to do it?
Enduring The Nightingale is like seeing an object lesson in the depravity of humanity. A big question that came to mind during the film was 'What is God doing to fix this world?' By telling people that God has a plan in amongst their pain is not comforting, but tends to have an opposite effect. The answer to the violence in this film seems to be taking justice into our own hands, because all hope seems lost. Is that the case?
It is a monumental question that can be answered in the person of Jesus. Not that it is a simple question or answer, but not until you look into his life and death will the answer be evident. Pick up one of the accounts of his life and see how God answers this multi-layered query with one man.
1. Can we find truth in this world? (John 14:6, 1 Corinthians 13:4-6)
2. Can we ever find justice? (Proverbs 21:15, Romans 12:19)
3. Is it possible to come out from under our circumstances?
(Psalm 40:17, Romans 8:38-39)
Leave a Comment