Short Take: A film industry term that means something that only takes a short time.

A short review of a film with potential discussion points
Summary: Matt Manzari may not be a recognized name to many worldwide, but his name carried some weight in the realm of extreme sport. Adrenaline junkie would have been one of the many labels he proudly wore as he became a world-class wakeboard champion. Until he experienced a horrific accident that had the potential to end his career and life. Yet, he survived months of recovery and eventually made his way back to the water and restarting his stalled career. Which all was brought to an abrupt stop when he was accidentally electrocuted with 12,000 volts of electricity while helping to clear away a tree during a church clean-up. Matt lay in a coma and his wife, Bobbye Jean, who was carrying their first child, planned to say her final goodbyes to her husband. Then miraculously, he overcame every catastrophic expectation and fought his way back to life.
In this short film, Matt is able to share how the Lord worked through his life and how while he was in his weakest stage of life, God made him strong. Also, despite the horrific scars he carries all over his body, this former champion can show how his life is a testimony to a great God.
Review: In this short documentary, viewers can experience the highs and lows of Matt Manzari's life. His story will have a profound impact on anyone who takes the time to connect with this self-professed adrenaline junkie's miraculous testimony. As he says, he should be dead. Yet, it is evident as Matt and Bobbye Jean narrate their personal journey that these experiences have made them appreciate every aspect of life. Not taking for granted the gift that has been given their young family and how they want these tragedies to be a testament to the amazing God they serve.
Miracle Matt is a must-see for anyone going through traumatic experiences in their own lives or for those who hope to support them. Also, this is a tale that proves to be an inspiration to all who watch this film. One that should be shared with those you love. The Manzari family's biographical sketch does contain confronting images that may be difficult for some to bear, but they are brief. For those who can push through, you will be rewarded for your perseverance.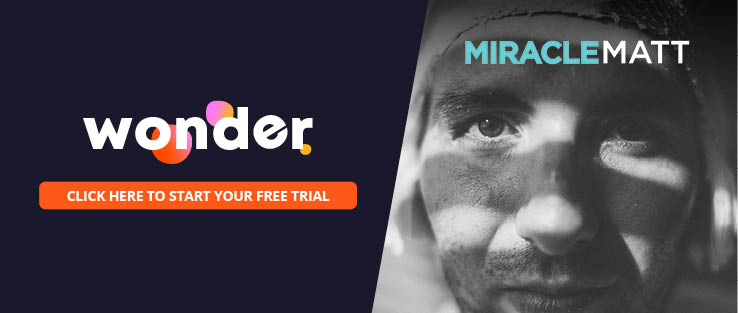 Reel Dialogue: Why do we have to suffer?
It might be a surprise to many, but Christianity is the only worldview that has an actual answer to the problem of tragedy and suffering. Christians can attest that they serve a God who lived as a man on this earth and experienced temptation, torture, hunger, thirst, hatred and death. Matt Manzari describes how his scars do not even compare to those experienced by Jesus.
Due to the work of Jesus on the cross, the justice of God is manifested in his son. The cross is a means of symbolising how much God cares about humanity's suffering. A more profound conclusion is that we may never know the specific reason for our suffering, but that we can identify the God who understands the rationale behind the pain.
"If only there were someone to arbitrate between us, to lay his hand upon us both, someone to remove God's rod from me, so that his terror would frighten me no more. Then I would speak up without fear of him, but as it now stands with me, I cannot" - Job 9:33
Leave a Comment