Love Again
The serendipity of love
3 out of 5 stars
There is something about the company you keep, especially who you choose to go to the movies with. Writing film reviews can leave a person jaded as you constantly search for the year's best films. The prospect of the latest rom-com coming to theatres can bring out the most skeptical thoughts. It means one must do all he can to give the newest movie a chance by inviting a team of experts. A call goes out to my daughters, who have managed to engage with every film within this genre and will support this indifferent reviewer for Love Again.
This modern romance is based on Sophie Cramer' novel Text for You, about the unlikely connection between Mira Ray (Priyanka Chopra-Jonas) and Rob Burns (Sam Heughan). As a music critic for the New York Chronicle, Rob is given a new work phone, and suddenly he starts getting heartfelt messages for the previous owner of the number. These grief-stricken texts are from Mira; she is merely trying to share her emotions for her boyfriend, who had died years earlier. Since the messages are so personal, the writer chooses not to delete them and decides to investigate who is behind these beautiful words. As he does his best investigative work with his phone, it begins to get in the way of his latest assignment to interview Celine Dion. Yet, instead of being offended by this technological interruption, the famous singer gets involved with this potentially romantic connection.
What was surprising about this film was that the unbelievable becomes believable as things unfold. Admittedly, the storyline follows the typical troupes of this film style while the combination of elements works. As it does not try to be groundbreaking cinema, Love Again does precisely what it intends to do: entertain the world's romantics. What needs to work is the chemistry between the lead actors. Despite being initially awkward, Priyanka Chopra-Jonas and Sam Heughan's relationship builds into something worthwhile. Yet, for much of their connection to come together, they need the right mix of support players to add the comedic spark to electrify the storyline.
This is how this film manages to cross the line of plausibility and likeability that differentiates it from the Netflix and Hallmark options on offer. Sofia Barclay as Mira's sister, and Russell Tovey, Steve Oram, and Lydia West, fellow workers at the newspaper, add the needed layer that helps to differentiate this story from others. Yet, the question on everyone's mind is how Celine Dion does in her portrayal of herself. Surprisingly, it works as she embodies the role of a musical diva with heart. Each character adds enough magic to this predictable journey to love to satisfy those looking for a bit of cinematic romance.
Admittedly, being with the right audience did make Love Again more appealing. Still, this movie may even soften the skeptics' hearts, who usually roll their eyes at the prospect of the latest rom-com.
Reel Dialogue: Serendipity of love
What usually causes many to shake their heads in disbelief at screenplays like Love Again is the premise of how two people meet. Yet, for all those in a relationship right now, what events occurred in your life to get you to the place of meeting the person you love? It may not be a random SMS on your phone. Still, think about it for a moment. In that case, the likelihood of you both coming together may be more magical than imagined.
As you ponder all of the 'right place/right time' moments in your life and those in the lives of people you know, some might describe it as serendipity. This is the notion of 'finding pleasing things you had not been looking for. It is also the occurrence and development of events by chance happily or beneficially.' Yet, instead of mere chance, have you ever considered that someone is orchestrating all of these events?
"'For I know the plans I have for you,' declares the LORD, 'plans to prosper you and not to harm you, plans to give you hope and a future. Then you will call on me and come and pray to me, and I will listen to you. You will seek me and find me when you seek me with all your heart.'" - Jeremiah 29:11-13
Within the words of the Bible, we can discover that these things can be defined as the favor of the Lord as opposed to mere coincidence. You could find He guides people's footsteps and makes their paths straight. Serendipitous experiences are just God's way of showing His favour and delight.
If you would like to discuss the issues associated with love and the Bible. Reach out to us at Third Space. We would love to chat about this and more.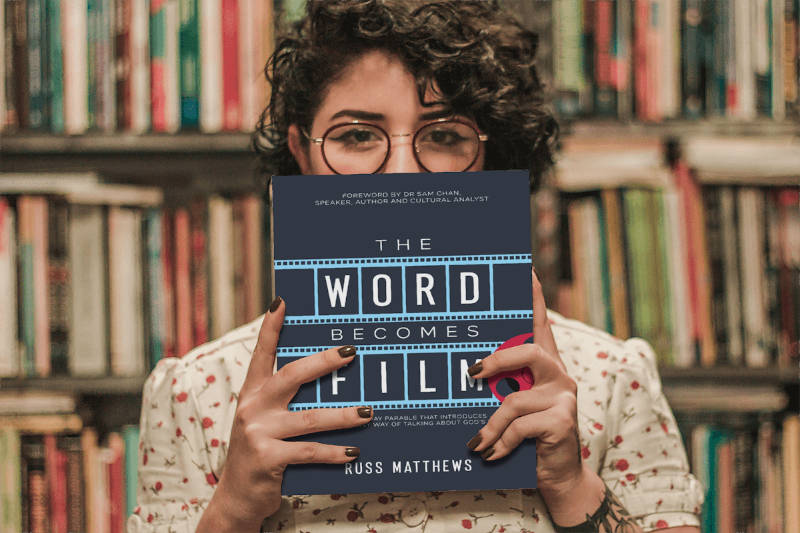 The word becomes film
Russ Matthews' new book is a modern-day parable that introduces a radically easy way of talking about God's story
If you order the book today you will also receive a complementary study guide that is only available with the purchase of the book (Print or ebook)
Leave a Comment