The Lost City
Will this reboot the cinematic rom-com?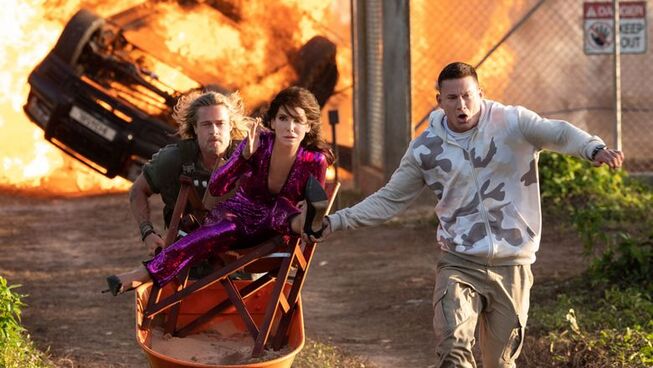 3.5 out of 5 stars
The rom-com has suffered over the years and these productions rarely find their place in cinemas anymore. Some may blame it on the influence of 50 Shades of Gray that made romance out to be merely sex or streaming services that bombard viewers with low-budget love stories. Beyond finding fault in any one thing, it is not difficult to see that this genre has suffered over the past few years.
With a nod towards the Robert Zemekis classic, Romancing the Stone, this trend may have changed with The Lost City. See if the similarities are evident with Sandra Bullock playing the role of reclusive romance novelist, Loretta Sage. She has lost her passion for writing, but must go on a book tour to promote her latest romantic adventure. What makes this publicity junket even more difficult is that she must travel with cover model Alan Caprison (Channing Tatum), representing her novel's hero, Dash McMahon. They try to do their best to get along until Sandra is suddenly kidnapped from the event by eccentric billionaire Abigail Fairfax (Daniel Radcliffe).
The author is whisked off to a remote island to assist with an archaeological dig funded by the driven businessman. Her book contains possible clues to deciphering a code that may lead to a significant find for Fairfax and his team. To make himself more like his fictional persona, Alan does all he can to find and free Sandra from her captors. Their adventure takes them throughout the jungles of the secluded island as they try to stay ahead of the hired guns on the billionaire's payroll. Along the way, the unassuming pair decide to find the treasure for themselves and discover they may have more in common than they expected.
From the film's opening, it is easy to see that this concept is over-the-top. This story is ridiculous and has all of the earmarks of rom-coms of years gone by, while still enjoyable and romantic. Nothing about The Lost City is based in reality. Still, the production team sits comfortably in this element and works it until the end. Yet, they lean in hard to the critical factor that makes these films work by capitalising on their lead actors' romantic and comedic chemistry. Bullock and Tatum do a deep dive into this far-fetched concept and deliver a convincing connection that carries this adventure through to its somewhat predictable conclusion. Even though they do very little romancing during their time in the jungle, they have undeniable appeal and comedic connection.
Along with the central characters, there needs to be supporting cast members who help to distract the audience from the outlandish screenplay. Even though Daniel Radcliffe does an admirable job at playing the villainous billionaire and Da'Vine Joy Randolph (Only Murders in the Building) is excellent as the author's friend and publicist. The performance that has to be worth the price of admission is that of Brad Pitt as Jack Trainer, a Navy Seal-turned-CIA agent. His ability to parody himself and make Tatum seem insignificant on-screen will have people laughing through his brief time in the film.
The Lost City will not be around for awards season, but it may be the very thing that is needed to reboot the rom-com in cinemas. Ridiculous, unbelievable, romantic and fun.
Reel Dialogue: Where is your treasure and your heart?
"Do not lay up for yourselves treasures on earth, where moth and rust destroy and where thieves break in and steal," - Matthew 6:19

"For where your treasure is, there your heart will be also." - Matthew 6:21
Ah, the adventure to find buried treasure. Those stories have been at the heart of books and movies throughout the centuries. We dream of the day when we might stumble upon a map or the clue to a lost stash of unspeakable riches that will satisfy our deepest dreams. Yet, throughout most of these stories, the people who find this secret pot of gold either die in the process or discover that the prize is more curse than blessing.
Not that finding an undiscovered fortune is terrible, but would it really provide you with the happiness you seek? Jesus talked of this nugget of truth that has plagued mankind throughout history. He spoke of 'true' treasure, which cannot be stolen or will not eventually turn into dust. This treasure has eternal value and is one that you do not need to carry on your back. The treasure that Jesus spoke of is the only one worth searching for in the end. Why not take the time to unearth the truths of the prize that he shared by reading the book of Matthew today.
Leave a Comment