The Guilty
Broken people save broken people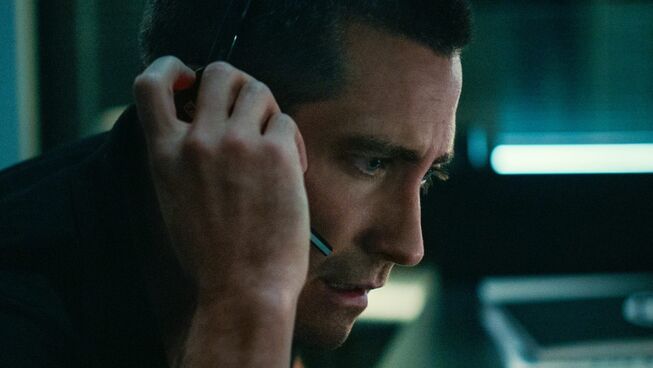 3 out of 5 stars
Antoine Fuqua has established his career as one of Hollywood's most sought-after directors who has capitalised on a diverse range of genres. Even though Denzel Washington and Ethan Hawke have been a mainstay of many of his top-rated films. Jake Gyllenhaal has managed to make his way into many of his movies. Their latest venture is a remake of the brilliant 2018 Danish film of the same name called The Guilty.
This film is the quintessential definition of a potboiler, with the whole production occurring in the early morning of a Los Angeles 911 call centre. Joe Baylor (Gyllenhaal) is a police officer put on light duty after legal difficulties surrounding his actions on the streets. This role at the call desk leads to frustration for the police officer as he is confronted with situations that involve the current bushfires surrounding the city. Joe fields mundane calls until a desperate call from a woman comes in who seems to have been abducted by her ex-husband.
Few actors could handle a role where they must be in every scene and convincingly keep the audience's attention. Gyllenhaal continues to prove that even during the weaker moments of this remake, he is one of the best actors of this generation. This role requires a range of emotions that show his skill to tap into the lighter and darker parts of the human soul. Fuqua uses the natural tensions of the 911 operator to force his star to reach into the far corners of his thespian skills.
What adds to this individual performance are the brilliant and unexpected twists from Nic Pizzolatto's screenplay. Just when things seem to be heading down a predictable path, the story's arch takes an entirely different direction. Then to complement each narrative spin, they add a bit of spice to the film by peppering in familiar voices from the director's filmography. This may lead to a guessing game determining when Ethan Hawke, Eli Goree, Da'Vine Joy Randolph, Paul Dano, and Peter Sarsgaard are on the other end of the line. While these diversions merely add to Gyllenhaal's captivating performance.
For the avid film fan, this Hollywood version fails to live up to its Danish predecessor. While for those merely looking for an entertaining choice over the weekend, this is a good choice. One for the devoted fans of Jake Gyllenhaal and Antoine Fuqua or for those searching for an intense drama that will keep you on the edge of your seat until the unexpected finish.
The Guilty contains enough mature language and situations to make this ideal for discerning adults.
REEL DIALOGUE: This world seems to be broken
The world is broken. Watching The Guilty is like seeing an object lesson in the effects of regret. We seek after things that lead to our own destruction or lie to ourselves about our past. Digging in deeper, we can look at the language, the brokenness of each person and how nothing in life is as simple as it seems, which all prove that something is wrong with our world.
In light of this film, a big question that has to be asked is what God is doing about this mess and is there any hope for this broken world? It is a monumental question that can be answered in the person of Jesus. Not that it is a simple answer, but not until you look into his life and death will the answer be evident. Pick up one of the accounts of his life and see how God answers this multi-layered query with one man.
Though the mountains be shaken and the hills be removed, yet my unfailing love for you will not be shaken nor my covenant of peace be removed, says the Lord, who has compassion on you. - Isaiah 54:10
Leave a Comment