4 out of 5 stars

Some people build fences to keep people out, and other people build fences to keep people in.
Stage productions do not always translate or make a successful transition to the big screen. The very nature of the staging constraints and the character-driven writing can cause issues with the move from the theatre to the big screen, but that cannot be said of Fences. Denzel Washington takes up the challenge of bringing August Wilson's 1983 play to cinemas as the director and lead actor. A Pulitzer Prize winning play that celebrates the portrayal of the lives of one family in the 1950's Pittsburgh African-American community. A bitter and harsh look into the seemingly simple existence of Tony (Denzel Washington) and Rose Maxson (Viola Davis) and how they survive in the ever changing world of middle America.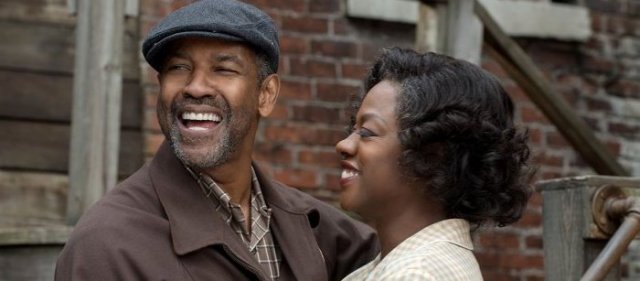 Tony Maxson is a formidable figure within his family and community. He has a charisma that draws some people to him or causes others to be repulsed by him. Rose is Tony's faithful wife who has been through the highs and lows of his life. Supporting a life that extends from starring in the Negro baseball league to spending some time in prison, Rose proves to be the ballast that keeps Tony grounded. As a couple, they do their best to raise their children and to care for Tony's disabled brother, Gabriel (Mykelti Williamson). Their lives are not extraordinary, but the elements of their insular existence make for the needed dramatic tensions. The mundane life in of the Maxons becomes a profound dramatic journey with each word that is shared and every experience that occurs in their simple home and as Tony works on building his fence.
The performances are built upon August Wilson's screenplay that effectively adds each layer to this family's life with precision and subtlety. His masterful writing allows each twist to draw the audience deeper into the storyline. The rapid fire dialogue cuts to the bone with Wilson's societal commentary and with the perspectives of living in that era. Each monologue from Washington and Davis contains an unexpected depth that lands verbal bodyblows which will leave a lasting impression on viewers.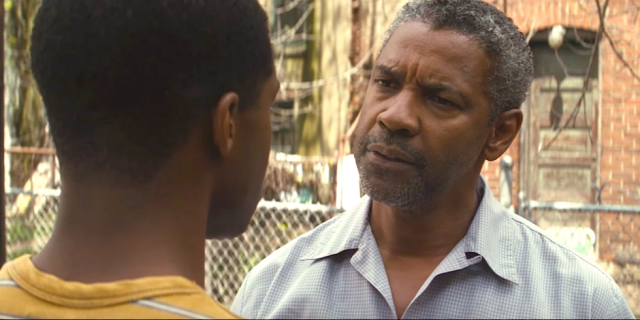 This well written script paired with a superb cast makes for an undefinable viewing experience. Davis and Washington manage to encapsulate the multitude of emotions that comes from a marriage relationship. The award winning actress becomes the hero of the film and the family, while her leading actor represents the mouthpiece and the foot that metaphorically kicks everyone around. Washington's visceral diatribes are drawn from a deeply wounded soul and turn him into an embittered and unlikable character. These two powerhouse performances are supported with the brilliant character actors such as Stephen Henderson and Russell Hornsby. It has taken too long to get Fences to cinemas, but it proves to be worth the wait. Denzel Washington proves that he is a force in front and behind the camera with this sobering and enlightening production.
REEL DIALOGUE: What are some of the bigger questions to consider from this film?
1. What is the value of family?
(Genesis 2:24, Exodus 20:12, Psalm 22:6, John 15:12-17)
2. Why are fathers important in the lives of their children?
(Psalm 103:13, 127:3-5, Titus 2:1-15)
3. What does the Bible have to say about infidelity?
(Matthew 5:24, 1 Corinthians 6:18, Hebrews 13:4)
4. How are we to respond to death?
(Ecclesiastes 12:7, Matthew 10:28, 2 Corinthians 5: 6-8)
Leave a Comment