Fatherhood
Is this really the life of a single father?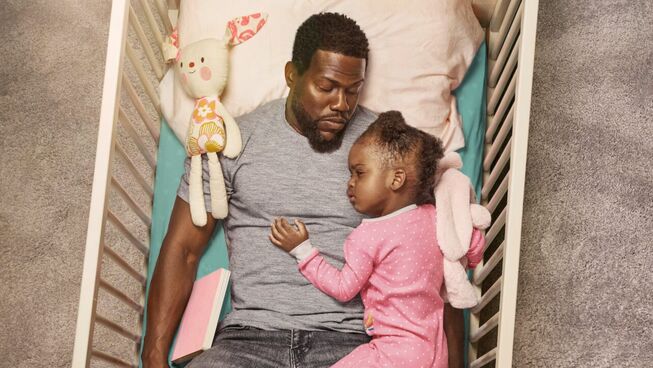 3 out of 5 stars
Two Kisses for Maddy: A Memoir of Loss and Love by Matthew Logelin is the inspiration for this Netflix film. The book and his popular blog share his experience after the death of his wife, Liz, and how he travelled through the world as a single father. It has been a whirlwind of experiences for the author and father after being on Oprah and published in various publications. Then to head towards his life story being made into a film seems like a natural fit. Yet, the very white (anglo) Logelin may have found it odd that he would be portrayed by Kevin Hart (Jumanji: Welcome to the Jungle). Still, why not go along with the societal trends of Hollywood and let his story get out? Especially when it was sure to pay off Maddy's university costs and then some.
We are introduced to Matthew (Hart) and Liz (Deborah Ayorinde) Logelin as they meet with the physician who will be delivering their baby. Unfortunately, they are informed that their child was to be delivered on that day due to some complications. After the Cesarean delivery of their beautiful baby girl, Maddy (later played by Melody Hurd), all looks to be going well for the young family. Until Liz collapses and suddenly passes away due to an embolism caused by the surgery. An event that would irrevocably change the lives of Matthew, Liz and everyone who loves them and their new daughter.
He decides to raise Maddy independently despite being encouraged by his in-laws to move back to Minnesota to have the support he desperately needs. Each step of the process provides many laughs and tears as the two of them try to work out how they can survive without Liz. Matthew struggles to maintain work/life balance between his career and home while Maddy tries to fit in at the school her mother wanted her to attend. Even though every day brings its own challenges, the two do all they can to survive and love one another through the process.
With the combination of Kevin Hart and a true-to-life story of fatherhood, this film carries a high level of emotional and comedic expectation. As the comedian attempts to recapture his audience after the Academy Award debacle from years ago, this screenplay does allow him to soften his image. However, despite having more than enough opportunities for Hart to add his bombastic humour into the script, most of it relies on his more dramatic side. Overall, he manages to pull it off, but it does mean that some of his jokes come off as more caustic than sympathetic. Which shows that the whole movie is riding on his appeal and performance.
Director Paul John Weitz (About a Boy) does surround his lead actor with an outstanding cast. Alfre Woodard, Lil Rel Howery, DeWanda Wise, and Paul Reiser are convincing in their roles while adding the needed layers for Matthew Logelin's journey. Yet, it is Melody Hurd as Maddy who steals the show. She manages to hold her own with Hart and Woodard by delivering on the emotional demands of this character while still being innocent in her dealings. Each character helps to turn this project into a familiar story of loss, redemption and family, even though it does struggle by adding in unnecessary social elements for good measure. It is difficult at times to determine where the Logelin's real story begins and what is merely artistic license. Still, this heart-breaking tale does offer something for families looking for solid entertainment options.
REEL DIALOGUE: The wisdom of parents
Matthew Logelin is not a perfect man, but he does manage to learn how to successfully live as a single father. All the while he is struggling with the grief of losing his wife and life with her. As a result, he must rely heavily on friends, family and work colleagues for advice as he journeys through his relationship with Maddy.
Wisdom is something all people seek, but many do not always follow. Earthly parents can be a wealth of knowledge and insights, but it can be flawed at times. It can be found in the heart of the Bible for those seeking true wisdom in their lives. There are actual sections that are known as wisdom literature. Ancient literature has applications in life today.
Where to find wisdom in the Bible: Job, Psalms, Proverbs, Ecclesiastes and Song of Songs
Hear, my son, your father's instruction, and forsake not your mother's teaching. Proverbs 1:8
Leave a Comment