Everything Everywhere All at Once
What just happened?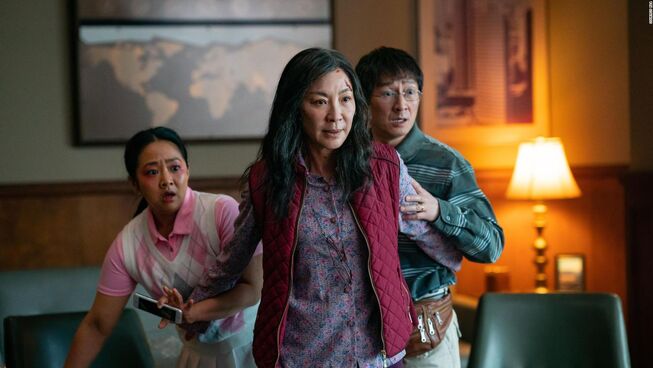 1 out of 5 stars
Every once in a while, there is a film that critics love and they want audiences to embrace despite its bizarre concept. That is every critic except this one, Everything Everywhere All at Once was one of those experiences that could not end quick enough. Directors Dan Kwan and Daniel Scheinert, otherwise known as the Daniels (Swiss Army Man), have a history of absurdist, dark comedies. This latest adventure has to be the most frenetic otherworldly of them all.
One of the most celebrated actresses in Eastern and Western filmmaking, Michelle Yeoh (Crazy Rich Asians), takes on a completely different role. She plays Evelyn Wang, who owns and lives above her failing laundromat with her husband, Waymond (Ke Huy Quan). As they try to care for her aging father and confront the fact their daughter has come home with her new girlfriend, their real troubles are with the tax office. IRS agent inspector, Deirdre Beaubeirdra (Jamie Lee Curtis), has been trying to get the Wangs to get all of their paperwork right for years. Still, Evelyn can never get things to meet the government's standard.
As if the stress of being audited was not enough, Waymond informs his wife that everything is not what they seem. He turns to Evelyn in the lift on their way to the appointment with Deirdre and shares that this world is one of a thousand universes in an extensive multi-verse. Then to add another layer to this crazy notion, she was the Alpha-Evelyn at the centre of these variant existences. Even though this appointment with the IRS was necessary for this life, it does not compare to her role in defeating the ultimate evil of the universe, Jobu Tupaki (Stephanie Hsu). Evelyn would need to determine if she could embrace this unknown reality and whether she would battle this adversary that she did not know existed until this day.
If anything could be said about this outlandish concept is how the Daniels manage to keep everything grounded in the central character. With each ludicrous turn, an underlying believability gives this a Sliding Doors on hallucinogens feel with the darkness of Donnie Darko added in to spice things up. Yet, even with Michelle Yeoh's strong performance, it all folds in on itself and goes from strange to preposterous. Scenes that include people with hot dog fingers, a raccoon version of Ratatouille, marital artists with anal plugs and scenes that turn the lead characters into rocks. Elements that might find their way into student films at university, but when bombarding the audience in succession, it all becomes wearisome and unnecessary.
What becomes the most frustrating aspect of the screenplay is how all of this buries a thoughtful expression of a child's need for her parents' approval. This message is hinted at throughout the film and eventually manifests itself at the conclusion. Still, it fails to have the emotional punch it deserves. The journey to the punchline is so exhausting and revolting that this intriguing statement gets lost along the way. While some may call this artistically innovative, this reviewer kept looking at his watch, hoping that this whole thing would end quickly. A wish that did not become a reality fast enough and made this whole thing reminiscent of being pulled into one of these strange worlds for a time. One nightmare that hopefully will never have to be endured again.
Reel Dialogue: The importance of mothers

Genesis 1:27 - So God created man in his own image, in the image of God he created him; male and female he created them.
It can be said that God created mankind, but to say He created fathers and mothers, is not too much of a stretch. God can precisely convey some of his marvelous attributes through the beautiful role of mothers. The role and struggles of mothers in films like Everything Everywhere All at Once and Turning Red depict motherhood that is one of love wrapped in protection, care and sacrifice. The creative team also tries to show the value of kind words coming from mothers' lips.
People may have different experiences with their mothers. Still, in God's original plan, it can be seen that the beautiful traits of mothers are a reflection of His characteristics to care and love for his children. Also, the Bible shows the need to provide care for the women who sacrifice so much for their families.
She opens her mouth with wisdom, and the teaching of kindness is on her tongue. She looks well to the ways of her household and does not eat the bread of idleness. - Proverbs 31:26-27
Leave a Comment