The Duke
You will fall in love with Kempton Bunton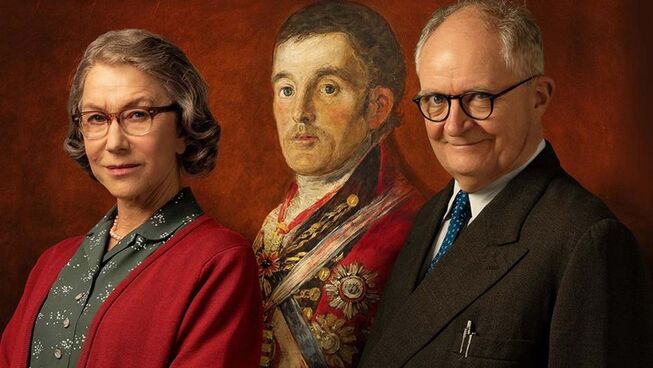 4.5 out of 5 stars
In 1961, there was an art theft that surprisingly caught the attention and imagination of the British population. It was not because it was Goya's portrait of the Duke of Wellington as much as the culprit accused of the burglary, an unemployed social justice activist named Kempton Bunton (Jim Broadbent). Even though he had various run-ins with the police during his life, nothing could have prepared his family for the attention that this brush with the law would cause.
He lived a simple life in Newcastle, England, with his wife Dorothy (Helen Mirren) and their two sons. Kempton kept himself busy with odd jobs, writing various screenplays and protesting the television license that he saw as an unfair tax on the poor. His verbal protests had caused him to lose numerous jobs and did lead to him spending some time in jail. After losing his taxi job, the self-educated activist decides to go to London for one last protest before settling down with full-time work. During these two days in the city, he allegedly stole the classic painting from the National Gallery and brought it back to his hometown.
A cat and mouse game ensues, which becomes a hilarious legal affair that gives the protester the attention he desires. Still, it also came with the potential of an extended jail time. Supposing the real-life Kempton Bunton was as charismatic and endearing as Jim Broadbent's portrayal. In that case, it is no wonder he garnered so much attention. The award-winning actor manages to play one of the most likeable characters in film this year. Along with a restrained and understated performance by Helen Mirren, these two help to deliver a film that will make everyone smile and cheer for one of history's most unlikely art thieves. Understandably, these two actors do not do it alone. They are joined by the talents such as Fionn Whitehead (Dunkirk) and Matthew Goode (The Guernsey Literary and Potato Peel Pie Society), who add just the right amount of support to brilliantly round out this cast.
This became Notting Hill's Roger Michell final film of his life and he leaves us with a charming gem worth discovering. He manages to capture the desperate and heart-warming elements of the era while showing how this determined man captured the hearts of England. Granted Michell had a fantastic cast at his disposal, but he managed to transport the audience back to the early 60s and immerse us all in this time of social change. There is very little to complain about with this cinematic journey back in time. Prepare to laugh, cry and cheer for this unassuming hero of the past who proves what it means to be a good neighbour. The Duke should be on everyone's watch list this year.
Reel Dialogue: Sacrifice in taking a stand
Watching the story of Kempton Bunton will make many question why anyone takes a stand for anything in life. Is it really worth the fight when the government and your neighbours do not rally behind your cause? This is a question that comes up throughout the study of history. It is no surprise that it can be seen within the lives of many within the Bible.
There are multiple examples, but one story that stands out would have to involve three friends. Shadrach, Meshach, and Abednego were put into a precarious situation. They had to determine whether they would kneel or stand in the public square as a new statue by the king was unveiled. The most significant difference between theirs and Kempton's story is that they faced death if they refused the king. Yet, they saw death as a better choice than to betray their God. It is an amazing tale in Daniel 3 of the Bible and you should give it a read.
Now, Kempton Bumpton and these three men had very different motivations, but they did suffer for their choices. Still, there is a difference between these tales of taking a stand. In the eyes of many people around the world, suffering is all pain and should be avoided. While in the eyes of God, suffering does still occur when you take a stand for Him, but it can be a vehicle for hope. We can learn from the Bible that having those difficult moments of suffering can produce perseverance, character and hope.
Is it worth taking a stand when no one else seems to be on your side? It is a question worth asking, while another is to ask who is standing by your side? Many stand alone, while people of the Christian faith can always know that God is by their side.
Not only that, but we rejoice in our sufferings, knowing that suffering produces endurance, and endurance produces character, and character produces hope, and hope does not put us to shame, because God's love has been poured into our hearts through the Holy Spirit who has been given to us. - Romans 5:3-5
Leave a Comment