Cruella
She is back with a new level of de-vilish fun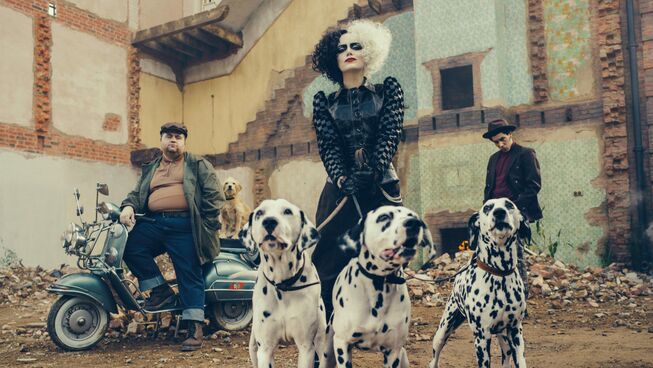 4 out of 5 stars
As the first live-action film in theatres from Disney this year, what better choice than to begin with one of their greatest villains, Cruella de Vil (Emma Stone). Our favourite bi-chromatic mischief-maker from the 101 Dalmatians franchise has found her way onto the big screen before with Glenn Close's famous portrayal from the 1996 release. While this version takes us all the way back to Cruella's origins as a young girl named Estella who dreams of becoming a fashion designer. Her idol is the fashion icon, The Baroness (Emma Thompson), known for her elegant designs, lavish events and extravagant fashion shows.
Estella endures tragedy early on in her life. Still, she finds companionship with Jasper (Joel Fry) and Horace (Paul Walter Hauser) as well as two dogs in the form of Buddy and Wink. The trio grows up together, living in an abandoned warehouse and becoming accomplished thieves and pickpockets. The young aspiring fashion designer is allowed to work for The Baroness in one of her shopfront stores. Even though she is merely a cleaning lady, she soon attracts the attention of her idol with a unique eye for fashion design. The aspiring designer is eventually recruited to design new gowns for the couture house. As Estella's confidence grows, she decides to start designing her own dresses. Along with the fashion designs, she creates the identity of Cruella to upstage The Baroness in public and show off her own fashion flair. The inevitable showdown between the two women leads to a dramatic twist that will reveal more about Estella, her family background and how she became who we know today.
As Disney gets back to cinemas, one thing to be said is that this interpretation of Cruella is exceptionally entertaining. The story has many factors that will appeal to fans of the past and those recently introduced to this antihero. Director Craig Gillespie (I, Tonya) manages to get great performances from his cast, particularly from the two Academy Award winners. Emma Thompson seems to relish the opportunity to play a more villainous role in the form of The Baroness. Her character is used to bossing everyone around and getting what she wants.
While the story provides plenty of laughs along the way, Cruella's two dogs provided the necessary cuteness factor. Especially Wink, who is loveable and fully partakes in whatever escapades Jasper and Horace manage to find themselves in during the film. Then it is complemented beautifully by a soundtrack that does its part to set the scene and atmosphere. As the film is set in England in the 1960s and 1970s, Gillespie includes many memorable songs from that era.
This origin tale sets up a continuation in the dalmatians' world which should lead to a forthcoming sequel. Even though the film does link back to the original classic and provides a depth to this previously two-dimensional character. As this is an origin story for Cruella de Vil, it does portray her differently from her animated counterpart, who was always scheming to capture dalmatians for nefarious purposes. This means this may have a nostalgic draw for fans of the original films and garner new followers with the outstanding performances of the two Emmas.
Many wonder how appropriate it is for younger children, since it has an obvious darker theme. Since it is a longer film and the plot takes many twisted turns, it may be challenging to hold the complete attention of any child under ten years of age. Since it does carry a PG rating, it is accessible to all audiences. The material is not objectionable for young ones, but the run time might be hard for them to sit through. Still, it will be best for the fans of this wonderfully villainous element in this Disney franchise and all those who want to know more of her background.
What should parents know about Cruella?
This live-action interpretation of a classic Disney villain is beautifully filmed and develops the lead characters exceptionally well. Yet, Cruella's backstory and the overall screenplay contain mature themes that will be much for younger viewers. Themes that enter into this rendition of the 101 Dalmatians antagonist involve murder, theft, abandonment and some other dark attributes of the human condition. For children under the age of ten, this film may prove to be a bit too long and scary to enjoy. While for the more mature crowd, this is a devilishly entertaining option.
REEL DIALOGUE: Who is your real family?
Early on in the movie, Estella encounters Jasper and Horace and they all discover they share a common bond. They no longer have parents to care for and look after them. As orphans, the young thieves take Estella under their wing and they spend the next 10 years growing up into adulthood. When Estella learns of the secret surrounding her family, she realises that her real family are the ones who are present for her and care for her. In our fallen world, not everyone has a family and some of us may have lost loved ones, but God welcomes us into His family when we place our trust in Jesus as Lord.
But to all who did receive him, who believed in his name, he gave the right to become children of God, who were born, not of blood nor the will of the flesh nor of the will of man, but of God. John 1:12-13
Leave a Comment