Collateral Beauty
Reel Dialogue Short Take review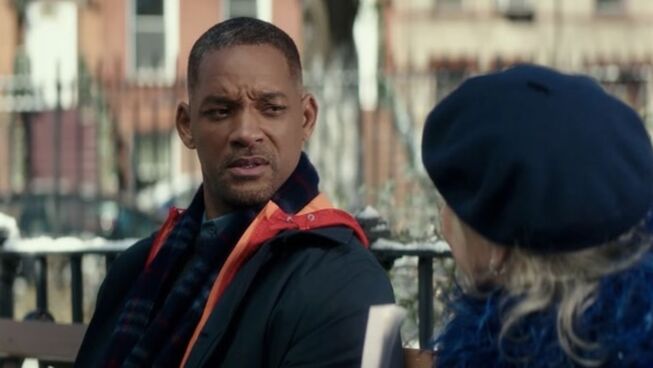 3 out of 5 stars
Short Take: The phrase comes from the film industry, originally, and it means a short bit of recording or "something that only takes a short time," especially if a longer version may be done later.
Short Take review: A short review of a film with potential discussion points
Summary: Howard Inlet (Will Smith) has lived his life selling new ideas and concepts to the world through his advertising magic. His message is based in the three keys of the human experience: Love, Time and Death. When personal tragedy causes his life to turn upside down, he finds solace in writing letters to these three entities of the universe. In an attempt to save his life and the company that he created, his friends and work colleagues hire actors to play this trio of the cosmos to try to reach Howard before he loses everything. Whatever the motivation behind the apparent deception, things turn out differently for all involved.
Short-take: Due to limitations to scheduling, I was unable to see Collateral Beauty prior to its release. Reviewers cannot see all films, but this one caught my attention in a unique way. I was not as intrigued by the quaint premise of the film, as much as the universal vitriol from critics. I went along to a local screening of the film to satisfy my own curiosity. Leaving the cinema, I was still perplexed. It may not be a perfect film and it does over-reach in some areas when addressing subject of grief, I still was scratching my head at the the dire scrutiny that it has received.
It was a good film with a superb cast. It dealt with a difficult subject in a peculiar, but satisfying manner. It contains an endearing and entertaining storyline and solid performances from this amazing ensemble. It was not a landmark film, but there is nothing to say that it was attempting to achieve this goal.
Collateral Beauty was worth the time and opens the door to a multitude of discussion points for all who experience this film.
REEL DIALOGUE: What are some of the bigger questions to consider from this film?
Collateral Beauty brings grief to the forefront of people's lives. Regret, tears, anger, confusion are some of the emotions that come along during this time in the lives of the who lose a loved one. One thing that can be considered about the message of the Bible is that God is not only there for those who grieve, but that her can empathise with them too. His Son died a horrific death and it allows people to know that they can come to a God who knows how they feel during this low in their lives.*
Questions
1. Does the Bible have anything to say about death? (Ecclesiastes 12:7, John 14:1-3)
2. What can we learn from grief? (Psalm 34:18, 2 Corinthians 1: 3-4)
3. Is God a mystery? (Colossians 2:2-3, Ephesians 3:5)
Leave a Comment