Clifford the Big Red Dog
How big can our kids grow?  It depends on how much we love them...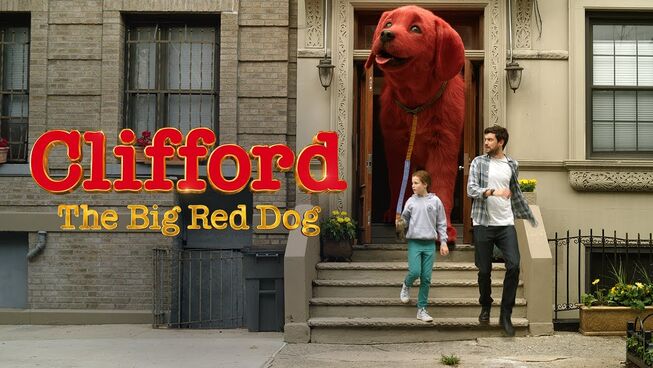 3 out of 5 stars
Clifford the Big Red Dog is the live-action adaptation of the beloved Scholastic book character of the same name. Norman Bridwell wrote the first book in 1963 designed to help develop pre and beginning readers. Nearly 80 books later, Clifford still is not perfect. Yet, his love given to him by a little girl named Emily brings a neighborhood together.
This version of Clifford tells the story of middle-schooler Emily Elizabeth (Darby Camp), who is new to town and struggles to make friends. She is a scholar student in a prep school, but gets picked on for being poor. The mean girls of her latest school target her daily. One day in Brooklyn, Emily happens upon a magical animal rescuer played by legendary actor John Cleese. The latter gifts her the cutest little red labrador, who has been orphaned, needs love and affectionately names Clifford. When these two lost souls meet, the connection and love are instantaneous. The hardship of Emily's life releases one magical tear that transforms Clifford into a hulking behemoth.
Emily lives with her Uncle Casey (Jack Whitehall) and the pair must keep Clifford out of sight from the landlord (David Allen Grier), who has a "No-Pets" policy. The unlikely trio must also avoid the evil company tycoon and CEO Tieran (Tony Hale, Arrested Development) to add to their new difficulties. He has every intention of kidnapping the not-so-little Clifford and turning him into a lab rat. Along the way, their Brooklyn community falls in love with Clifford as the love Emily fills him with pours out into others.
Though Clifford is not as clever or engaging as films like Paddington, there may be enough love and purity in this make-believe world to keep parents engaged. Any mother or father whose child has been bullied, marginalised or ostracised will connect with Emily. Jack Whitehall (Jungle Cruise) gives parents enough laughs to resist checking their Instagram during the screening. Younger kids will love CGI Clifford and enjoy the hijinks of watching a one-story tall dog trying to hide from his pursuers. Any adult along for the ride will need to see past the uncanny valley effect of CGI Clifford if they want to enjoy him.
At the heart of this simple story is the purity of a little girl's love for a massive dog. Emily asks the magical pet rescuer how big the red dog would get at the beginning of the film. John Cleese, with a twinkle in his eyes, says, "It depends on how much you love him." For 59 years Norman Bridwell's 80+ books and his adorable dog have sought to show us that love can indeed beget love.
Reel Dialogue: How big will our kids grow?
The Christian faith tells us time and again, it is not law that changes the heart but love. Love that sacrifices self for the sake of others is the kind of love that transforms the world. It is the kind of love that Jesus came to give us. It's the kind of love that parents need to help their kids become adults themselves.
Yet, most parents will probably attest that our love can grow cold and/or dry. Where do parents go to get the love their kids need, so that they can grow big and strong and loving like Clifford? Paul writes in his letter to the Romans in 5:5, "God's love has been (can be) poured into our hearts through the Holy Spirit who has been given to us."
How big will our kids grow? It depends on how much we love them. Thankfully, in Christ, parents can find all the help they need.
Leave a Comment