Burnt
Cooking up a great film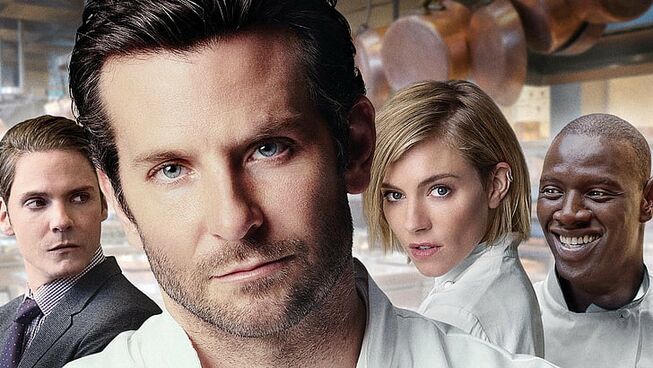 4 out of 5 stars
Chef Adam Jones (Bradley Cooper) is considered a culinary genius. Underneath all of his brilliance in the kitchen, he harbours a multitude of personal flaws and they have left him with a jaded past. He was able to spend his time at the top of the culinary world as a very young man, but one day he disappeared from it all. He was running from his life choices and hid away for three years from the world of chefs and Michelin stars. After paying his self-induced penance, Adam attempts to re-enter the realm of restaurateurs. Throughout this personal quest to achieve the goal of a third Michelin star, he has to bring together key figures from his past and recruit new talent to redeem himself. Adam has relegated himself to clean living, but the demons from his past and his remaining self-destructive tendencies reek-havoc on his relationships and entrepreneurial prospects.
If Burnt shows anything, the key element of a chef's life is finding the perfect mix of flavours to create a unique creation that will stun the palettes of all who partake in this culinary adventure. The same can be said of attempting to create the perfect film, the director must find the right blend of direction, script and acting talent to plate up a magical cinematic outing. In a crowded market of foodie television and films, director John Wells (August: Osage County) manages to find that delicious combination that differentiates it from the rest of the competition. He has the ability to bring together a wealth of on-screen talent that provides the right amount of spice without turning away the viewer. To have Bradley Cooper as the lead and this pool of talent is enviable for any director, but his lead character is only as good as the crew that surrounds him.
Thankfully every player does provide all of the needed components to make this film work exceptionally well. The cast of characters is lead well by Cooper and Sienna Miller (American Sniper), but ultimately the genius is found in the script. The Adam Jones character is written with the needed balance of vulnerability and arrogance to convey the charismatic attitude of a leading chef. This charisma provides the aroma that will draw audiences in and eventually will win them over. Wells manages to portray a kitchen atmosphere with a well-crafted and stark accuracy, which includes the expected use of language and the proverbial sexual elements that may not appeal to some viewers, but these elements do not diminish the overall entertainment value. Like the lead character, Burnt has a subtle brilliance which includes some flaws, but these shortcomings provide the journey with a bit of spice and make it a surprisingly enjoyable film.
REEL DIALOGUE Forgiveness
In his journey through life, Adam Jones feels that he has paid his penance and gotten his life back on track, it takes time for others to forgive him for the pain he inflicted on their lives. As we all move along in life, redemption and forgiveness are things that all of us seek from those that are closest in our lives. Within the storyline of Burnt, a key thread is that these essential components for human existence cannot be achieved without help from others. This redemptive assistance can be found at the core of Christianity and can only be achieved through the help of God's work in his Son. Like Adam Jones, if redemption is something you seek, it can be found. Merely by asking God for his help.
REEL DIALOGUE: What are some of the bigger themes to consider from this film?
What does the Bible say about redemption? (Ephesian 1:7, Galatians 2: 20)
Can we ever find justice? (Proverbs 21:15, Romans 12:19)
What does the Bible say about aspiring to leadership? (Jeremiah 29:11, John 16:33)
Leave a Comment