Belfast
Kenneth Branagh's love letter to his family and the Irish city they called home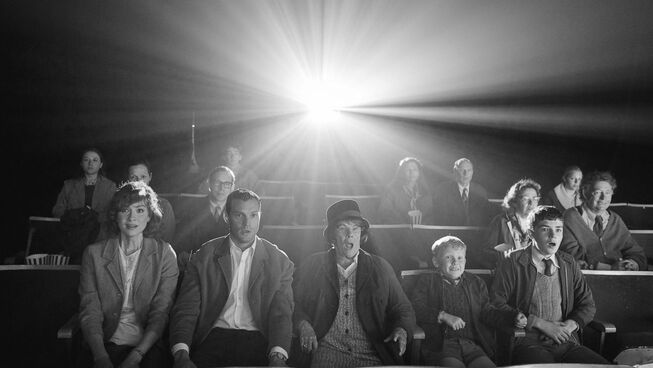 4 out of 5 stars
Kenneth Branagh has had a long and storied career as lead actor and director. He has brought William Shakespeare back into the norm for modern audiences with Hamlet and Henry V, made Agatha Christie cool and managed to work with some of Hollywood's greatest directors. Yet, he has stated that Belfast is his most personal production as a semi-autobiographical look at the turmoil experienced in Northern Ireland in the late 1960s.
We are introduced to the close-knit community on the streets of Belfast. One of those peaceful places where everyone knew one another and looked out for each other. Buddy (Jude Hill) enjoys life in his neighbourhood where he can run safe and free until one day when the peace is irrevocably crushed. His street houses families who have watched out for him and he has known all of his days despite being a mix of Catholic and Protestant. Since his father (Jamie Dornan) has to work in England throughout the week, Buddy must do everything to make it through this confusing and dangerous time with his brother and mother (Caitríona Balfe).
What is compelling about this personal story is how Branagh shows how people exist amongst these historic and terrifying conditions. They go to school, work, celebrate holidays and exist even though their world turns upside down. These families and communities continue to live their lives and do all they can to fight for the neighbourhoods, cities, and country they have grown up in and love. This leads to tensions within each home as they determine if they will remain in Belfast or move to other parts of the world where jobs are prevalent along with a perceived peaceful lifestyle.
This is an Irish tale, but it extends beyond the shores of this island nation. Branagh has used the country's troubles as the canvas to tell a story of family and identity. His family went through extreme pain and loss, but the bonds that tied them together kept them from going their separate ways. This is all captured beautifully by the performances of Jamie Dornan, Caitríona Balfe, Judi Dench and Ciarán Hinds as the tight-knit generations of this Irish family. Yet, everything rides on the shoulders of Jude Hill as the whole film is told from his point of view. This young actor will capture the hearts of audiences around the world and make the entire project endearing and even magical.
Where Branagh utilised stunning colours and vast landscapes in the cinematography of Murder on the Orient Express, the director goes to black and white to capture this community. By focussing on the simplest of elements and the starkness of the colour palette, he manages to convey the mindset of a child. The magic comes alive in the technicolour aspects of the family's time at the cinema. It all shows how this beautiful story does need the distraction of colour to show the depth of emotion it offers to the audience. This celebrated artist shares an intimate glimpse into his past and asks us to fall in love with his family and their world.
REEL DIALOGUE: The value of family
For some, the mere mention of family will bring a smile to their lips, and for others, it will cause tears to well up in their eyes. Belfast does bring out the best and worst of the family experience. Yet, it always holds the value of family in high regard. It is a bittersweet gift that is given to us by God.
Regardless of your personal reality with your family, take a moment. Have you taken the time to show your parents, children and extended family the appreciation for the blessing that they are to you?
My command is this: Love each other as I have loved you. Greater love has no one than this: to lay down one's life for one's friends. You are my friends if you do what I command. I no longer call you servants, because a servant does not know his master's business. Instead, I have called you friends, for everything that I learned from my Father I have made known to you. You did not choose me, but I chose you and appointed you so that you might go and bear fruit—fruit that will last—and so that whatever you ask in my name the Father will give you. This is my command: Love each other. - John 15:12-17
Leave a Comment