Beau is Afraid
A nightmarish odyssey
3 out of 5
Ari Aster has quickly become one of the most respected names in the contemporary horror genre. Having debuted with his family grief-focused supernatural horror Hereditary (2017), starring Toni Collette, he then released Midsommar (2019), starring Florence Pugh. Both films, produced by independent arthouse studio A24, have cemented Aster as a horror auteur alongside current peers like Robert Eggers, and other greats like James Wan, John Carpenter, Leigh Whannell, and Wes Craven. This respect has enabled him to have an extensive blank check to produce his latest work, Beau Is Afraid, starring Joaquin Phoenix.
Beau Wassermann (Joaquin Phoenix) is the son of a famous and wealthy businesswoman, Mona (Patti LuPone). He grows up without a father, who his mother says died during an orgasm when Beau was conceived. She claims this hereditary medical condition was passed down to Beau, causing him to fear sex. As an adult, Beau is exceptionally anxious and lives alone in a crime-ridden city. He visits his therapist to discuss his feelings about a planned flight to visit his mother. His physician prescribed an experimental drug for his anxiety and warned to only take it with water. After a sleepless night, and a missed alarm, Beau hastily packs, but then has his keys and luggage stolen from his front door. He calls his mother to explain the situation, but she dismisses him. After a series of subsequent chaotic events, Beau learns that his mother has been found dead the next day. What follows is a deranged, experimental odyssey through a dreamscape that blurs the lines between reality and fantasy as Beau journeys home to see his mother buried.
With the tagline 'From his darkest fears comes the greatest adventure," this is precisely what you would expect if you heard Ari Aster was directing a dark comedy. A horrific nightmare imbued with deep familial, psychological problems encased in impressive filmmaking with committed and compelling performances. Aster has described the film in many ways, including initially as a "nightmare comedy, and a Jewish Lord of the Rings, but Beau's just going to his mom's house," and as "if you pumped a 10-year-old full of Zoloft, and had him get your groceries."
Joaquin Phoenix completely commits to the three-hour experimental odyssey through the suppressed subconscious of Beau and his disturbed feelings towards his overtly controlling and selfishly self-giving mother. Patti LuPone is powerful as Mona, who cares for Beau, but out of obligation, not true love, and her deranged and misplaced feelings of authority over his life as his mother manifest themselves in abusive and manipulative ways that significantly impact Beau and his journey. It makes sense that the original working title for the film was 'Disappointment Blvd.'
Aster has crafted a true voyage through some substantially bizarre, absurd, surreal, disturbed, comedic, and deranged set pieces that are equally entrancing and confounding. The filmmaking on display is impressive, with surreal action sequences, breathtaking production design, and a cast that engage watchers with their unbridled commitment to the material. The audience will likely never be bored or disconnected but rather frequently confused, concerned, and questioning what they are watching. It is a cinematic experience through a very damaged subconscious that's equally enthralling as it is disconcerting, but it's sheer ambition and expertise combine for a compelling and fascinating feature that leaves the mind with much to mull over. This film is an uncompromising vision, and Aster's apparent blank check to make whatever he wanted results in a story that gets bloated and confusing, which could have used some studio notes to streamline an otherwise bold and creatively confident endeavour.
Beau is Afraid is a journey that needs to be seen to be believed, however discernment is needed as the film's adult themes, and mature horror are not for casual moviegoers.
Reel Dialogue: What does the Bible say about unhealthy parental relationships?
As Beau wrestles with the past and present, physical, and spiritual, alive, and dead, all blending together, the one constant is his mother. Her presence and impact loom over him, and the psychological and emotional damage she has caused him is apparent. Broken relationships are sadly far too common in this fallen world in which we live. Beau Is Afraid depicts through its chaos the damaged world and the relationships that should be nurturing but are destructive and abusive.
Thankfully, the Bible provides much teaching about how parents are to faithfully love and teach their children, and how children are to honour and obey their parents. It presents a picture of healthy relationships, but also features warnings to not abuse or exasperate those placed in their parental care. The best parent in the Bible is God the Father, and through Christ, those who believe are adopted into His family, where they are not shamed or neglected, but loved, cared for, and championed.
"Parents, do not provoke your children, lest they become discouraged." - Colossians 3:12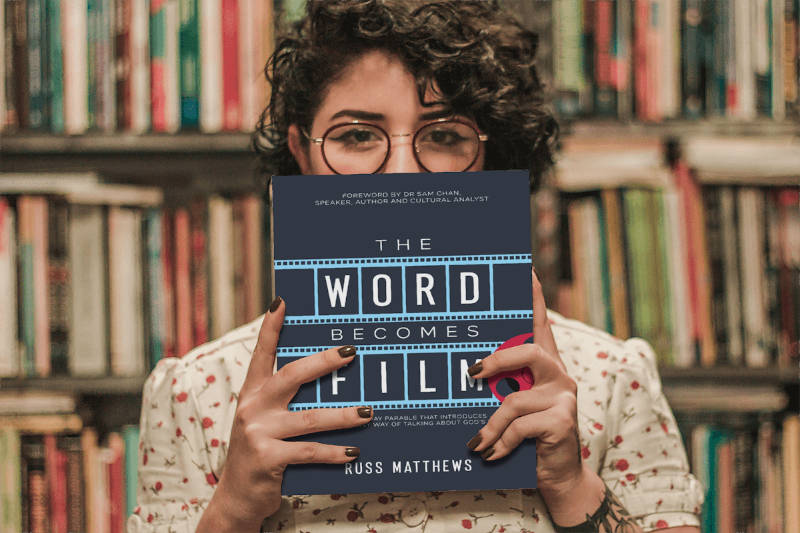 The word becomes film
Russ Matthews' new book is a modern-day parable that introduces a radically easy way of talking about God's story
If you order the book today you will also receive a complementary study guide that is only available with the purchase of the book (Print or ebook)