American Underdog
You need to see Kurt Warner's story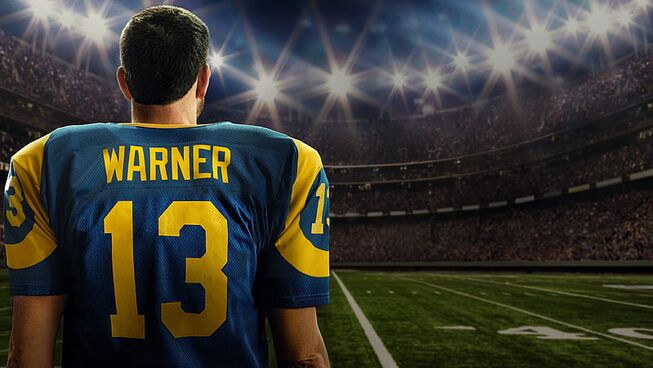 4 out of 5 stars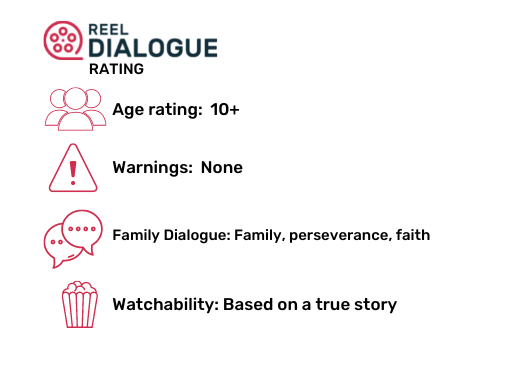 As a child growing up in Iowa, I did not have professional sports teams to celebrate. This meant that I was left to choose teams from other cities. I was inspired by a television movie called Something for Joey that told the story of Heisman Trophy winner John Cappelletti who went on to play for the Los Angeles Rams. Even though I did not play gridiron football, I became a Rams fan and adopted the number 22 as my go-to on sports teams. Years later, the team was moved to St Louis. Then when they announced their starting quarterback was a player from Iowa named Kurt Warner, like the rest of the sporting community, I took notice. His story became more significant to me as he proclaimed his Christian faith while he rose to fame and status as a football legend.
Then to hear that there was going to be a biopic of his life developed made this reviewer take notice on multiple levels. Despite seeing a multitude of these football stories over the years, this one had a particular interest to me. Especially when it was put in the hands of the filmmaking team of Andrew and Jon Erwin (I Can Only Imagine). These siblings have managed to direct films that included faith that stood above other films that had made this genre less than reputable. As they added Zachary Levi (Shazam!), Academy Award winner Anna Paquin (The Piano), and Dennis Quaid (I Can Only Imagine) to the project, the quality of the production took shape. Yet, could they take Warner's story and make it into something more than an inspirational sports story?
For those around the world who may not be familiar with Kurt Warner's (Levi) story, this film showcases some of his life and career highlights. He grew up in Cedar Rapids, Iowa, and aspired to become a quarterback in the National Football League. What was different for this athlete is that he did not go the traditional route to a football career. Warner played for a small university in Northern Iowa and did not get to play first string until his fifth year. This did get him tryouts with the Green Bay Packers and Chicago Bears, but he did make the cut in either of these instances.
As he waited for his time to come, he fell in love with the woman who would become his wife, Brenda (Paquin) and her two children while he stocked shelves at the local grocery store. Until he was approached by the creator of Arena Football League to quarterback the Iowa Barnstormers, a role that he dismissed at first, but eventually took on and went on to champion. During this time, he was given the opportunity to play for the St. Louis Rams and, despite many trials, Warner would go on to become one of the NFL's greatest quarterbacks.
There is much more to this football player's story, but it would be worth seeing the film to discover the finer details. The Erwin Brothers did take some license to Warner's story to get it summarised in one movie. Still, they stayed faithful to his life as a quarterback, family man and an example of the Christian faith. They managed to lift his biography above the standard faith-based films in the quality of storytelling and struck a balance between sporting and personal elements. Due to the nature of his life and these films, there is a squeaky clean aspect, but this does not diminish the value of this narrative. Instead, it makes this more accessible to a broader audience and does show that these tales can be told without the reliance of excessive mature content.
Every cast member commits to their role and delivers a believable and endearing interpretation of the Warner family's lives. As the Erwin's paid close attention to the authenticity of their biopic, they managed to capture the nuances of the NFL and Arena football, too. As well, conveying the compelling private lives of this family and their unique journey through life was captured in detail. This aspect conveys the film's heart and moves it from purely inspirational or faith-based fodder and makes it into a unique option within this niche market.
Granted, it is an exceptionally American tale and may not initially grab the attention of international viewers. Still, Kurt Warner's story does offer something for everyone who wants to see how following one's dreams and faith can motivate even if you do not understand the finer elements of the game. My suggestion is to look past the title, the sport itself and give this film a chance. American Underdog has something to offer to all who are willing to give it a look. Listen to this kid from Iowa, I thoroughly enjoyed this film and would recommend it to anyone.
Reel Dialogue: We all love an underdog
Underdog - a competitor thought to have little chance of winning a fight or contest. (Oxford Dictionary)
Coach Dick Vermeil's (Quaid) talk with his newest quarterback, Kurt Warner (Levi), about underdogs is one of the best in the film. His insights on the underdog go straight to the heart of Warner's story. He was always treated as an underdog and there was very little that said he should have gone onto success and fame within the NFL. Yet, he went on to be one of the most celebrated players of the game.
But many who are first will be last, and the last first." - Mark 10:31
Kurt's faith in Jesus was the one thing that did remain constant throughout his life. We can understand from the Bible that it is loaded with underdogs. People who may not have been seen by the world as one who would be chosen to make a difference in the faith of millions worldwide. Jesus is one of the best examples of the underdog. He was born in a barn, raised in a backwater portion of the world, with no formal training, little known pedigree and he did not own any property. Yet, he went on to change the world. The ultimate underdog who rose above expectation to fulfil his role as saviour of humanity.
Leave a Comment