Alone Together
Life in an Air B&B at the beginning of COVID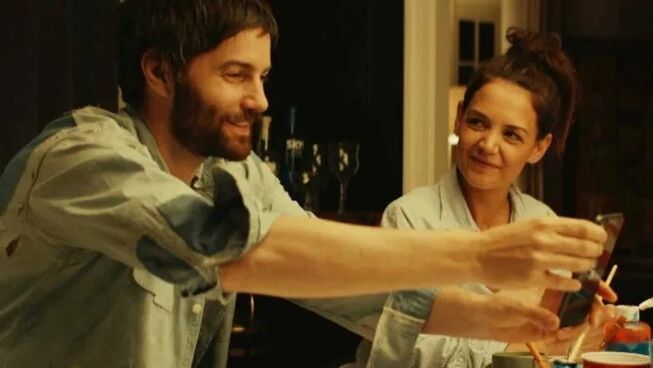 2 out of 5 stars
One thing that tends to happen to many actors is the undeniable need to run things from behind the camera. To sit in the director's chair must have a gravitational pull that overtakes certain creatives. Katie Holmes (Logan Lucky) has become an icon in the world of influencers along with her acting career, not to mention all of the drama of her social life. Yet, her latest venture has her in front and behind the camera for this COVID-influenced romance.
Set in March of 2020, June (Holmes) is trying to escape this unknown virus sweeping across the nation. She and her boyfriend, John (Derek Luke), book an Airbnb in upstate New York that gets them out of the city as they hope to spend time together. They travel separately, and with little notice, John decides to stay in the city and care for his parents. While June is left alone at this remote location without a car or phone coverage. Until she realises that the house has been double booked by another guest, newly single Charlie (Jim Sturgess). This leads to the pair having to make the most of this awkward situation as the world deals with this world-changing pandemic.
As one watches this story unfolds, there is something that does give us a look into the bizarre nature of how this virus impacted cultures around the world. Holmes captures how quickly things unfolded within the microcosm of New York, while showing that life did go on for most of us. The actress-turned-writer manages to show the quiet undercurrent of life in this new era.
As her screenplay moves lethargically through the lives of this unassuming love triangle, every emotional event falls with a quiet thud instead of causing the reaction desired. It all has the feel of her sitting in a house in upstate New York with a bottle of wine by her side as she wrote. As the fireplace warmed the room, Holmes must have remembered all of the romantic films of yesteryear and wove them into this odd COVID scenario. A process that had potential, but never managed to wake up from the alcohol-influenced stupor it was written under.
Unlike many modern films that need to be shorter, this film needed more time to unpack these relationships. Or, at a minimum, adding enough nuance to increase the appeal of these characters to the audience. Katie Holmes and Jim Sturgess did have chemistry, and their connection did make sense. Yet, it all happened so quickly that it seems more like a dream than a reality for anyone. Especially if you think about what could have happened to her if she had misread the situation and put herself in danger. This could have easily moved from a quirky romance to horror within moments. Not to mention that a massive country estate home would only have one bedroom and one bathroom undermined the believability of the whole story.
Alone Together was an admirable attempt to capture the hopelessness of the beginning of the COVID epidemic. Katie Holmes shows she has potential as a director. Unfortunately, this venture was like eating the first pancake for breakfast. It was a bit underdone on one side while burnt on the other, which made it less than satisfying in the end.
REEL DIALOGUE: Who are you?
Despite being a romance, the film's undercurrent comes down to discovering oneself. As June travels along this unexpected journey of self-discovery, she begins to appreciate her past and long for something different for her future. An aspect of living on this planet that we all can understand. As she reminisces about her grandfather's love, it may cause many in the audience to look back on their past. Remembering key individuals who can represent elements we aspire to see in our lives and how these people are willing to invest in our future.
This look into her past does represent the very thing we all desire to have come into our life. Someone who wants to help us along in our lives and set a good example. We can look to people in our lives for this inspiration, and one place we can see this model is in the person of Jesus. If you are looking for that example to emulate in your life, the book of Mark is a great place to begin.
Leave a Comment