See How They Run
A good old fashioned whodunnit
4 out of 5 stars
Murder mysteries and whodunnit's are classic entertainment fodder. From movies, to books, to TV shows, to board games, everyone seems to enjoy a good old-fashioned bit of murder. See How They Run is just that. A good old-fashioned whodunnit, but it's got a delightfully meta twist. The film is a murder mystery and set within a fictionalised recreation of famed mystery writer Agatha Christie's West End play, The Mousetrap. Being set against the backdrop of one fictitious murder, the film plays out with some delightful nods to the genre, references to cliches and characters, and an appearance from Christie herself.
The film, set in 1950's London, follows Inspector Stoppard (Sam Rockwell) and Constable Stalker (Saoirse Ronan) as they investigate the murder of an American director who is planning on directing a film adaptation of the stage play. As the mismatched pair slowly inspects the crime, hijinks, and mystery ensue. They interview a wide range of suspects, including actors, producers, writers, and ushers, as they attempt to catch the culprit.
Of course, the best whodunnits are filled with red herrings, clever reveals, and plenty of twists and turns. Director Rom George's project has plenty, even if some feel more underwritten than others. Due to the film's heavy reliance on winking at the genre in which it sits, comparisons to other films are expected. Whilst it's not entirely on the same level as Knives Out regarding writing, production, or ensemble, it sits suitably in the next closest tier. There is plenty to enjoy, and the film is a breezy, easy watch that draws you in, but never gets too caught up in itself to crack under its own weight, which is great.
One of the film's greatest strengths is its humour, and whilst it may have weaker writing around exposition and character development, its comedic wit is fantastic. There's always something to laugh with the film, whether it be puns, fourth wall breaks, physical comedy, one-liners, or well-set-up punch lines. Saoirse Ronan steals the show as Constable Stalker, and her zeal and quirk play strongly off Rockwell's weary Inspector Stoppard. The rest of the ensemble cast varied in their impact. Still, the standouts were Charlie Cooper, Harris Dickinson, and Shirley Henderson. Visually, the trailer made it out to be a Wes Anderson-esque style of film, but in reality the film has its own style, with split-screen edits, flashbacks, and a jazzy score from Daniel Pemberton. There is plenty of period flair, and the blue car driven around by the two detectives is almost a character in itself.
Overall, See How They Run is a thoroughly entertaining and cleverly meta murder mystery, that may not be the most original or complex. Yet, it is undoubtedly a comedic and creative caper.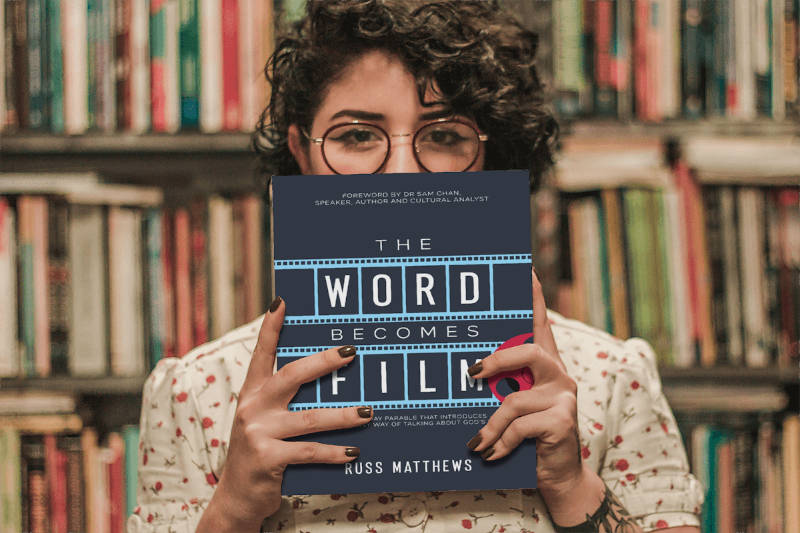 The word becomes film
Russ Matthews' new book is a modern-day parable that introduces a radically easy way of talking about God's story
If you order the book today you will also receive a complementary study guide that is only available with the purchase of the book (Print or ebook)
Reel Dialogue: The sixth commandment
For some reason, our culture has a macabre fascination with murder. Whether true crime or fiction, it's everywhere and has been around for a long time. You can travel back to the beginning of time to the stories of Adam and Eve's sons Cain and Abel.
Unfortunately, murder is not just found in fictional entertainment, but is actually a sign of our fallen world. The Bible is quick to condemn murder for many reasons, but chief among them is that people are made in God's image. To murder someone, is to destroy one of God's image bearers, and that's a big deal.
Some might argue that the saddest murder of all time was the death of the ultimate image bearer Jesus. But unlike Abel's death which happened because of the curse of sin, Jesus died so that we might be free from death and sin forever. And Jesus commanded that we love each other, as God's image bearers, valuing each other as God values us.
"For this, "You shall not commit adultery, You shall not murder, You shall not steal, You shall not covet," and if there is any other commandment, it is summed up in this saying, "You shall love your neighbour as yourself." - Romans 13:9
Leave a Comment