Fallen Leaves
Finnish rom com = amusing & depressing
⭐️ ⭐️ ⭐️ (1/2 out of 5)
Famed Finnish director Aki Kaurismäki, known for his dry, deadpan, wry, and winsome films, originally announced his retirement in 2017 after his film The Other Side of Hope. However, the director has now come out of retirement for his latest film, which premiered at the Cannes Film Festival, where it won the Jury Prize, before going on to screen recently at the Sydney Film Festival.
The film follows Ansa (Alma Pöysti), who works at an unpleasant supermarket where the job is so badly paid that she takes home expired sandwiches to eat. Holappa (Jussi Vatanen) is a metalworker, labouring daily in a hazardous job that he is sure will kill him. He drinks through the working day, and then drinks again at night. Meanwhile, on the radio, there are constant announcements about the Russian attacks on Ukraine. On the streets, there are posters about climate protests. The world is broken, and so are the people in it. Against his will, Holappa is dragged to a karaoke night by a friend. "Tough guys don't sing", he says. But karaoke night is also a night for romance. There, Holappa meets Ansa and there's a spark. Lost phone numbers, Holappa's alcoholism and various obstacles get in their way, but these two remain hopeful.
The film is exactly what you may expect from a Scandinavian comedy, equally tragic and humorous. There are some dark, depressing, and difficult moments throughout, and yet the characters' ability to make dry jokes, observant one-liners, and perfectly timed micro-expressions, means the film feels much lighter than it otherwise would be. Much of this is thanks to Alma Pöysti and Jussi Vatanen, who make for a strong pairing of awkward, down-on-their-luck, will they/won't they lovers. Watching them try to improve their lives, separately and together, is tender and touching to behold. And as they navigate shifting employment, and numerous obstacles, they always seem to find their way back to each other.
Overall, Fallen Leaves is a Finnish romantic tragi-comedy that's equal parts amusing as it is depressing, making light of difficult moments to darkly comedic effect thanks to its equally matched unlikely romantic leads and it's swift, light pacing which combines for an enjoyable, bit sized dose of Scandinavian cinema.
Reel Dialogue: Lamenting love
Whilst Fallen Leaves ends on a hopeful note, much of the film is tinged with a sad longing and lament about the state of this current world, its broken relationships, and imperfect love. From the radio news coverage of the war in Ukraine, to the sketchy business practices of Ansa and Holappa's employers, to their weaknesses and hardships. And yet, the film retains a glimmer of light, an element of hope.
Their love for each other makes the darkness a bit brighter. The Gospel is precisely this message. God sent His Son, the Light of the World, to save us from darkness and decay, and to teach us about true love and hope for eternity. Do you share in this hope?
"He heals the broken-hearted and binds up their wounds." - Psalm 147:3
If you want to discuss lamenting love and God, contact us at Third Space. We would love to chat about this and more.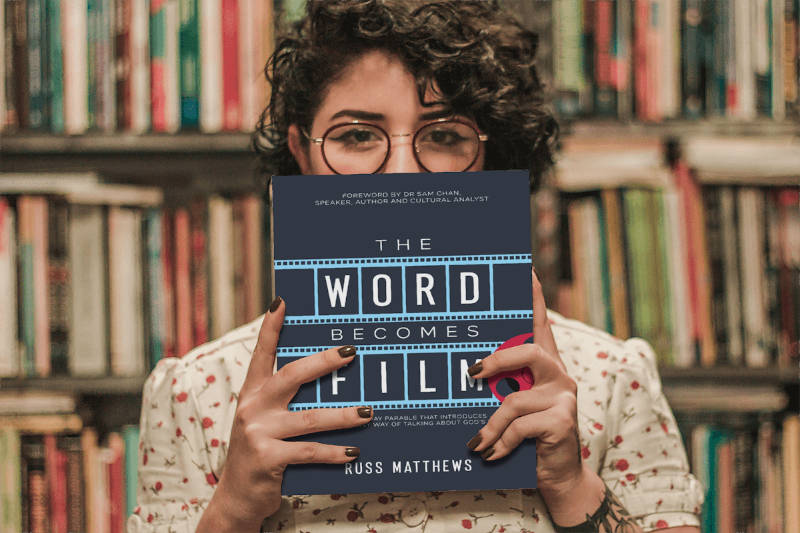 The word becomes film
Russ Matthews' new book is a modern-day parable that introduces a radically easy way of talking about God's story
If you order the book today you will also receive a complementary study guide that is only available with the purchase of the book (Print or ebook)
Leave a Comment